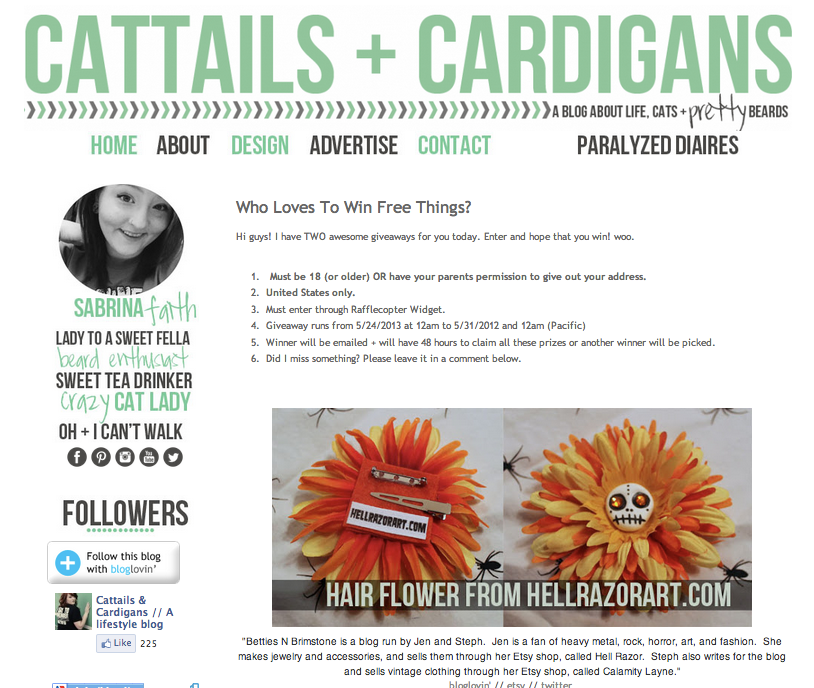 I have one last giveaway opportunity for you guys, this time from Sabrina over at
Cattails & Cardigans
. You may have noticed several giveaways from me in recent months, but this is the last one I have scheduled for a while, so be sure to go and enter! There are
full details over at Sabrina's post
, and the contest ends on May 31st, so that's pretty soon!
I've really been trying to build up our readership base, so if you know of anyone who might like our blog, be sure to share! Also, I love to find new blogs as well! If you have any blogs you think that we would enjoy (here's a general list of what to go by: vintage/fashion, horror/heavy metal/music, rockabilly, crafty/DIY, curvy fashion/clothing, and generally anything weird...), send links our way, too!
I love to partner up with people for projects/giveaways/swaps, so meeting new friends is always a good thing!
Rock on,
Jen @ Hell Razor