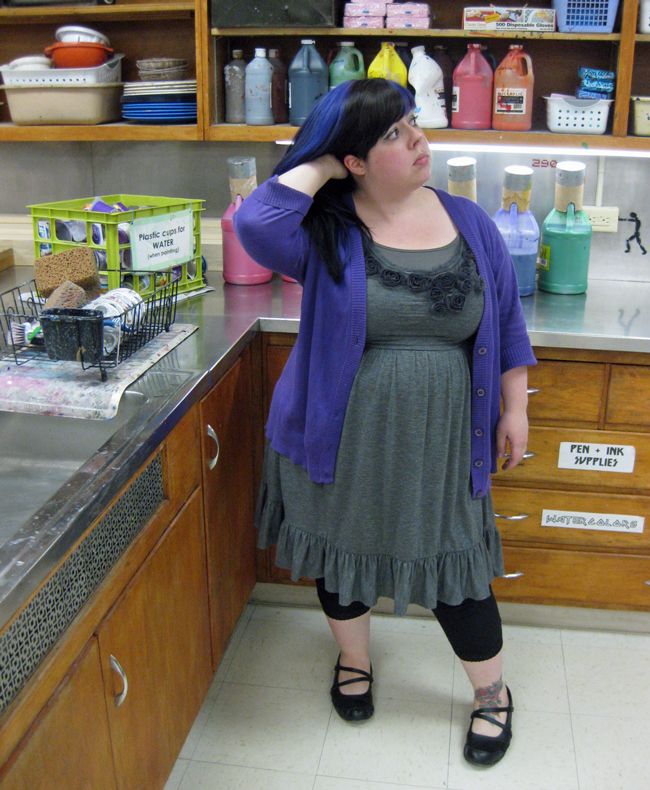 dress - Kohl's / tank - Old Navy / leggings - Torrid / shoes - Sketchers / cardigan - Torrid
I was ditching the ol' outfit post there for a while, did you notice? Then I started to feel guilty and thought I'd better get back on track. So here ya go.
This is a pretty old dress that I haven't worn in a photo yet, so it seemed appropriate. I actually bought this back when I was pregnant with Iggy... even though it wasn't a maternity dress... it's a Candie's brand dress, and it's an XL, but it has a ton of stretch to it, so yayy for something I can get lots of wears out of, right? The scoop neck is a little low, so I wore a gray tank top under it. I decided to match gray on gray, but I could have just as easily done black or pink or teal...
Today was the first real nice weather day (meaning like 66 degrees) so I wore my leggings without tall socks and boots. And they have lace on the bottoms! I was glad I found my footie socks in my drawer this morning so I could wear my Sketchers flats without socks peeking out.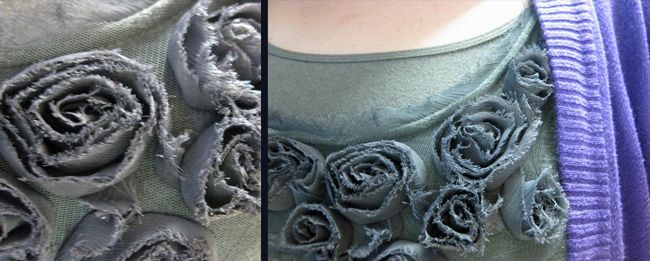 I like the ruffly flower details on this dress. It's made from frayed and spiraled bits of fabric. I also like the asymmetrical layout. I feel like the hem of this dress is a little long, but I deal with it because I like the ruffle. And it's comfy, so that's always a big plus.
Spring and summer weather is when my tattoos start to become more visible - they're not new, but there are always a few students that seem surprised, or I'll hear them in conversation suddenly talking about tattoos while they're working on their projects. It's funny because I've had them for so long, I'm used to it, but I forget that some of them only see me in the cold months, depending on what time of year they're scheduled. So I can see where that might be a novelty to them.
Mornings are a little hectic right now with a puppy to wrangle and feed and let out, in addition to Motorhead and also Iggy. Oh yeah, and having to get ready myself as well! So my morning makeup is sometimes rushed or cut back in order to save time.
I've been trying out some quick and easy eyeshadow looks for crazy rushed days. Today was some shimmery white highlights with really subtle, metallic-y brownish-gray. But I had just enough time to whip out the liquid liner and wing me some cat eyes. These ones are on the smaller side of what I prefer to do. Some days (like when I wear my glasses), I skip the wing liner altogether, since it doesn't seem to be as noticeable anyways.
Do you have any time-saving tips for crazy mornings when you've gotta get out the door?
Rock on,
Jen @ Hell Razor