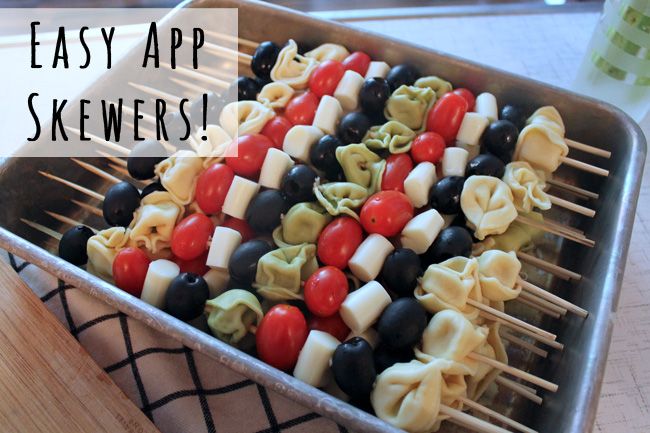 I was invited to a baby shower for a neighbor a couple of weekends ago, and I had to quickly come up with something for the "please bring a dish" note on the invite... hmm... my first thought was to grab something like hummus and pita chips at the grocery store and call it a day... then I thought, "Don't be lazy. You can come up with something easy that still takes a little bit more thought than that." I started scouring Pinterest for party recipe ideas, and almost went with an absolutely fantastic sounding baked brie with cranberry and walnuts, but then I had a whole panic about cheese during pregnancy and thought I'd better skip it, just in case, it would be rude to bring a dish that the mom-to-be couldn't even partake in.
And suddenly I remembered a fun dish my brother's friend used to bring to parties. They were skewers that had tortellini on them. But that's all I could remember. Damn those tortellini were good. So, a little internet research, a little picking and choosing from a variety of recipes, and here we are: Easy Party Appetizer Skewers.
I chose to make these totally vegetarian-friendly, but you could toss pepperoni on here and/or swap out items if that's what floats your boat. I used black olives, cherry tomatoes, two-color tortellini ('cuz that's fancy), and string cheese sticks. The skewers I had leftover from grilling kabobs in the summer.
Okay, calling this a "recipe" is a total joke. All you gotta do is cook the tortellini according to the package, and drain them. Let them cool off. While that's happening, drain your olives and wash the tomatoes. Then hack up the string cheese into tomato-and-olive-sized bits. I found 6 chunks from each stick to be about right.
Now, stick 'em on the skewers in a pretty pattern. I tried to alternate white and green pasta, but sometimes I wasn't paying attention. It all tastes the same. Because I was bringing this to a party a few houses down, I discovered that my rectangular brownie pan was the perfect length for these skewers, and I have a lid for it, too. Score!
I got lots of compliments on my "dish." Yayy! I really like the ease of picking up a skewer filled with finger foods loaded up already and being able to walk around, as opposed to hovering around a bowl with dip and stuff.
This is also a good idea for kids. They like stuff on sticks, right? Sure they do.
Rock on,
Jen @ Hell Razor