dress - Target / sweater - Forever 21+ / scarf - xmas gift / tights - we love colors / shoes - sketchers
I love this dress, and every time I've worn it, I've forgotten to take a photo! Therefore, my new habit is to get to work early and take photos even before the day has begun. Then, I can't forget to do it, and I can take photos before I spill any paint/smear clay/get bumped into with plaster and the like...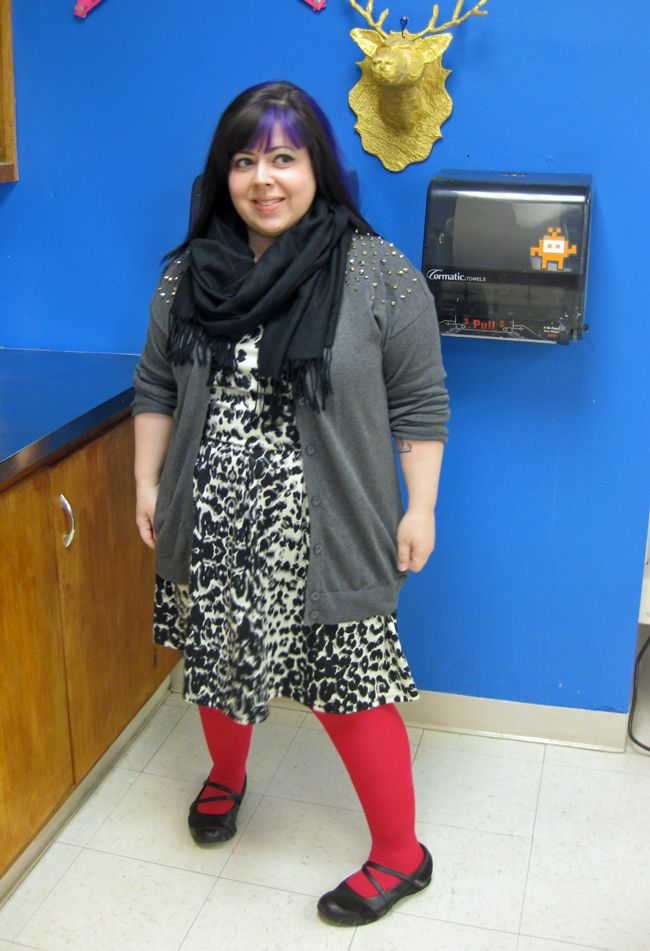 I love this new long cardigan from Forever 21+. It's the studs on it, I know. I couldn't resist. Todd saw it for the first time, and said "IT'S A GEM SWEATERRRR" in reference to
this Leslie Hall video
(it's my new bizarre fascination, blame it on Yo Gabba Gabba, which is on at our house most of the time - she appears as DJ Lance's friend.)
Above, outfit details. I have a tendency to stock up on neutral items, as in black, gray, and different shades of those two... so I use these bright
We Love Colors plus size tights
(woot!) to brighten things up on occasion.

On this day, I used a combination of grey shadows on my eyes. There's a light silvery color on the center of the lids, and a darker, smoky grey on the outer corners and crease. Plus, signature cat eye.
Rock on,
Jen @ Hell Razor