Don't get me wrong, I love to shop. But I get a little feeling of pride every time I can take an existing item from my closet and lengthen its life (if I love it), or give it new life (if I'm otherwise ready to donate it) in my current wardrobe.
So, here are some ideas for both!
1. DYE
Dyeing fabric is super easy. I usually do it using my washing machine (I follow it up with an empty cycle of hot water and bleach before I wash any loads afterwards – I've never had a problem with this method!)
This works well with white cotton items, but light colored items are all worth a try! The important part is to be open-minded to the results – sometimes it comes out lighter than you may have thought, or the fabric blend doesn't accept dye in all areas/trim evenly. I've had some really fun "accidents" happen this way.
Here's a pillow sham I dyed with purple dye. See how the stitching resisted the dye, giving the pillowcase a fun white stitched border detail? That's what I'm talking about! You never know how things will turn out until it's all done.
Tips to keep in mind when dyeing:
I like to pre-soak my fabric in water before placing it into the dye. It helps dye absorb more evenly
Dissolve 1 cup of salt into the dye. The colors always seem to be more vibrant when I do this.
Depending on your washing machine, you may need to run the agitator portion of the wash cycle several times in order for the dye to set/soak long enough before the rinse cycle begins. I use my iphone timer to help me to remember to re-set the cycle, if needed.
2. PATCHING
Clothing with worn areas or holes is always sad, especially if it was an item you really loved. I have the problem a lot with jeans (plus sized girls know what I'm talking about) – chub rub thigh areas that start to wear thin. I've found several good tutorials for dealing with this problem (try
here
or
here
), and I'm attempting my own version of this fix, only I'm using iron-on mending fabric. I figure, if it doesn't last and starts to peel away, I can always go back and hand-sew patch fabric on at another time.
Besides traditional patches, you can always add appliqué patches to an item just for visual interest. I love the idea of heart patches on elbows or knees, and I especially love this skull elbow patch idea.
I had a long sleeved thermal shirt I loved several years ago, but it randomly snagged a little hole on the upper arm. I cut a tiny star shape out of felt, and sewed it over the hole. Voila! Still an awesome shirt, but with one-of-a-kind special detail.
3. ALTERING
Altering clothing takes a little more skill than some of the above items. Also, it depends on how much alterations you're doing. I'm pretty decent at hemming, so I've attempted it a few times… to varying degrees of success…
I have a new alteration project I'd like to try though with this sweater: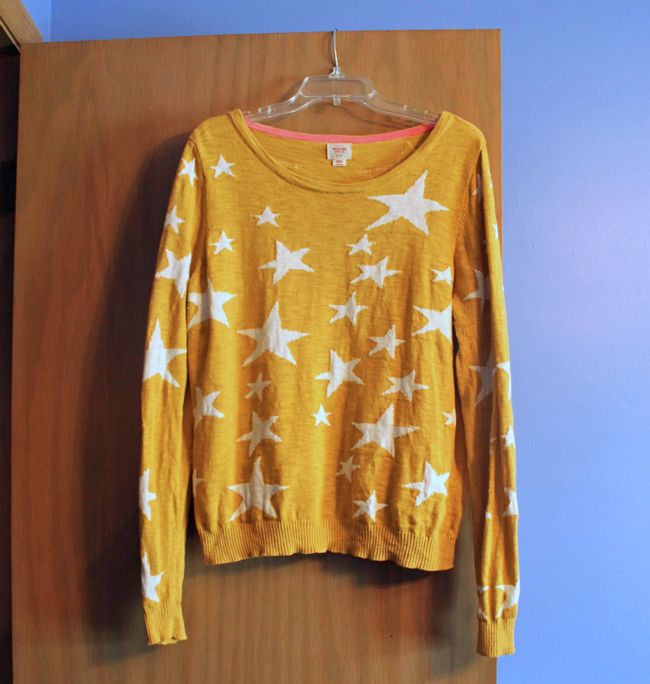 I found
a tutorial on how to change a regular sweater into a cardigan
, and I think this sweater would be perfect! The fit is a little weird, so being able to wear it open over a dress would be ideal. And super cute.
When I finally get around to it, I'll be sure to share the results with you! Another alteration project I'm enamored with is this
t-shirt tutorial to add crochet trim and make a t-shirt bigger
. I could definitely use this trick!
Rock on,
Jen @ Hell Razor