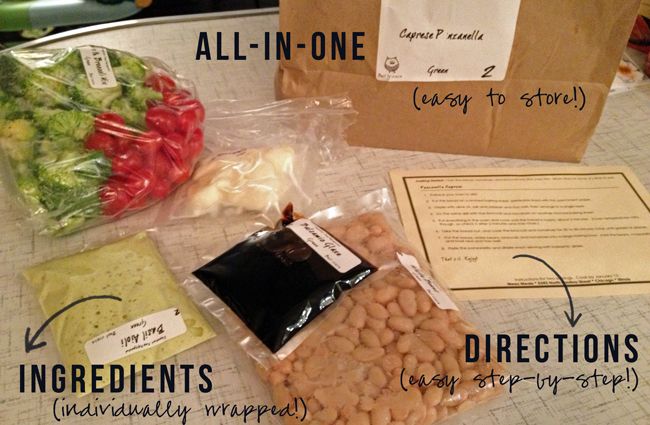 Today I'd like to share with you one of my favorite time-and-money-saving secrets:
Meez Meals
! Meez Meals is a delivery service in the Chicago area, and within a 25 mile radius. They even come all the way out to my suburb (in the Brookfield Zoo area), and I read they even go farther out (like Downers Grove), which is super awesome. I learned about Meez from my friend Lisa (
see our baby date here
).
Meez Meals
is NOT a subscription service where you get billed each week. You order only the week that you want, the number of meals that you want, and the number of servings that you want. You pick from a menu of five different delicious meals each week (the menu changes). The meals show up pre-packaged as separate ingredients, which have already been pre-washed, cut, rinsed, mixed, seasoned, or anything else that can be done ahead of time.
My job is to follow the super simple recipe/direction card that comes with each meal. Depending on which meals you choose, I'd say the average time from opening the bag to sit-down and chow is about 30 minutes. But you get to preview the times (and nutrition info) for each recipe online, so you can boil that down to an even shorter frame. I've had recipes down as quickly as 15 minutes, or had them take as "long" as 50 minutes... still not so bad, actually...
The coolest part is that I get to try all sorts of food that I probably wouldn't try out on my own. See the top left photo? My first EVER Meez Meal. I made crepes! I'd never made them before IN MY LIFE - and they were delicious! The top right is a red pepper frittata. It was so good that we ate 3/4 of it before I even remembered to take a photograph!
A bonus for me is that all of the Meez Meals are vegetarian, with the option of ordering recipes as vegan, if you so choose. There are also gluten-free options. Meez customer service is fantastic, so if you have other dietary concerns, they are absolutely willing to help you out with any questions - and they're fast!
Not a vegetarian? No worry - most of the meals come with suggestions for "omnivore options" so you can pair your meal with meat, too!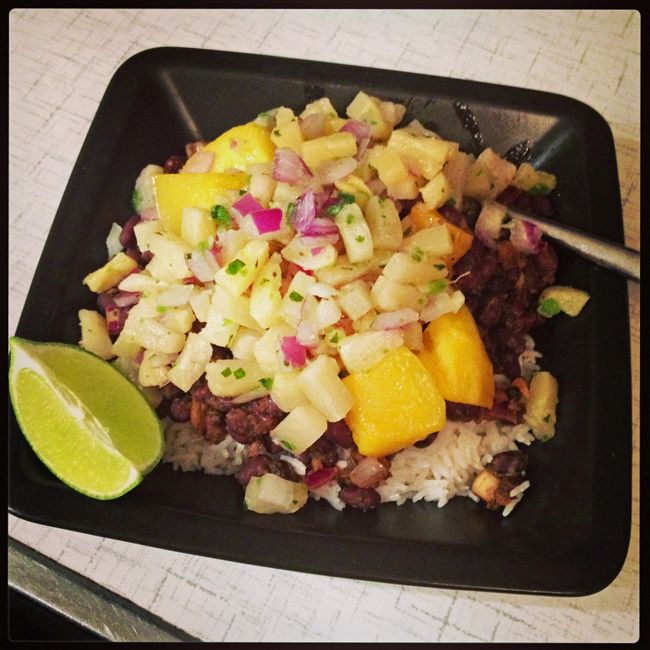 This was coconut rice with mango, pineapple salsa, and black beans... so freakin' delicious, I would have never thought to mix all of this stuff together on my own!
If you do decide to try out Meez, I'd recommend anything on the menu that's a taco. I've never gone wrong with those. But then again, I don't think I've gone wrong with any of my selections so far!
The order deadline for each week is Thursday. Deliveries are on Mondays, and all your meals come in a box with special packaging to keep it cold, so you don't even need to be home (we never are!) - it's safe for 12 hours on your porch. We get our delivery dropped off at the back entrance, and the delivery guy picks up the old box and takes it with him when he drops off the new one. So it's all very convenient.
Oh yeah, you're probably wondering about the price. I pay about $71 for one week - that's 3 meals for my husband and I (btw, the servings are huge!). At first you may think that sounds expensive... but if I don't cook at home, we order out, and we spend at least $25... but usually more. Go out for a meal and have a drink? The bill is automatically over $50. So if you consider what I save on NOT going out, this service easily pays for itself.
But my favorite thing about Meez is that I come home from work, pull out a brown paper bag, pull out the ingredients, and in 30 minutes (or so) - dinner is DONE! No "what should we have for dinner" conversation, no running out because I have no bread or milk... it's all decided! And I often feel like my brain is burnt out when I get home, so not having to think is absolutely priceless.
Rock on,
Jen @ Hell Razor