flannel shirt - thrifted / dress - Target / leggings - Torrid / boots - Torrid / belt - Torrid
So, I've had this idea in my head all winter about wearing flannel shirts instead of cardigans - you know, any place where I'd typically wear a cardigan - like over a dress, or with jeans and a t-shirt. But then I never quite got around to buying said flannel shirts. I did, however, add to my cardigan collection. I'm scatterbrained like that.
Well, on this day I decided to go ahead with my plan. I found this flannel shirt at Savers while shopping with Stephanie a few months back. It's the perfect amount of softness.
Heh heh. Can you spot the bit of yellow paint on the picture in the above left shot? I didn't see it until I was editing these photos! Art teacher problems. I intended to take these photos earlier in the day (a la my typical @ work photo shoot), but I've had kind of a crazy day/week/month/etc/etc/etc... therefore, you get an end-of-the-day in-the-studio shot. Even if it's kind of messy in here, it always looks happy and bright.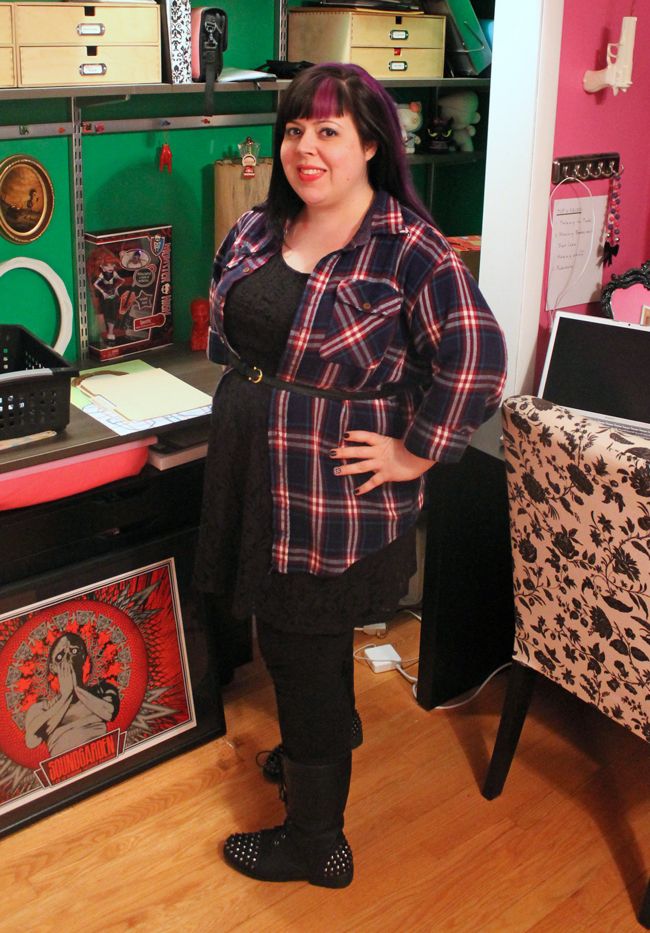 I do think my Soundgarden concert poster is kind of appropriate with the whole flannel theme though. And combat-ish style boots. Grunge flashback.
I painted my nails the night before. Tried the whole accent ringfinger trend. I used a bent bobbypin to make the polkadots (thanks Pinterest!) and Iggy was fascinated to watch the entire nail painting process. He was so quiet leaning over next to me, observing. It was pretty darn cute.
Rock on,
Jen @ Hell Razor