dress - Target / sweater - Forever 21+ / belt - Torrid / tights - We Love Colors / earrings - Tarina Tarantino / shoes - Sears
I like how I seriously look like I'm looking at someone else in the room, even though it's just me and a self timer, looking like a dork. Do you like my new bangs? Last time I visited
Megan at Floyd's
and she re-colored my hair, I had her cut my bangs crookedy. I kind of love them. You might have noticed them already in my
smoky eye tutorial
last week!
So, this is an outfit that I wore on a Monday. I think it was a subconscious effort to make the week seem less awful. Like if I dress cheerfully, the rest would follow? Once I got to school, I realized that my rainbow outfit was actually a CMYK outfit! I thought that was kind of funny, even though no one else noticed this fact. I did get some "hey I like your tights" style comments though.
This Target dress is the white/yellow version of the
all-black one that I wore here
. I think I might have shrunk the length a little though, because the yellowy underlayer didn't used to stick out so much. Thank goodness I always wear bike shorts under my dresses, because this dress did feel a little bit short all day...
Close-up of my dress lace. Or, this is the viewpoint if you're me looking down wearing the same outfit. My sweater is really bright. But it's fuzzy, so in these cold months it feels good to wear.
I also wore my
Tarina Tarantino
earrings today. These are one of my most all-time favorite pairs of earrings that I own. Surprisingly, I hadn't worn them in a while. I seriously love Tarina Tarantino. I wish I had more money to grow my collection, but it's a little bit pricey for me. Maybe that's why I love my Tarina pieces so much - because I don't have very many, so I can really enjoy the few that I do own!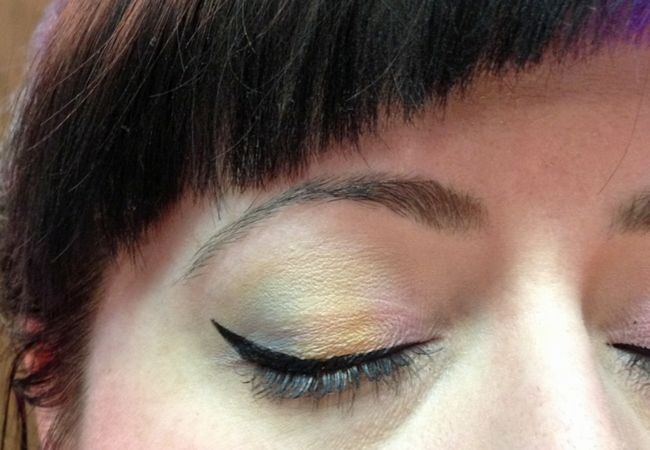 I topped off my colorful outfit with colorful rainbow eyeshadow. It doesn't look super bright in the photos, but trust me, it was plenty bright...! I used a white shadow under the brows, a light pink shadow in the inner corners, a bright yellow on the center of the lids, and a baby blue on the outer corners. Rainbow-riffic!
I'm still not sure if this outfit was a little too crazy, even for me. I liked it, but I felt a little out of place having nothing black on this day! And even more out of the ordinary, I didn't spill anything on it!
Rock on,
Jen @ Hell Razor