I meet some of my most awesome friends online, and several times I've had my online friends turn into the in-person kind. Lisa and Gunnar are two such people! Lisa makes yummy stuff, and has
an Etsy shop
(currently on hiatus) to sell her treats. Gunnar is her adorable little red-headed son, who was born only 10 days after Iggy! We decided to meet up at
Angel Food Bakery
in Chicago, where Lisa used to work.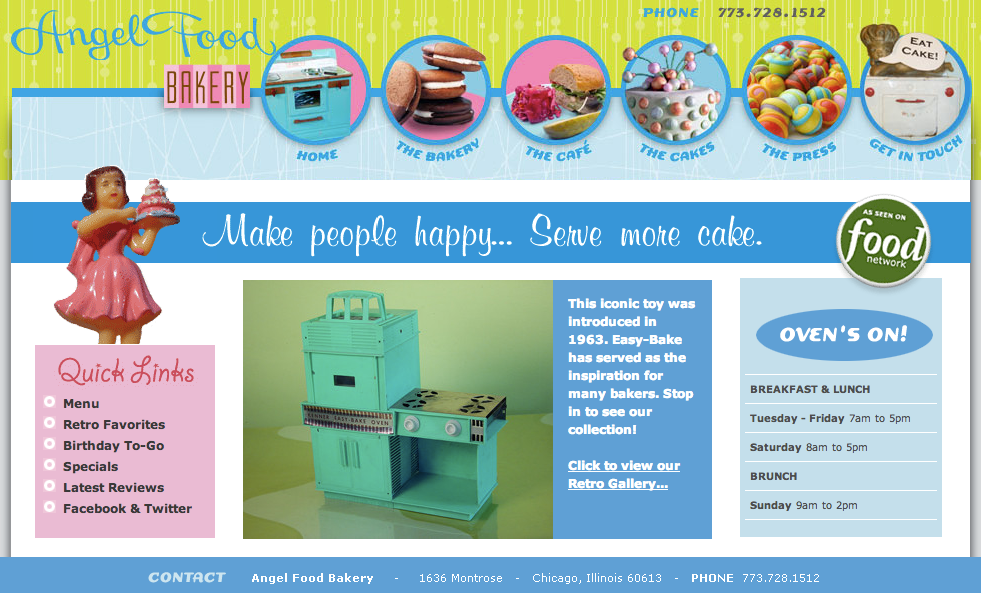 Angel Food is not only a bakery, but a cafe as well, so we met up for lunch. Gunnar and Iggy snacked on Cheerios and fruit snacks, while I had the Mediterranean Tuna sandwich (I have a thing for tuna, I can hardly ever pass it up!) and Lisa had the Wild Mushroom Cake. The food was delicious, and the store is so cute! Of course, the fact that Lisa knows everyone who works there personally didn't hurt! Everyone came out and said hello and visited with us.
After lunch, Stephanie, the owner, brought us a delicious treat for dessert. It had roasted pears, thyme caramel, a tiny dense cake, and whipped cream - oh man it was so good and I can't even remember all the good ingredients to describe it accurately...!!! But I've never had anything like it and it was so so good!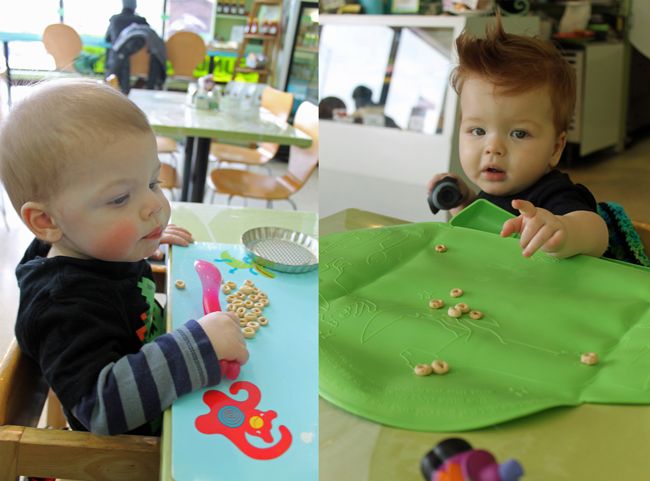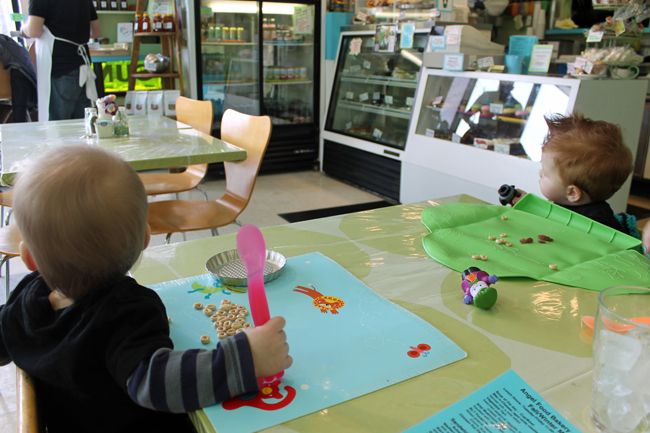 Angel Food Bakery even has a little play area for kids, which has mostly baking-themed toys like tiny pans and baking tools. Gunnar and Iggy were mesmerized by the foam puzzles, though. I love these photos below of them playing - especially the photo directly below where Gunnar looks like he's in the middle of telling Iggy a story!
Everything about Gunnar is so darn cute! From his red faux-hawk to his Johnny Cash shirt, rolled up jeans, and skull shoes - I wanted to eat him up!
Angel Food Bakery
is located at 1636 Montrose in Chicago. Phone 773-728-1512
Rock on,
Jen @ Hell Razor