Oh vintage sizing...Sometimes a very confusing subject. I have even included
a tab
on my blog that is dedicated to this. My goal here is to give you a simple, basic rundown on vintage sizing and what I've found to be the easiest way to figure out what size you are!
1) All Size Tags are Not Created Equal!
If you're new to buying or wearing vintage, you may have noticed that a the size tag on your dress says 12, but is smaller than a size 12 you'd buy at a department store. That's because vintage sizes are about six times smaller than modern sizes. So, if you wear a modern size 10 (like me) you're technically a vintage size 16. Now, we all know that a size number varies from store to store so I tend to ignore size tags on everything...modern AND vintage. I find it easier to shop by measurements especially if you're shopping online.
2) MEASUREMENTS!?!?!
Ok, this is not as scary as you may think and it's a LOT easier too! Once you know your measurements, you will feel more comfortable with shopping for vintage both online and off!
WHAT and HOW to Measure
Now for the interactive part...All you need is a measuring tape (the ones used for sewing are probably best here...metal is cold)...Oh! And a friend would also be handy! The first thing to remember with measuring is begin at the spot on the tape where the measure reads "0" and make sure the tape is level all the way around your body (this is where a friend will come in handy).
There are 3 major body areas you are going to measure: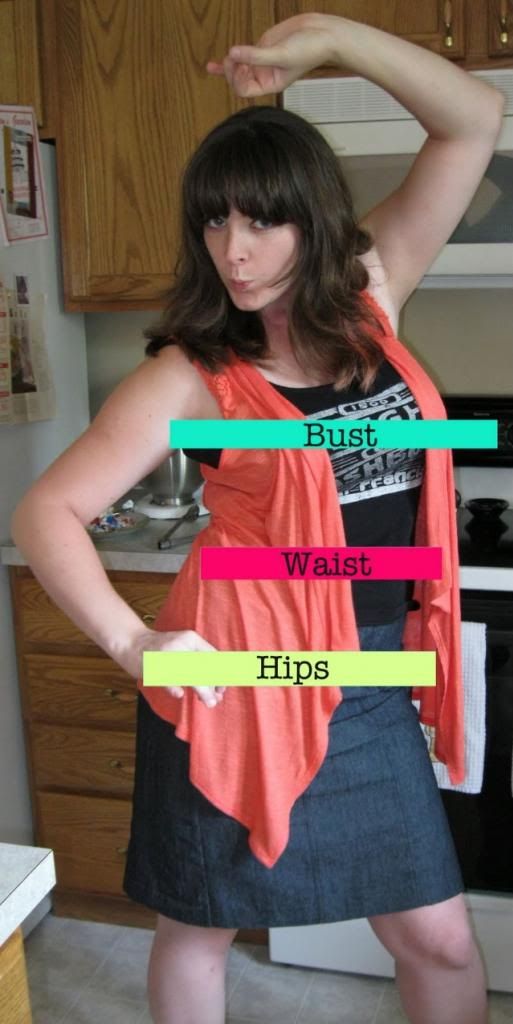 Your Bust
A.K.A: "the girls"
How to measure -
Numero uno of import is keep your bra on.
Place the tape measure around your back and across the fullest part of your bust. The measuring tape should feel secure, but don't pull it tight! Whatever number the measuring tape meets "0" is your bust measurement!
Your Waist
AKA: The smallest part of your torso.
If you're confused, just stand with your feet slightly apart and bend to one side. Wherever your side creases is where you should place your tape measure!
How to measure-
Start near your belly button and wrap the measuring tape completely around your waist. AS much as you may feel like it, do not "suck in" or pull the measuring tape tight. ;) The number that meets "0" on your measuring tape is your waist measurement!
Your Hips
A.K.A: Either side of the body below the waist and above the thigh...Or where you place your hands (on YOUR body) when you're REALLY mad at your significant other. ;)
How to measure -
Wrap your tape measure completely around the fullest part of your hip area. Again, don't pull it tight. The number that meets "0" on your tape measure is your hip measurement!
***You may also want to add an extra inch or 1/2 inch to these numbers if you don't want a skin tight fit.***
3) What Do I Do with My New Found Knowledge?
If you are shopping online, most of the time the shop will describe their clothing sizes based on measurements. Your measurement numbers will be your guide for a comfortable fit!
Yours Truly,
Steph @ Calamity Layne