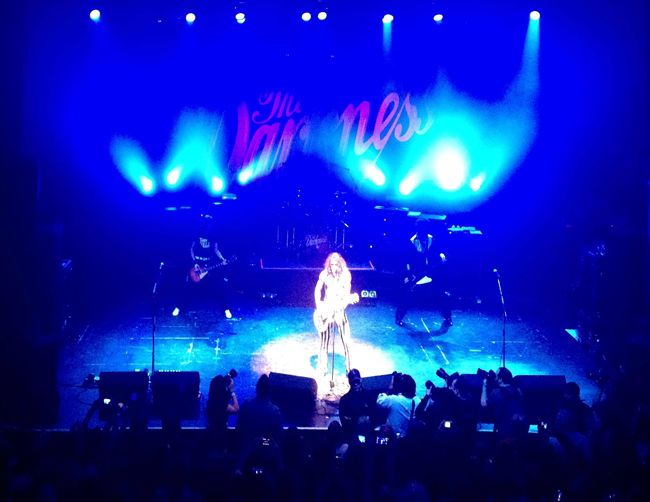 I really like going to shows at the Vic theater because of its size. The Vic is small, and even from the very furthest back seats in the balcony, you still have a decent view. Plus, the balcony has wait staff, so you can order a drink without even having to leave your seat and risk your spot being taken – bonus! This was only the third time I'd been to this venue (previously I had seen a Liz Phair show, and another show with the Dresden Dolls), but I still think it's fantastic.
My luck with plans and weather meant that it decided to snow/rain/sleet/freeze on this evening, and we had to haul it all the way to the city from the 'burbs. Surprisingly, the trip was decent considering the weather – I expected so much worse. But we didn't mess with finding street parking and just sucked it up to pay $26 to park across the street in the garage. So once we arrived, we didn't waste any time getting in. That was good.
My current physical state dictates that if I can sit and watch a show and still have a decent view, I will gladly do so! So my husband and I hiked it up the stairs to the balcony and found a seat way over to the left, but in the second row of the balcony. That was nice. Plus, the seating is steep enough for each row that I can see over pretty much anyone who might sit in front of me – another plus for the Vic.
We grabbed a couple of drinks and settled in for the opening band, which was Hell or Highwater. I've had a pretty bad record for liking opening bands in the past, so I didn't have high expectations. But I kind of liked them! I thought they were pretty rockin and I liked their style. The singer looked a little bit out of place – everyone else had long hair and a bit of a classic rock style, but he had a shaved head and a vest on over his t-shirt. His voice reminded me a little bit of Kings of Leon. None of this was necessarily negative, nor did it sway me from enjoying their set. It was nice to have a solid band opening up for once, and now I have a new band to check out.
The Darkness came on just after 9:00 pm and immediately punched us all in the face with their sound and energy. They never let up. I mostly sat with a huge smile on my face and kept laughing at the antics of Justin Hawkins in that damn stripey low-cut bodysuit. Words cannot even describe him accurately. It's like a hipster Doctor Rockso… a modern-day David Lee Roth with a handlebar moustache? Wait, those are both kind of the same things… oh well…
I thoroughly enjoyed Justin straddling the stage and rail, hip-gyrating and thrusting into the faces of the press photographers and security guards during the first couple of songs. The crowd was way into the entire set, singing and shouting along the words to the songs. Even if you didn't know the song, you could still be entertained by the "dancing" and general aerobic antics of Justin Hawkins. Lots of kicking, splits, jumping, standing on the drums, headstands, etc…
At one point, Justin did a headstand on the drum riser and used his legs to clap along to the music. At another point, he climbed on top of the speakers, jumped over to the first side balcony, and stage dove into the crowd on the floor. Then, his brother (Dan Hawkins, guitarist) carried him around the floor on his shoulders amongst the audience as Justin continued to sing.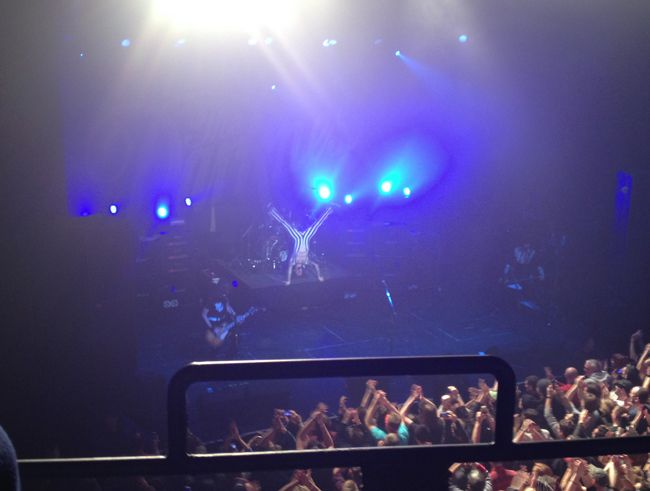 Justin Hawkins is also an excellent stage presence for his ability to banter with the crowd. He is very quick witted, and made me laugh. Some if it may have been scripted, but you could tell (for instance, as he pointed out an empty spot on the rail and realized that someone had puked right there) that much of it was riffing right on the spot. I like the Darkness, but didn't consider myself a huge fan until after this show. I had so much fun that I would definitely go see them again next time they're around. It was an awesome live show, and I can't say enough great things about them. I would even go so far as to say that this was one of my all-time favorite shows!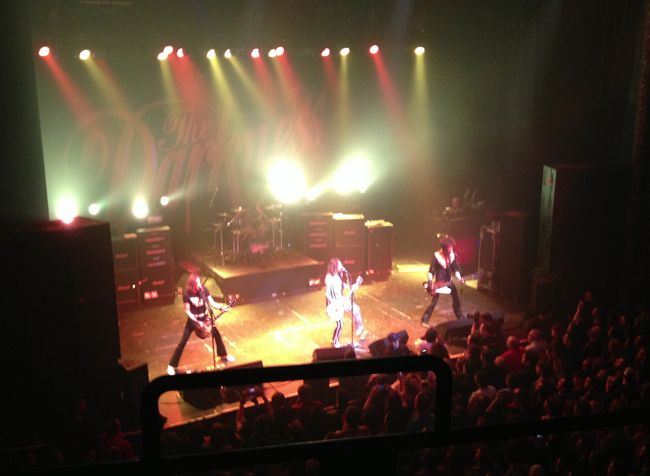 My favorite song of the night was "Giving Up." It's kind of become my anthem for when I'm sick of everything.
Here was the setlist for the evening:
Every Inch of You
Black Shuck
Growing on Me
She Just a Girl, Eddie
One Way Ticket
Nothin's Gonna Stop Us
Get Your Hands Off My Woman
Love Is Only a Feeling
Friday Night
Concrete
Living Each Day Blind
Is It Just Me?
Givin' Up
Stuck in a Rut
I Believe in a Thing Called Love
The Best of Me
Street Spirit (Fade Out)
Love on the Rocks With No Ice
Rock on,
Jen @ Hell Razor