Wow - what an incredible show! Soundgarden played 2+ hours, no opening band, and it was amazing! This show was at the Riviera Theater, so my primary concern (as a 5'1" female) is to get a clear path of view. This show (and the following nights show) were both SOLD OUT, so I was glad to have done a little bit of research the night before to find out that there was no opening band... I was hoping to have this bit of knowledge work in my favor, betting on the fact that a large portion of the crowd would NOT know that and show up later, possibly even after the band went onstage.
Well, I have a knack for planning a big night out and having things go awry. The weather was awful (rain, flooding rain), which made our tip down to the city during rush hour about double what it normally would have been - from about 45 minutes to an hour and a half. So we got to the venue about a half hour later than I was hoping, even though I gave us a little extra time to get there. But I did find a spot where I could see!
I had to go to the very back railing (the Riviera is kind of a stadium-stepped floor with three different "levels" and a railing separating each section) and I was in the second row of people, so I positioned myself between a girl and her boyfriend. This is very much preferred to trying to see between two dudes. Girls are generally shorter, and their boyfriends are usually pretty nice, compared to two "bros" out to "get totally wasted!" at a show. Gross. So I lucked out and had a pretty good spot. I know if I can see, that Todd is okay, because he could see clear over my head if he had to, so that's cool.
I also like going to shows with Todd because he's a good place holder and a good barricade from sweaty shirtless dudes. This crowd was super packed, and we were so far back and to the side, we didn't have to worry much about shirtless smelly bros this time around. It was nice.
Okay then - the show! This show was fantastic! The band come on and was a little slow to get into the groove, but by about the third song, you could tell they were really into it. I was hoping that they would play "Burden In My Hand" (and they did), but it didn't really hit me the way I thought the song would, but it was still pretty damn good. I was surprised at how much I loved (best song of the night IMO) "Blow Up the Outside World." I had one of those moments where you just zone out and go into another little world while listening to it.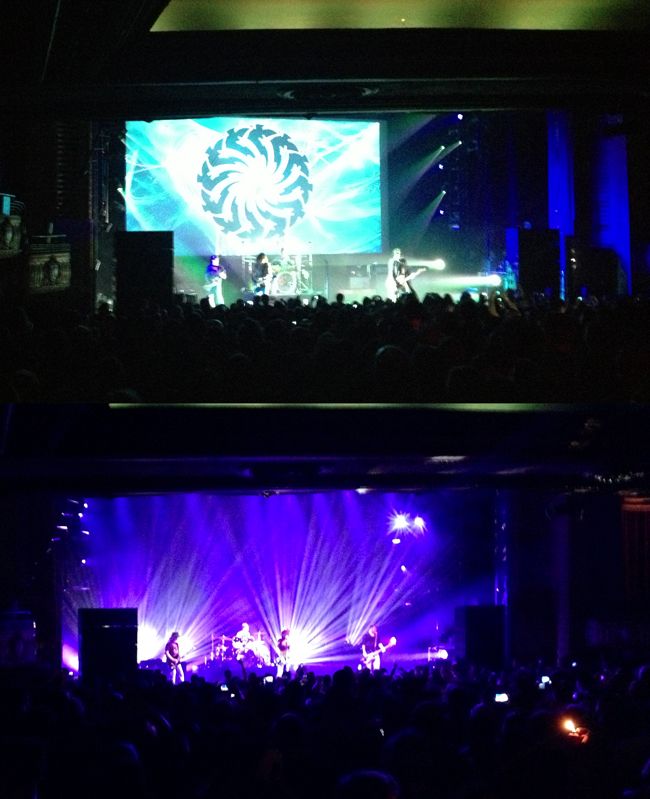 So, since I'm old-er, I can't stand for long periods of time... blame it on the lousy recovery from pregnant-land or whatever. It was difficult to stand the whole time. I even volunteered to push my way through the crowd to fetch more drinks, just so I could move a bit and my feet wouldn't ache so much. They actually start to fall asleep and get tingly in a horrible painful way if I stand for too long without moving (ever have that happen?)... Then I left a second time during the set to use the ladies room and I picked up a sweet poster print for that night's show (I'll have to frame it up and show you later!). I made sure to wear my steel-toe boots, which are good for packed crowds to not get stepped on, plus they're lace-up, so I can adjust them to be as comfy as possible. And they have room for extra insoles, which I also wear for events like this. But none of these preparations or breaks were enough to keep my feet from absolutely KILLING me at the end of the night. Ouch!
Jesus Christ Pose
So my only real complaint (but doesn't really seem like a valid "complaint" per se) is that the set was almost too long. Eh, maybe I should've just climbed my ass up to the balcony, I don't know... The final song, "Incessant Mace," dragged out for a really really long time. In fact, I think the crowd as a whole was very confused, like "wait, that was the ending?" when the lights finally went up. I personally expected the band to go out with more of a bang, rather than a weird trippy, bluesy, drag-out ending... but, personal preference... I'm sure there's some dude out there that was all "Oh man I was blown away by that ending! It was my favorite song! I was so wasted and it was amazing!"
But it just didn't do it for me. A minor issue in the grand scheme of the entire set. I had a great time at the show. I was able to run through the rain afterwards pretty quickly to the car - we found a spot on the street not too far from the venue, just a couple of blocks.
Setlist for the evening:
Been Away Too Long
My Wave
Worse Dreams
Room a Thousand Years Wide
Jesus Christ Pose
Rhinosaur
Non-State Actor
Drawing Flies
Hunted Down
Loud Love
Big Dumb Sex
Blow Up the Outside World
Fell on Black Days
Tighter & Tighter
Burden in My Hand
A Thousand Days Before
Superunknown
Fresh Tendrils
Nothing to Say
Spoonman
Black Hole Sun
4th of July
Outshined
Rusty Cage
By Crooked Steps
Incessant Mace
Rock on,
Jen @ Hell Razor
now playing: