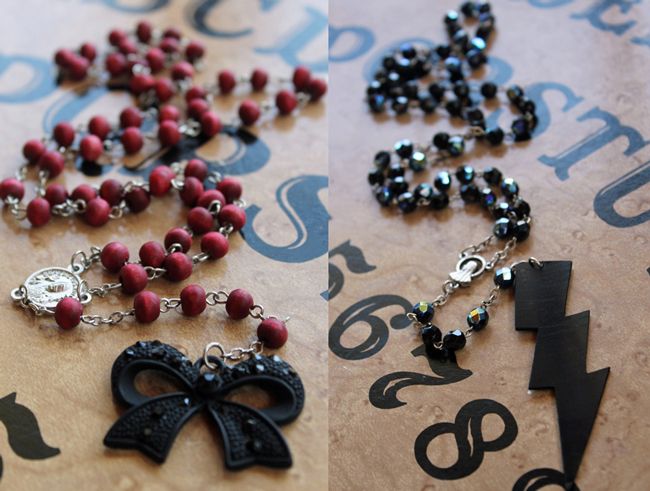 In the last week, I've put up a whole bunch of new items in the
Hell Razor etsy shop
! In fact, I've sold several items before I was even able to get this post up! Woo hoo!
Pictured above are two new recycled rosary necklaces. The first (above, left) is a
Black Bow Recycled Rosary
necklace, and the second (above, right) is a
Recycled LP Lightning Charm Rosary
necklace. I especially love these vinyl charms made from old records. I hand cut and filed these charms using a jeweler's saw and file. It kind of takes me a while, but I love the uniqueness of each pendant!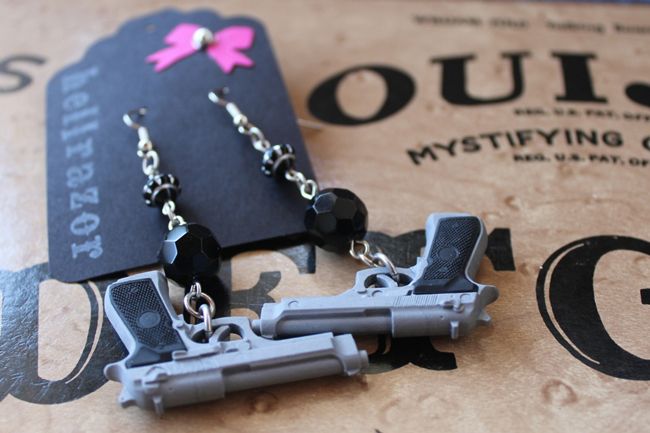 Don't you just love these earrings? I made them from a couple of tiny novelty erasers! I love finding unusual items and turning them into wearable pieces.
Handgun Eraser Earrings
are available in the Hell Razor etsy shop right now!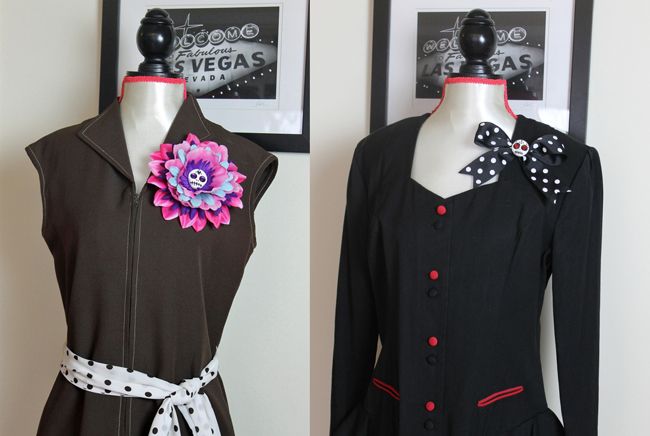 Stephanie and I did a fun photoshoot a couple of weekends ago where we combined our stock to "style" some of her vintage clothing pieces alongside Hell Razor accessories. You can find my
Pink, Purple, and Blue Sugar Skull
combination hair clip/pin modeled on a Calamity Layne
Vintage Brown Cowgirl Day Dress
. My
Sugar Skull Polkadot Bow
is being featured on her
Rockabilly Goth Red & Black Dress
.
I love how we get to cross-reference our stores and also give the customers an idea how our pieces can be worn and styled!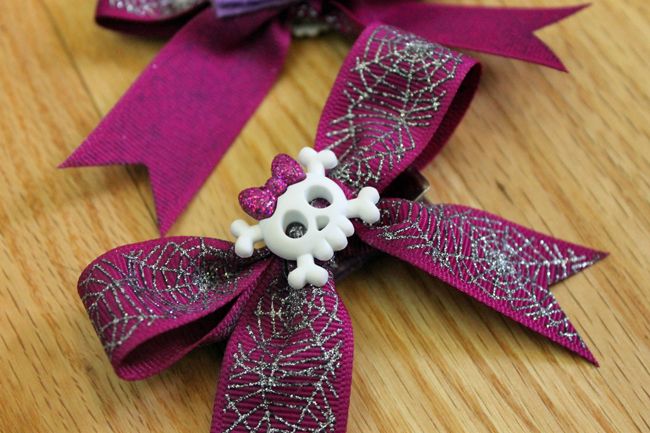 If you're not a fan of the oversized/statement bow look, I've also made a few sets of smaller bows, like this set of
Glittery Spiderweb Skull Bow
barrettes.
Rock on,
Jen @ Hell Razor
now playing: