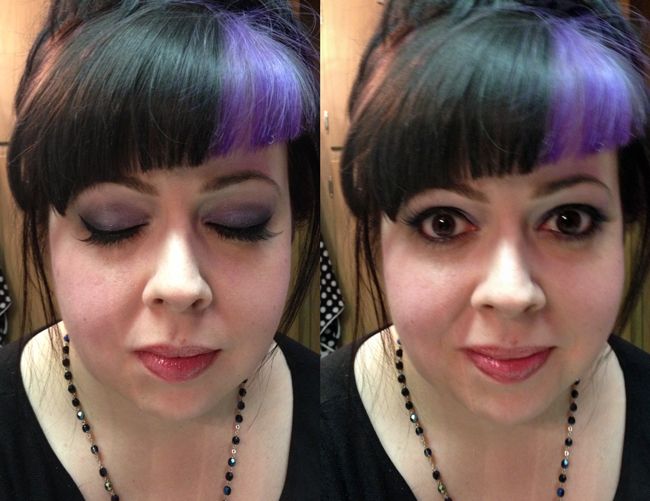 Today I'd love to share with you my purple smoky eye look. I learned this several years ago at a makeup counter way back when I first started getting serious about makeup. Keep in mind, I'm not a professional makeup artist - I just like having fun doing makeup. This is my go-to look for nights out (like going to a concert, or a fancy wedding).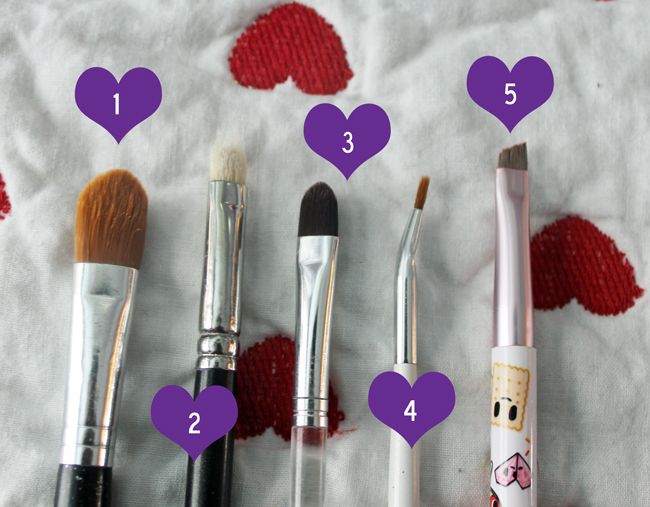 If you've been a reader for a little while, you know my love of makeup (ahem,
post 1
,
2
,
3
,
4
, &
5
of my collection...) and you know that the tools are really one of the most fun parts of makeup for me. So I'm going to start with the basic tools you'll need:
A concealer brush (Bare Escentuals Maximum Coverage Concealer Brush)
A small-ish eyeshadow brush (this is a really old MAC one, I need to replace it soon! I think it's this one...)
A small, flat, concealer/blending brush (I'm pretty sure mine is a Clinique Brush - Concealer)
A tiny eyeliner brush (optional, depends on your eyeliner. This one is Sonia Kashuk from Target; similar here or here)
A slanted brush for eyebrows and/or eyeliner (again, depends on your choices of makeup - mine is from the Tokidoki set)
(not pictured) An eyebrow brush. If you don't have one, you can use an old toothbrush or a clean mascara wand.
I like to start by "priming" the eye to make my shadows last. My all-time fave is
Benefit Cosmetics Stay Don't Stray
). I put a little on the lids, and a little on the undereye area and blend until it's pretty much invisible. I use concealer brush #1 for this.
The overall key to having a good shadow look is to BLEND. Start with small amounts. You can always add more, but it's really hard to subtract!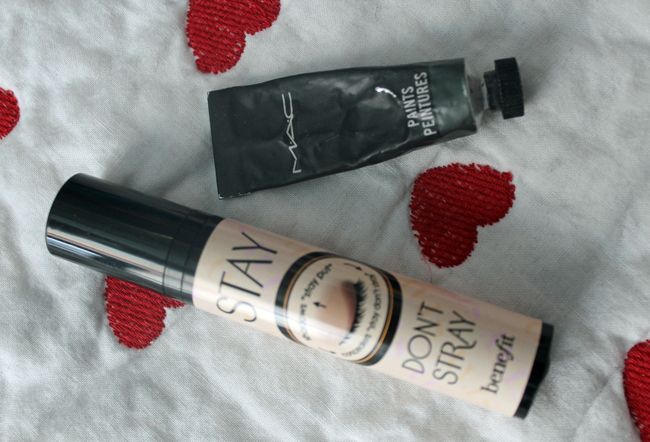 After I apply Stay, Don't Stray, I apply MAC paint in Graphito (no longer available; use
MAC paint pot in Blackground
as a substitute) to the entire lid area, up to the crease. I blend the heck out of it, so it slowly gets lighter as it gets to the crease, but it still looks overall like a dark gray cream shadow on the lids. This is a base coat over which your powder goes. I apply my paint with concealer brush #3, but will often use #1 to help blend the crease area upward.
See my attempt at a Photoshop illustration below to give you kind of an idea where to apply the cream base layer: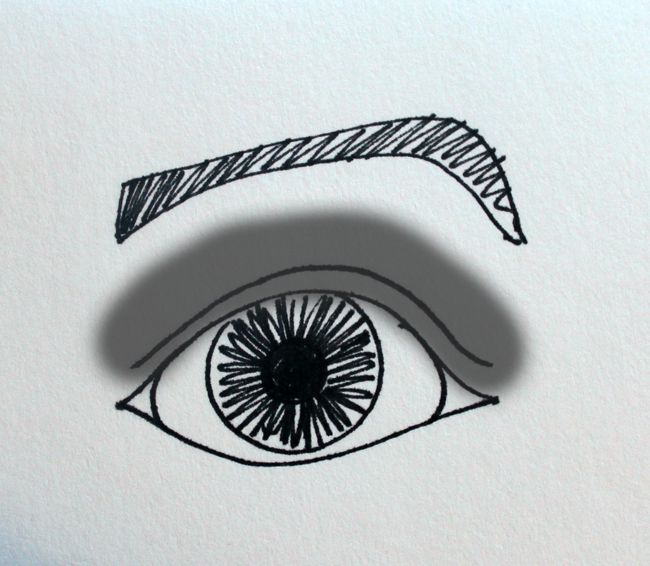 Before applying shadow, I forgot a minor step, which is optional. I usually take a black eyeliner pencil (I like
Urban Decay 24/7 Glide-On Eye Pencil
in Perversion) and line the bottom lid. Then I smudge it out with a q-tip. If you're feeling really brave, you can also line the inner rim (the waterline) of the eyelids above and below. In the photos at the top of this post, I used pencil liner for the lower lids.
Okay, now you're ready for shadow. My favorite three shadows for this look are
all from MAC
:
Idol Eyes, a light gray-ish silver, for the highlight under the brows
Beautiful Iris, a light purple, for most of the lids (I was running out, so I have a spare, see?)
Black Tied, a dark sparkly black, for the outer corners, blended into the crease on the outside of the eyes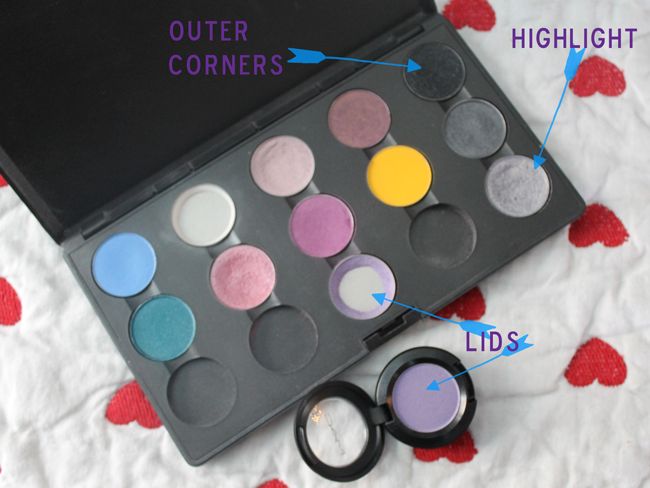 Again, I made a Photoshop illustration of the general placement of shadows. My photoshop painting skills leave a little to be desired, so I'll try to explain the drawings here:
First, I apply Idol Eyes just below the eyebrow, down to the crease. I make sure that this shadow blends smoothly into the Graphito paint I applied in the last step.
Then, I apply Beautiful Iris from the inner corner of the eyes across the entire lid, about 2/3 to 3/4 of the way across towards the outer corner. This blends up into the crease of the eyelid. The layering of the light purple shadow over the dark paint layer is what gives the purple smoky effect!
Last, I apply a small amount of the Black Tied on the outer corner of the eye. I blend it across the outer 1/3 of the lid (into the purple from step 2) and also up over the crease area slightly.
Now that your shadow has been applied and blended within an inch of its life, you get to apply liner. I'm a fan of the cat eye effect.
There are a lot of great cat eye tutorials out on the interwebs, so feel free to use the one that works for you the best. My method is most like this picture (original source unknown) that went viral on Tumblr: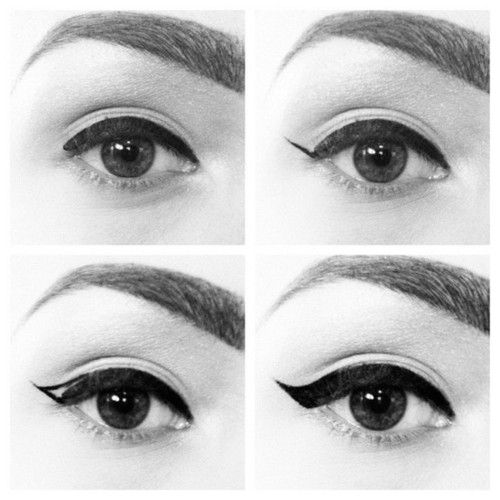 If you know the original source, please let me know!
When it comes to eyeliner, you have some choices, depending on what you're most comfortable with. I typically go with some kind of gel or liquid liner, so here are my three faves (pictured below):
Maybelline New York Line Stiletto in Blackest Black
Maybelline Master Precise Liquid Eyeliner, Black
I first started out in makeup using MAC fluidline with a thin brush - I found that I had the most control with this method. After becoming more comfortable with this liner, I moved to some more traditional liquids. Although I like the Maybelline Master Precise liner for its matte black look, it's still a liner "marker," which I find dry out rather quickly. So my personal fave is Maybelline Line Stiletto, although I've been having a hard time finding it in stores lately (I usually order it online a few at a time!)...
After you apply your liner, curl your lashes. I don't apply my mascara until AFTER I apply my false lashes - it helps blend them in. If you're skipping the falsies step, so ahead and apply now. My fave is
Benefit Cosmetics They're Real! Mascara
.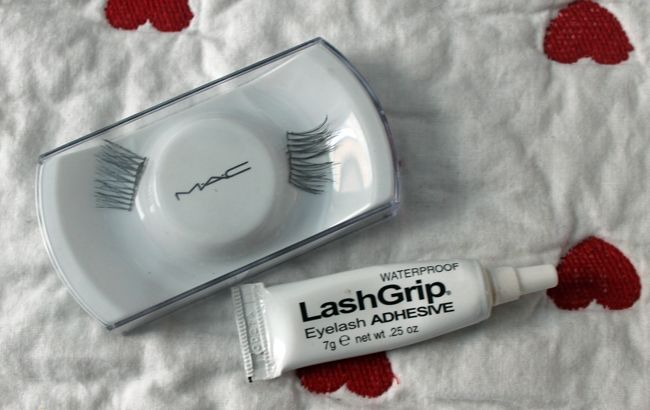 Tiny false eyelashes are the cherry on top! You don't
have
to use fake lashes, but I personally LOVE them. I wish I had the patience to apply and wear them everyday! These are small "1/2" lash strips, which are applied to the outer corners of the eye. I'm wearing them in photos at the top of this post. I blend them in by gluing them right along the lash line on top of my black liner, and sometimes I'll add a little additional Black Tied shadow over the strip if I feel like I need them to blend in a little bit more. But smoky eyes are easy for hiding fake lashes since it's so dark anyways!
I usually put some lash adhesive on the back of my hand, then "dip" the strips in the adhesive on my hand (keeps from putting too much on). Then, I give the lashes a few waves in the air, to get the adhesive sticky, before applying to my lash line. Be patient and let them dry completely before moving forward.
As stated above, I usually apply my mascara after my fake lashes are on and dried, as it helps to blend the fake lashes with my real ones...
To finish off your eyes, don't neglect your brows! I use a little bit of brown shadow (this is from a Tarina Tarantino/Sephora pallette) and an angled brush to fill in any thin spots, then give my brows a swipe with my brow brush to neaten them up.
So, now you're on your way to an awesome purply version of the smoky eye for your next night out on the town! Let me know if you have any questions!
Rock on,
Jen @ Hell Razor