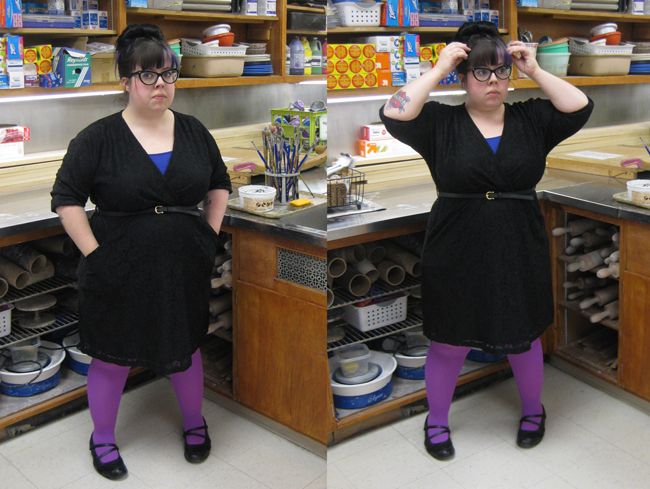 dress - Torrid / tights - We Love Colors / tank - Torrid / shoes - sketchers / belt - Torrid / glasses - Coastal.com
So, my lack of free time at home has now got me taking outfit photos at work during my off-time. So, here's the art room... Well, just the back corner of it. I always feel weird doing photos at work, like someone's going to walk in and be all "hey there weirdo, why are you taking photos of yourself? you know you're not a model, right?" and then I have to try to explain the idea behind everything and they still don't understand and just think I'm a weirdo...
Well, I guess I kind of am a weirdo, but not a creeper weirdo. Whatever, I think you know what I mean.
I bought this dress for my grandmother's wake. Always a fun time. I figured I could "happy" it up a bit to wear to work by pairing it up with these tights (I love We Love Colors plus-sized tights) and a purple tank.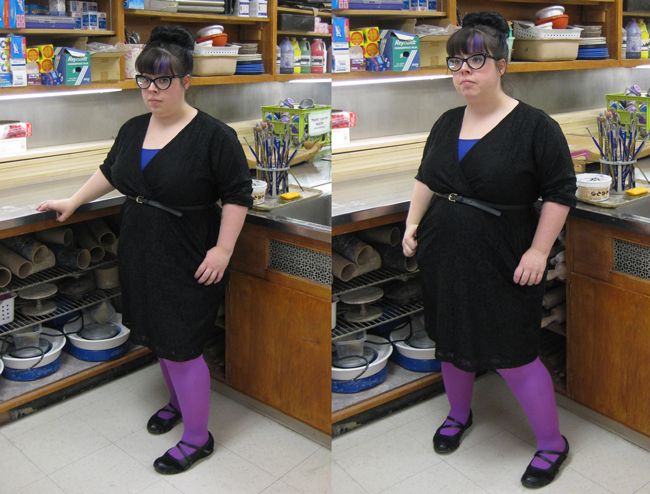 The full shots don't really do the dress any justice. It's made of black lace with a solid black layer underneath. It originally came with a brown belt, but I'm reallyreallyreally not a fan of brown, so I think I threw it out when I got home. A different dress I bought at Torrid came with this skinny black belt, so I used it instead. I've also worn this dress with my black bow belt from Torrid.
You can see a close-up of the dress lace below: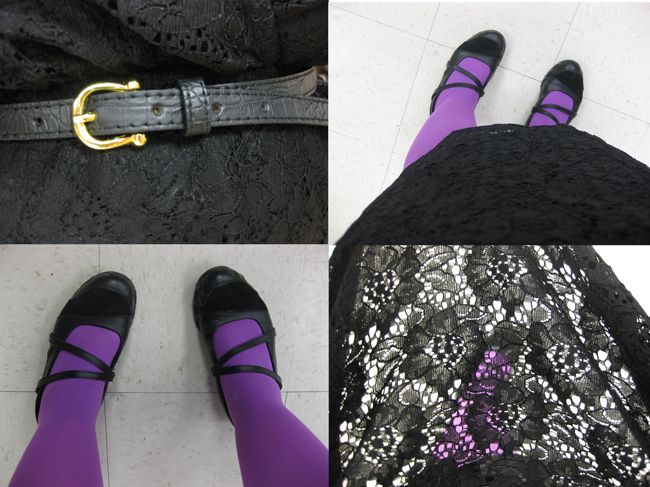 My shoes are from Sketchers, they're like sneaker mary jane ballet flats. I bought them when I was pregnant simply for comfort's sake, and they're one of the few pairs of shoes that can fit my insoles and still feel pretty darn comfortable. So although a different pair of shoes may have looked "better" with this outfit, I went for comfort today and I still think I did ok.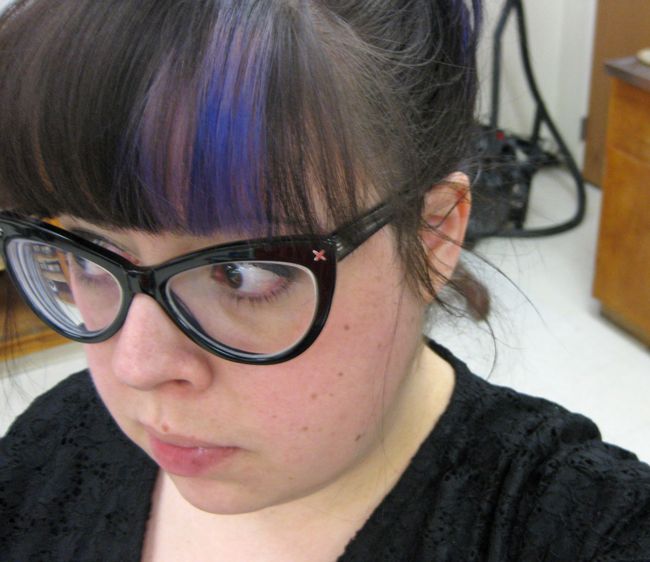 My hair really badly needs to be re-purpled in these pics. I just bought myself some more
Pravana from Image Beauty online
, so I'll go ahead and touch it up myself before the next official visit with
Megan at Floyd's
.
Rock on,
Jen @ Hell Razor