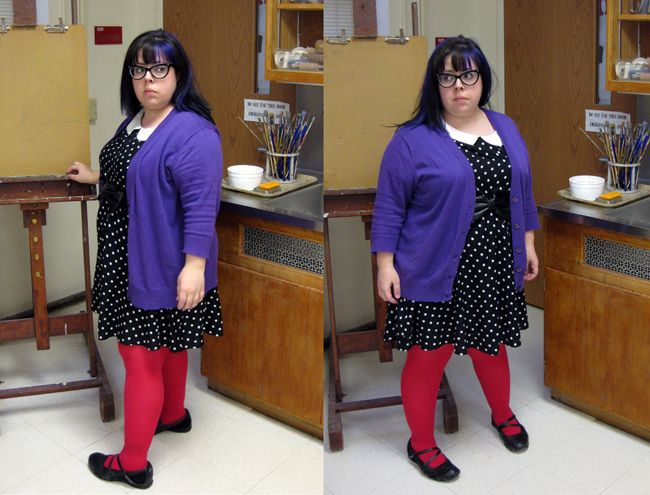 cardigan - Torrid / dress - ASOS curve / belt - Torrid / tights - We Love Colors / shoes - Sketchers /
glasses - Coastal.com
I've been doing really well on my attempts to take more outfit posts. I've been doing not-so-well at not making weird faces at the camera. Sigh. It'll get better... I hope?
This is a dress that I ordered from ASOS curve at the same time I ordered
my sweater dress
. The fit is a little weird (it's too long), so I hiked it up at the waist with some safety pins and covered it with my wide bow belt. No one's the wiser! Well, except all of you now because I told you. I've wanted a peter pan collar dress for a while, so I was pretty excited when I found
this one for sale on ASOS curve
just after the new year. And because I wear black a lot, I decided to throw some colorful pieces over it: my red tights and a purple cardigan.
I've worn these shoes before
. In fact, I've kinda been relying on them any time I wear tights lately simply for the comfort factor. Hopefully soon I can venture out a little bit to some more fashionable options.
Rock on,
Jen @ Hell Razor