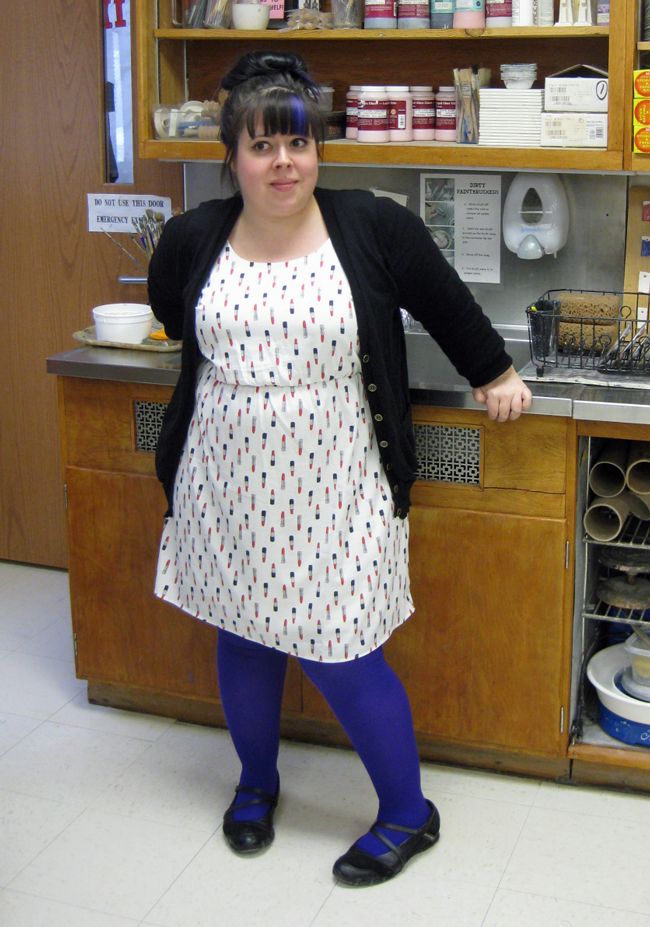 cardigan - Forever 21+ / dress - Forever 21+ / tights - We Love Colors / shoes - Sketchers
Dresses with all-over patterns. I'm super drawn to them. So when I saw this dress, with little lipsticks all over it, I knew I had to have it. I mean, it helps that it was from Forever 21+ for only $20... so yeah.
This is also the outfit that I wore for Iggy's first birthday party. And it reminds me of Ms. Frizzle. You know, the Magic School Bus? She always had outfits that had patterns all over them of whatever the class was studying. If only I taught makeup! That would be fun.
I didn't take a picture of the same old Sketchers shoes up close, since I've featured them a couple of times already. Looking back on this outfit though, I do wish I'd picked out some earrings or a necklace to go with it.
I'm using a point-and-shoot to take these photos at work. I should probably make an effort to bring my DSLR in order to get a little better quality in the future! Did you also notice that although I'm looking away again, it's a little bit closer to the camera? Baby steps.
Rock on,
Jen @ Hell Razor