cardigan - JCPenney / dress - Target / leggings - Torrid / boots - Torrid
Hey look I'm looking at the camera and smiling! Is that a fluke? I dunno. I assure you there were enough other weirdo face-making and looking away shots in this session as well. See below.
Today I'm wearing another black lace dress, but I assure you it's totally different from
the one I wore before
. This one's from Target and it's short-sleeved (hence the cardigan). I love this dress (I think it was only like $20) so when I saw another one that was white with a yellow-y lime green underlayer, I bought that one, too. But I'll save that one for another day.
I think this blue cardigan is my favorite color out of all the cardigans I own. I've worn it several times this week, even though this is only
the second time you're seeing it
. And can we please discuss STRIPEY LEGGINGS?! Thank you Torrid! I only want to ask how long until the black and white version will be made? And why aren't you carrying the leggings with skulls on them anymore? I wanted a pair sooo bad and you ran out, only to not carry them anymore! Sad!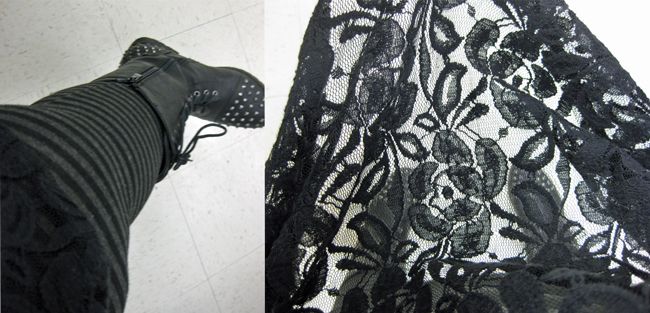 Dress + leggings (or tights) + cardigan is kind of my "formula" for getting dressed... especially in the wintertime. I love to pair it all with a great pair of boots. I've been
lamenting my lack of finding a perfect pair all season
, and I'm still not there... however, I did find a decent pair recently (I wish they were taller - the height's a little weird...) at Torrid online. I love the studs on the toes and heels. They zip up the side, which is my favorite for getting on and off, but they tie, which is good for creating the perfect fit, aka having the calves wide enough. I do wish that the ankles were slimmer though. You can see I've tied that section as tight as possible, but it's still a
little
bit off. Hence the search continues.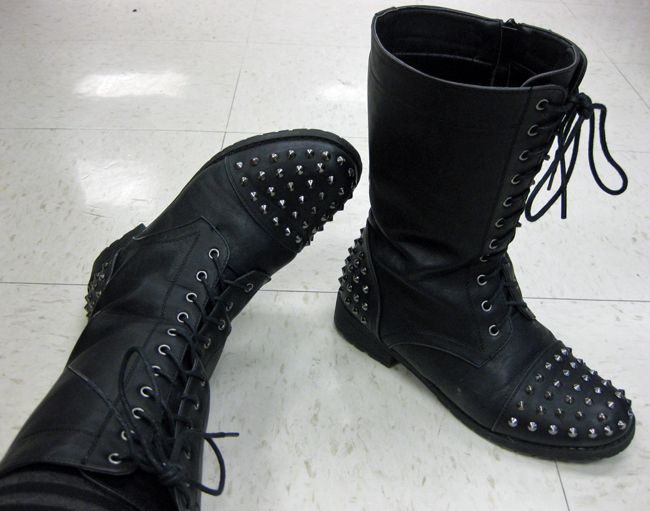 I like when my hair is curly, and I've tried so many different methods. It holds for varying amounts of time, based on the time of year and what method I've used. This hair is a leftover from a failed method. Well, failed for day one, but day two (here) seemed to be ok. I tried dampening my hair and twisting sections into pincurls, clipping them into place and sleeping on them. The next day it was insanely big and frizzy and puffy, so I put my hair into looped pigtails (it looked like I had two puffballs of hair!). The next day, after sleeping in the pigtails, I pulled it out (in anticipation of having to pull it up again), but it looked significantly better and I kind of liked the wave. So yayy, but way too much trouble to use this method again. Back to the curly hair drawing board!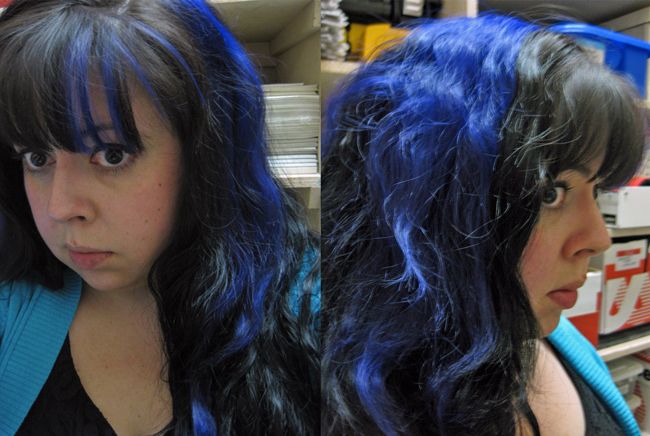 Also, I'm not really sure why my hair looks so blue in this post. I assure you it's purple. Pravana VIvid Violet, to be exact. Blame it on the poor lighting + point and shoot cam. Just imagine it in the color corrected version, ok?

Rock on,
Jen @ Hell Razor