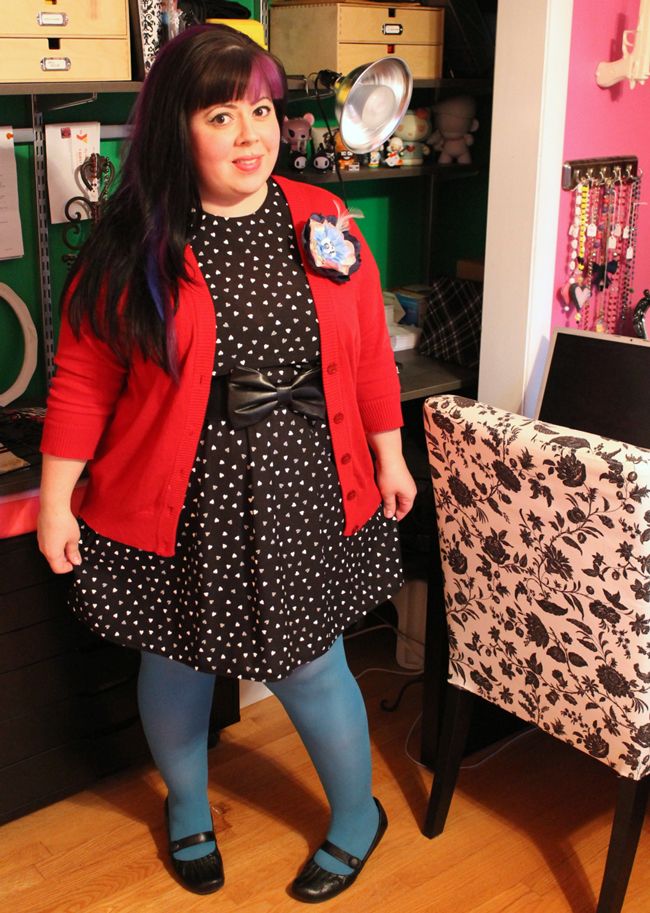 dress - vintage / cardigan - Torrid / tights - we love colors / shoes - old (sears?) / belt - Torrid / flower pin - hell razor
So I decided that I needed to find a "cool" outfit to wear to the roller derby while I was vending, and this vintage 80's heart print dress was the perfect thing! Stephanie actually found it at our last thrifting trip and sent it my way. I know it was less than $5 (how awesome!). But it was a lot longer (well, Im short, so everything tends to be "longer" on me). I used my very minimal sewing skills to shorten the hem - so proud of myself! I think I took off something like seven inches of length!
Okay, to be honest, I ended up making it a little bit too short. I left myself an inch for hem allowance, but I think I used a little more. No matter - I always wear shorts under my dresses when I wear tights because I always end up having to sit on the floor or climb up something, so wearing shorts is like an insurance policy from embarrassment.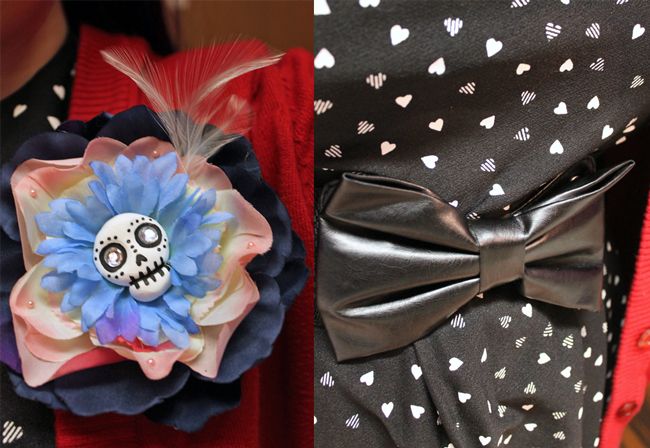 I absolutely love the heart print on this dress! It has an elastic waist, so I put on my bow belt from Torrid (it used to have a tulle layer on the bow, but I pulled it off) to cover the elastic. I like a red/black/white combination, so the red sweater seemed natural. I decided to go a little out of my comfort zone with the teal tights though, and I'm really glad that I did!
Plus, it gave me the opportunity to wear my Hell Razor
blue and pink sugar skull combination hair clip/pin
as a fun corsage on my sweater.
This was also the first time I wore "regular" shoes out in a very long time! These shoes are a favorite pair of mine, because they're comfy but also give my legs the same effect as wearing heels. I think I bought them at Sears at least three years ago. I bought a similar pair about a year and a half ago with the intent of replacing this pair, but they just weren't the same, so I ended up keeping these. The sole is peeling away at the bottom, although you can't tell from this pic!
This day's hair turned out pretty well. I even clipped in my blue streaks (see above left) just for fun that night. I've been thinking of buying some other clip-in pieces in assorted colors to mix with my purple streak, too. Like red-violet or pink or turquoise?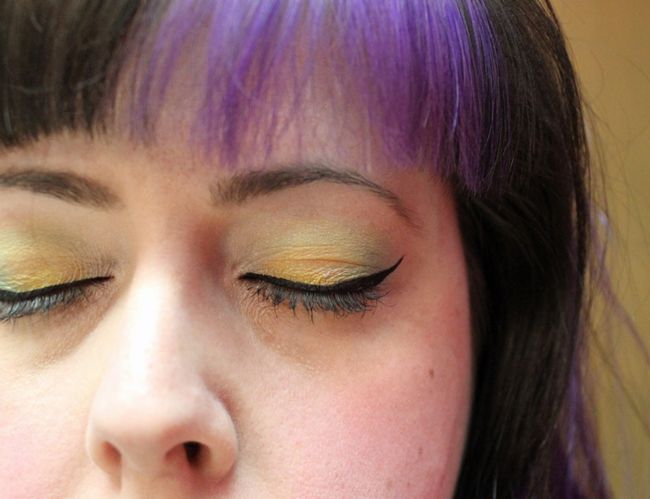 Oh no! My cat eye liner is a little bit off - can you tell? Oh well. The shadow turned out nice! It's a yellow shadow from MAC and the turquoise shadow ("Too Dolly") from the Hello Kitty MAC shadow palette of the same name. Have I mentioned how much I loved the
Hello Kitty for MAC
line? I even wore the lipstick today, too (it's called "Big Bow" and it's a beautiful bright pink!). It's getting so low now, I don't know what I'll do when its all gone!
Sad trombone.
Rock on,
Jen @ Hell Razor.