Hey guys! It's nice to see you all again!
Woo! Dave and I have officially been married 2 years! Our anniversary is Jan. 9th and to celebrate, I thought I would share some thrifty tips for your wedding, or your next big event!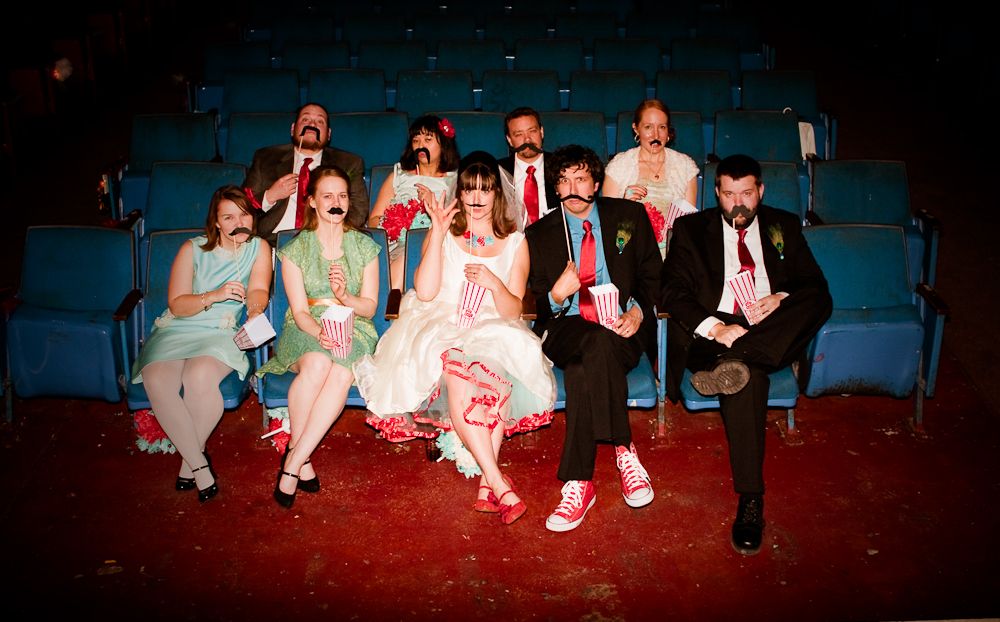 Thrifty Tip #1 - Venues
I'm pretty sure the 2 most expensive words in the world are "wedding" and "baby." So when you're looking into venues and dates, think outside the box! We got married at
Portage Theatre
in Chicago because my husband studied theatre and I wanted an interesting vintage venue. It was perfect!
Also, consider having your wedding on an "off" date. Since most places up their prices starting in the spring, try looking into getting married during the fall or winter. We got married in January on a Sunday and our venue only cost us $800 for the whole day! We had unlimited seating and an in-house sound system. We were able to create playlists for all of our music, before, during and after the ceremony. That cuts our your DJ costs and people still dance!
Thrifty Tip #2 - Make Stuff!
I was a busy bee in the weeks before my wedding. I made our invitations, RSVP cards, and programs with some card stock, an inkjet printer, and a paper cutter. I think the whole project cost us maybe $50. I made the guys' boutonnieres from peacock feathers, flower tape, ribbon, hot glue, and some buttons which cost about $20.
Cupcake Tree
makes some great sturdy cardboard stands. I used one of their stands to make our cupcake stand. I used wrapping paper, hot glue, spray adhesive, and ribbon. The whole project cost about $50.
Thrifty Tip #3 - Alternate Bouquets
Instead of spending tons of money on flowers that wilt faster than you can say, "I DO," try carrying something different down the aisle. I made our bouquets out of tissue paper napkin rings from Etsy, $2 styrofoam bouquet handles, and a few pieces of Christmas tree fillers from JoAnne Fabrics.
Some other ideas are:
Felt flowers with button centers
Colorful spiral Lillipops held together by ribbon
Pinecones glued onto a bouquet handle with some ribbon (cute for winter)
Bunches of colorful feathers
Pinwheels
Thrifty Tip #4 - Skip the Sit Down Dinner
We had our wedding after dinnertime and informed everyone on the invite that we would only have finger foods and cocktails at the wedding. Before the wedding, guests were welcomed to get popcorn and candy from the concession stand. We ordered veggie trays and cheese and meat trays from
Portillo's
for afterwards. We also had an open bar and cupcakes. No one gave us any crap and we saved a LOT of cash!
I hope this was helpful! Feel free to comment with any questions or ideas that worked for you at your wedding!
Yours Truly,
Steph from
Calamity Layne