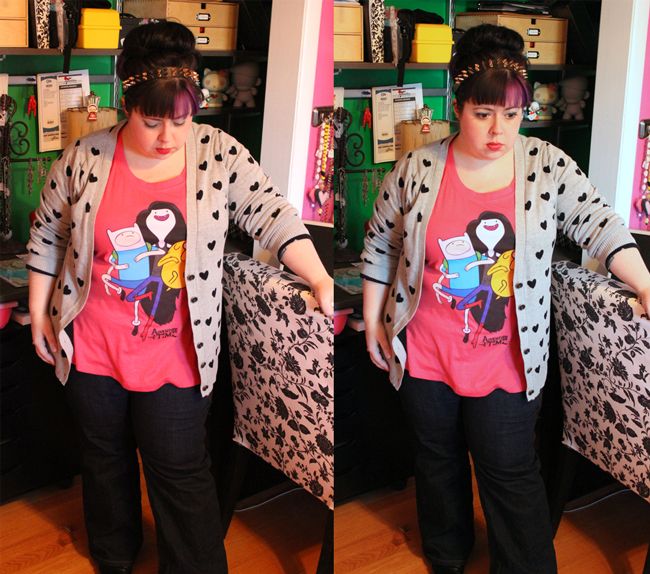 adventure time shirt - Torrid / sweater - Forever 21+ / jeans - Lane Bryant / headband - Domino Dollhouse
I ordered a bunch of new sweaters from Forever 21+ just before Christmas, so I'm excited to pair them with dresses and t-shirts and jeans. I used to have a white sweater with red hearts from Forever 21 (in a smaller size *coughtootightnowcough*) but the red bled onto the white areas, which totally sucked. So I'm glad to have this black and gray one - much more my color scheme anyways!
Also, I was super excited to find an Adventure Time t-shirt at Torrid! Last time I was there shopping, they had a WAY better selection of t-shirts than ever before, so yayy! Keep it up, Torrid! Lastly, these are my new bootcut jeans from Lane Bryant, but it's sad because I love them and just now that I found them, I discover that they're being discontinued. Geez. NOT EVERYONE WANTS SKINNY JEANS, PEOPLE!!!
I don't care if you think I'm out of style. I want my bootcut jeans and I stand by my opinion that PEPLUMS SUCK. So you won't see one of those here. What's up with the unflattering fashion trends???!!!
Let's talk about makeup, okay? Way more fun: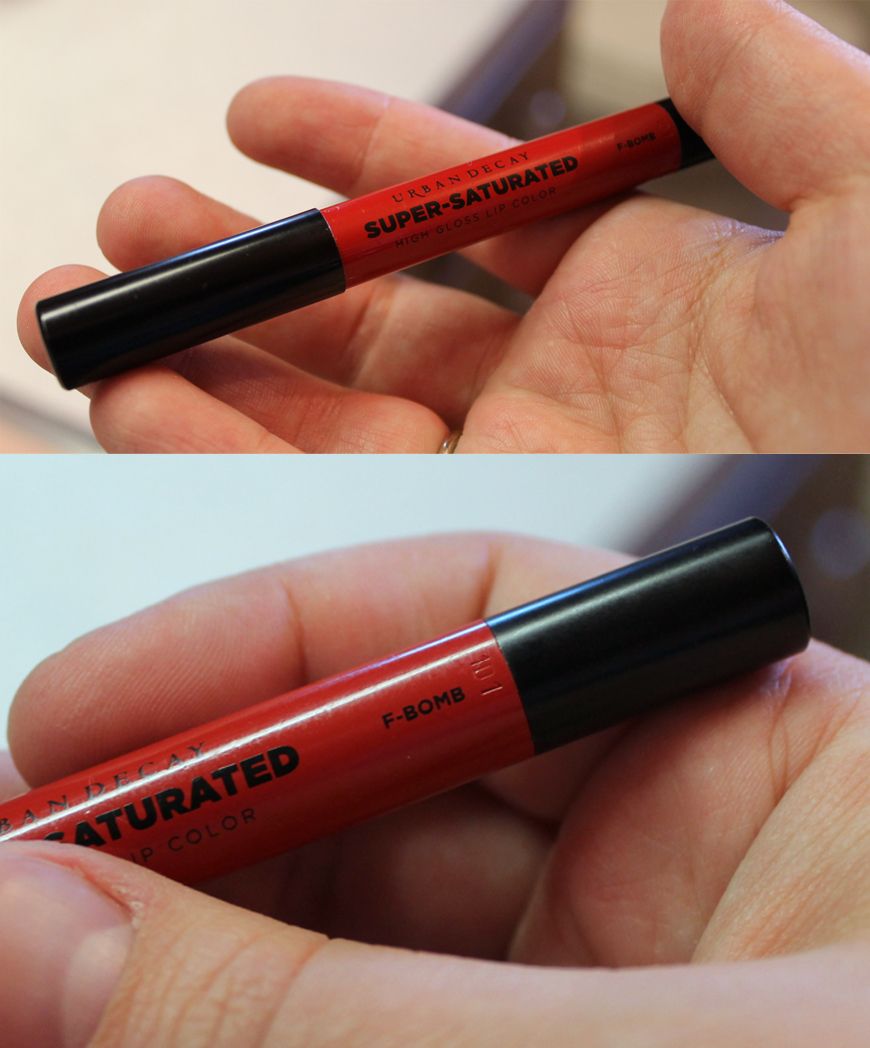 I bought this
Urban Decay Super-Saturated High Gloss Lip Color
crayon for one reason only: the name. Um, it's called "F-Bomb!!!" Yes please. But I really like red lipstick anyways so I knew it would work out.
I love lipstick, but I put it on in the morning and then forget I'm wearing it. I fail to apply it again ever during the day. The first time I eat or drink, I see that I have lipstick on and I wipe it all off in order to avoid the weird "half lipstick" look, and then I forget to reapply. Hence, no lipstick for the day. So I usually don't even bother, even though I love the look. But here for outfit photos it looks like I wear it all the time, NBD...
And the daily eye:
Hmm... I should take better notes on my photos. I can't remember what eyeshadow this is. Some kind of blue on the outer corners? Eh, it's not that bright, so I guess it doesn't really matter. Same liquid liner cat eye. I did a good job on the line this day.