Hey, did you enjoy
meeting Stephanie on Friday
? Isn't she awesome? I'm so excited that she's going to be a regular feature here on the blog! Stephanie and I have some major fun plans in the works, so stay tuned for some fun and exciting new announcements right here at this very spot!
Look at me, being all regular with my outfit posts (as in... two so far!). I have quickly learned that I have a tendency to look over to the left when I'm taking photos...
What the heck is she looking at?!
leopard shirt - Torrid / skinny jeans - Torrid / purple tank - Torrid / socks - xmas gift, similar @ Hot Topic
This is what I wore on New Year's day. I decided to get a little fancy for hanging out and try curling the ends of my hair. I really like how it turned out, but unsure if the time it takes makes it worth it on any kind of regular basis...
My leopard sweatshirty-top is see-through! It's hard to tell when I'm wearing it (that's why I like it...), but if I hold it out
like this
, you can see it: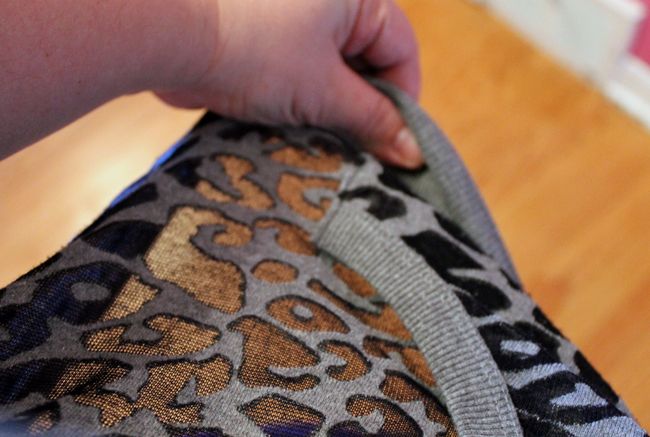 So I mix up what color I wear underneath it. Today is purple. The funnest part of my outfit though is my socks. I'm still perfecting the art of the self-timer to take my outfit shots, so I keep cutting off my own feet. In time, this will improve. But let's focus on the socks, ok?
My brother bought me these for Christmas, and they're Adventure Time socks! You may be thinking "but, Jen, these do not match!"- but that is precisely the point! It was a pack of 10 individual socks that do not "match" any other socks in the set, so you mix them up however you want! Genius!
So today I picked my two favorite princesses: Princess Bubblegum and Lumpy Space Princess.
For today's eyes, I kept with my trusty liquid liner cat-eye (Tip: I use
Maybelline Line Stiletto Ultimate Precision Liquid Eyeliner
because of the felt-tip applicator. So inexpensive and so easy to use!), but I used pink in the center and purple on the outer corners of the lids. Purple is kind of my go-to color. You know, matches the hair.
So, this upcoming weekend is going to be super exciting, as I'm vending at my first roller derby match on Sunday night! If you come, you can not only meet me, but Stephanie too because she's coming with to help me lug and sell all my stuff! I'm even going to have special items themed for the derby teams, so come if you can!
Full deets on my previous blog post here
.