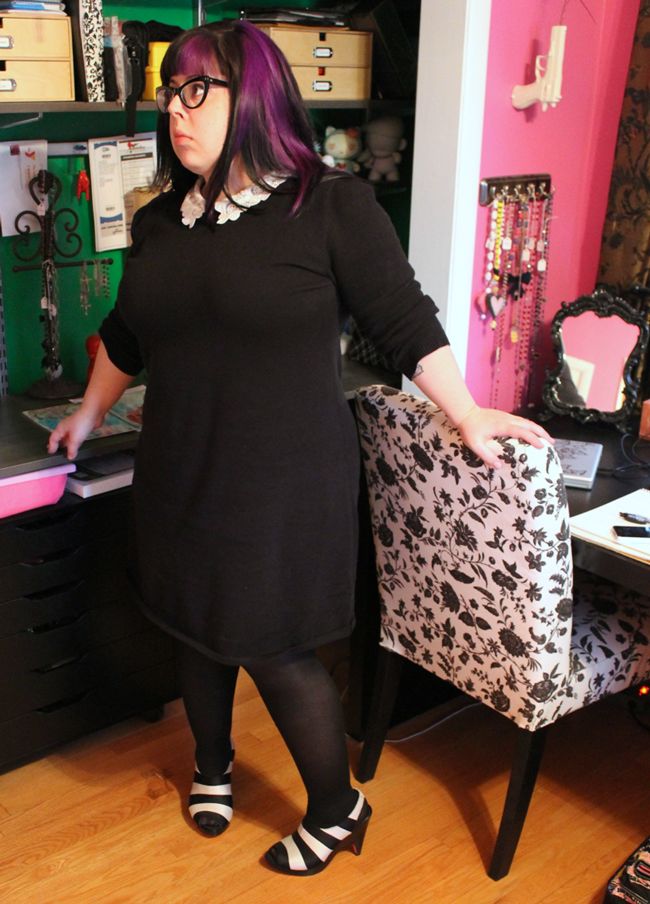 dress - ASOS curve / glasses - Coastal.com / shoes - Payless
Over Christmas break, I decided to treat myself with a little shopping. I placed my first ever order with
ASOS Curve
, and I'm super happy how it turned out! I bought this
knit sweater dress with a lace collar
(it was on sale!), and another dress that I'll be sure to feature soon!
So, let's talk about these major awesome shoes. These are not new. These are shoes I purchased way back when the Alice + Olivia for Payless collection came out (2010 I think?!), but I rarely have occasions to wear them. And they're high heels. So, I didn't actually wear them out this day. I just wore them for the photos because I love them and WOULD wear them out if I didn't have stupid feet.
Stupid feet.
Aren't these shoes fantastic though? Probably one of my all-time favorite pairs.
Close-up of the dress. No makeup shots today, because I wore my glasses. I've kind of discovered that if I do go all-out on my makeup but I wear my glasses, you can't even tell. So I typically go kind of neutral with shadows and just do a regular black eyeliner (no winged liner). Today is also one of those days where I just forgot to do the lipstick thing (see
my post re: lipstick
).
I love this dress because it looks like a Wednesday Addams dress. And you know me, all things gawth.
Rock on - Jen.