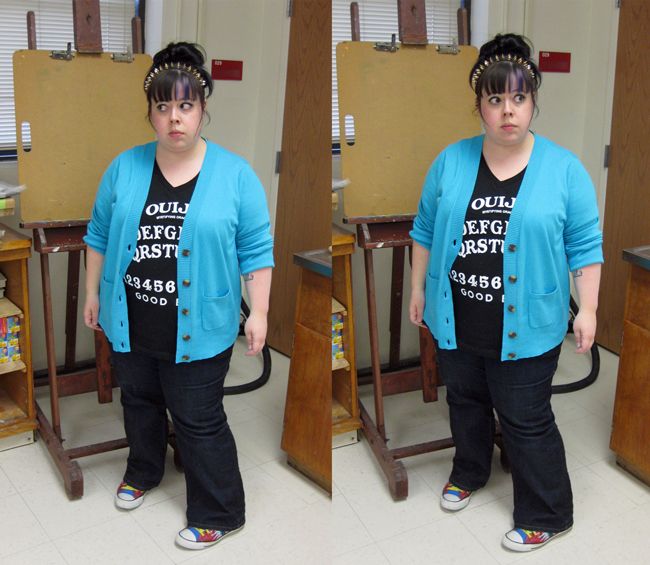 t-shirt - Torrid / cardigan - JC Penney / jeans - Lane Bryant / shoes - Journeys / headband - Domino Dollhouse
Can I just say how super super excited I was to find this t-shirt at Torrid? Way back before Christmas, I had gone on a mini shopping spree at Torrid (thanks Mom!) and earned a bunch of those "spend $50, get $25 off" coupons. So when I went back just a couple of weekends ago to use some of those puppies up, this t-shirt was sitting in a pile just inside the door when I walked in! YESSSSSSS.
I also picked up this turquoise cardigan at JC Penney in their "plus size" (aka ugly) section for only $10. Another super lucky find. I hate the JC Penney plus size section. Because typically 99.9% of the clothes are super ugly (in case you couldn't glean that from the first sentence of this paragraph). Why can't us fat girls look cute, too? Why does everything need to be elastic waistband and old lady and lame? GET WITH IT, PEOPLE!
- end rant -
I wore my Domino Dollhouse headband for the first time at work today. Got lots of compliments.
Here's something fun you might not know about me: I like to wear ridiculous tall socks (preferably of the stripey variety) under my jeans where no one ever sees them. I also do this under my boots. Today, I let you take a peek: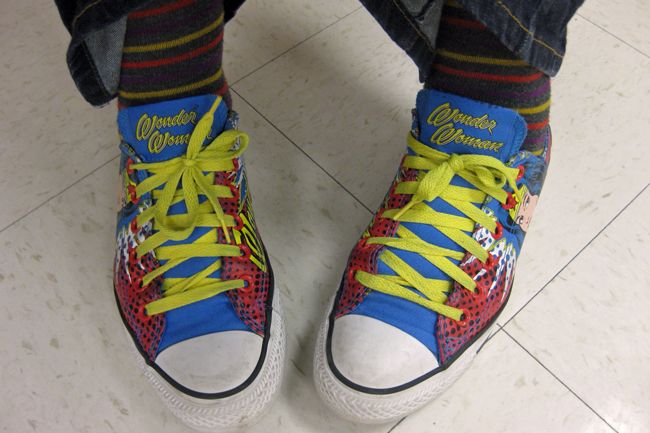 My mother-in-law bought these for me for Christmas. They absolutely do NOT match with my
Wonder Woman Converse
, but I don't care.
P.S. Tomorrow is Iggy's 1st birthday! I can't believe it's been a year already! Expect a photo-laden 1 year post soon. :)
Rock on,
Jen @ Hell Razor