It's funny... I was so excited to share
all of our Halloween decorations
that I took photos even before I was finished, and had to split my posts into
two parts
. But, uh, Christmas? Not so much. Don't get me wrong, I'm all for Christmas and all... it's just that we teach all the way up and through the 21st, so it gives me pretty much zero time to decorate when I'm too busy trying to figure out how to get all my damn presents purchased and wrapped.
Yeah, bah humbug to you, too. I'm doing the best I can here.
Anyways, this post is about our Christmas decor. I don't have as much as our Halloween decorations (no bathroom things), but we still do pretty well. So I started up above with our main living room Christmas tree. Todd painted the red star at the top so it had a more nautical star feel, and I made the tree skirt, way back when we first started dating. It needed a few repairs this year. We also have blue garland, and kind of have a love for non-traditional colored christmas decorations, so we keep an eye out for that.
Also, a close up of some of my fave ornaments: (clockwise from top right) a tree I made in first grade, a handmade Miss Piggy ornament from a craft fair that I picked out when shopping with my mom when I was little, and a martini "tree" ornament from my mother-in-law a few years ago.
Continuing our love for non-traditionally colored items, see our stockings below. Todd and I bought these the same year we bought our tree and I made the skirt. I hung all of our stockings from the mantle, and I'm thinking of making the red one with the tattoo print cuff into Iggy's stocking. Just need some glitter paint or something like that... and the green santa "Jenny" stocking is mine from when I was little. My mom gave it to me when I moved out, and it's so cute, so technically, I have two stockings. We don't usually fill them, but perhaps next year when Iggy's older I may start something.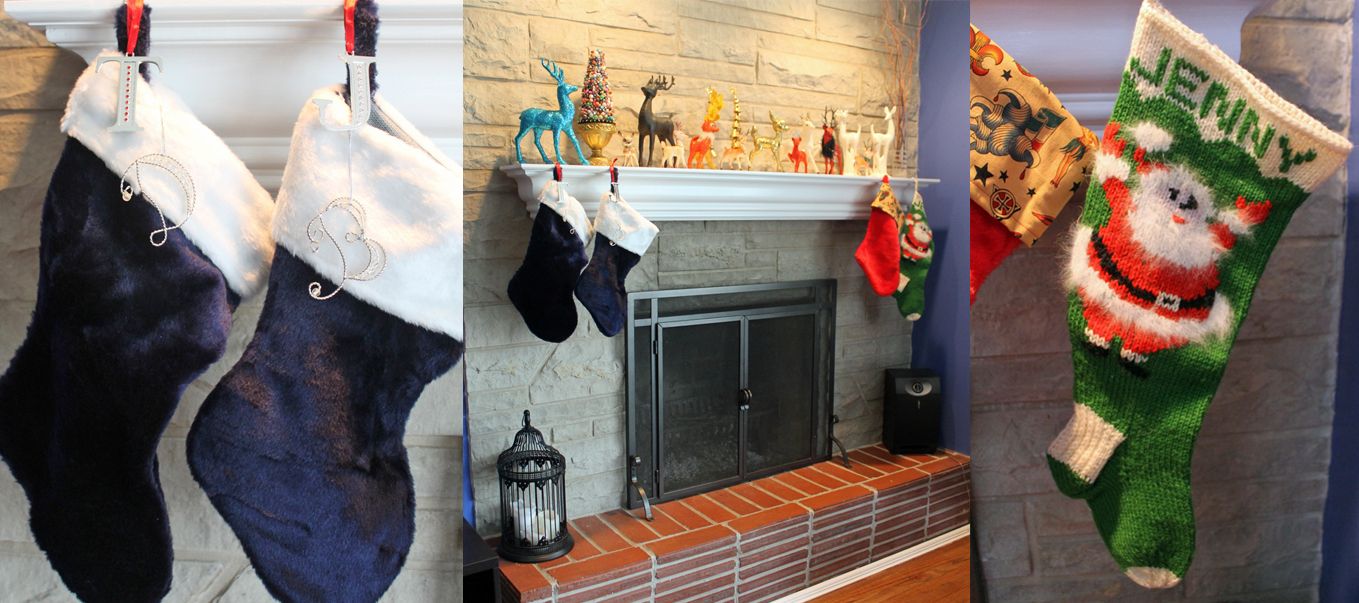 On top of the mantle is my reindeer collection. It's a mix of new and old/vintage reindeer that I find, and usually each year I try to add at least one. I think I found two this year at the antique mall by my house...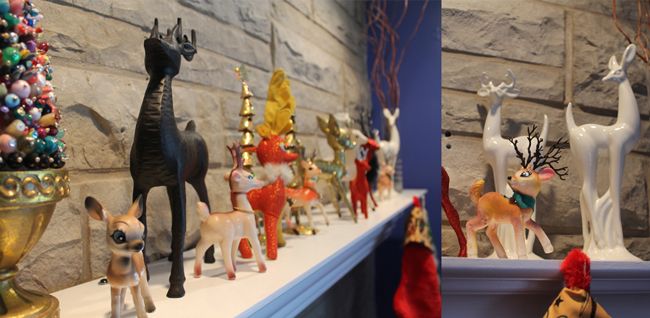 The larger gold glitter reindeer (photo right) is actually a vintage reindeer! I love both the size and condition of him. I think he's my favorite.
Below is a handmade beaded christmas topiary tree. I made it myself! I do keep it on the mantle, because the beads are attached by straight pins and I don't want Iggy grabbing it - it is somewhat fragile, but I absolutely LOVE how it looks. I made it a long time ago before I even moved out of my parents house. My grandmother had a similar one, and I loved it so much that I made my own. (Note to self: do a DIY post on this project for next year!)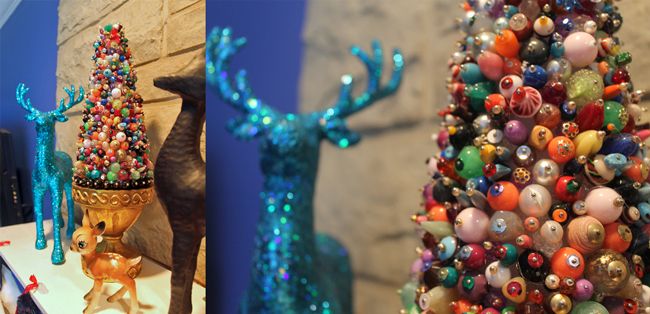 Other than the mantle and the tree, our house isn't super decorated. Oh, I have a tablecloth and some candles for the dining room, but right now there's a zillion presents to be wrapped on it, so there was no way I was going to be able to take photos.
There are a few minor things about the living room: a white feather wreath on the front door, silver mirrored stars on the walls in the entryway, and cool springy ornaments hanging from the chandelier over the couch.
I do, however, have one really fun in-progress Christmas item in the basement: my pink full-size Christmas tree! We bought it at Borders (a few years before they went out-of-business) when they were having a 50% off sale, and I actually have pink lights on pink strings for the tree, too. I like to buy the most ridiculously girly, glittery, sparkly, cheesy ornaments I can find for it. Some of my faves include (see below, left to right): the mermaid, a glittery deer (one of a set of 4), and a long silver glittery bow.
It's a work in progress, because you can see that I do not have a whole lot of ornaments for it, nor do I have a tree topper or tree skirt yet. I've been casually looking for something in the vein of a unicorn for the tree topper... so if you see anything of that sort, send me in that direction!