My mom received a catalog in the mail from a website called
SimplyBe.com
. She passed it on to me, thinking that I might like some of their clothes. She was right! There was one dress in particular that I reallyreallyreally wanted, so the next time I got paid I decided to place an order. Even greater, there was a 20% off code available! I was very excited and ordered my dress, along with another dress I happened to see as I was checking out.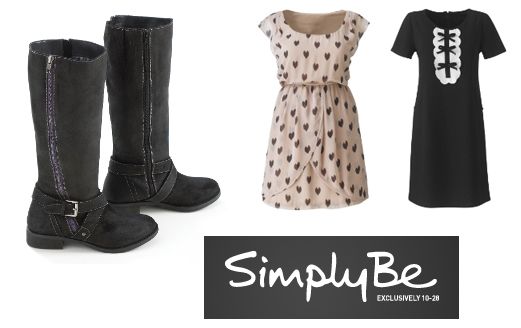 Imagine my disappointment when I found out the dress that I really wanted was on backorder. Oh well, I thought... I was willing to wait because it was so cute! This was on August 19th, 2012. I went online to do a little research and saw that there are quite a few complaints about this website when it comes to ordering/shipping/restocking of items...
It took a month for the heart print dress to arrive. It was marked as shipped within a day or two of ordering, but took "forever" to arrive. In fact, I was pretty much convinced that someone had swiped the package from my porch (which has never happened at this residence, so it would be weird), but then it arrived.
The good new is that I liked the heart print dress. The bad news is that after about a month of owning it (and wearing it - um, maybe 4-5 times?) I discovered that the back seam (of the sheer part) has completely split apart. Ugh. Nice quality, huh? And I'm really careful with washing - as in, delicate cycle/detergent and hang to dry...
In the meantime, I ordered some boots from SimplyBe, too. I was really excited about this purchase because I measured my feet/calves with a measuring tape, and followed the sizing chart in the catalog exactly as it was listed, so I was stoked to finally have a pair of cute black boots for the winter that actually fit!
Buuuuutttt... the boots arrived and were way too big in the foot and way too small in the calf. I reluctantly packaged them back up to return them. Couldn't even exchange them, because if I bought a bigger size for the calf, the foot would be even bigger. If I bought a smaller size for the foot, the calves would be even smaller. No win.
I even wrote a post about my boot fail here
.
Which leads me back to my original black dress with the bows that I reallyreallyreally wanted in the first place. The whole reason I ever ordered from SimplyBe at all. Still. Hadn't. Arrived. I wrote a message on the
SimplyBe Facebook wall
, and customer service on there reassured me that the dress was coming back in stock. By now it's about October. I ordered in August.
I finally got word via my order history on the website that it was supposed to come back in stock on November 15, 2012. I was really excited and happy. November 15 comes and goes with no word.
On November 23rd, I've tried to contact SimplyBe via email at their "contact us" email address, but it keeps getting returned to me, so I try posting to the Facebook wall again:
No reply from them, but oddly enough, I receive an email out of the blue that my order was CANCELLED. Hmmm. Suspicious to say the least.
The real kick in the pants at all of this is that the dress is listed as IN STOCK in my size on their site right now. So why was my order cancelled?
I'm feeling really frustrated at this whole ordeal and I needed to vent somewhere. It sucks because there are so few plus-size places to shop (especially at halfway decent/affordable prices!), but I can say with certainty that I will NOT be shopping at this website again, and I highly recommend that you stay away as well.
You've been warned!
In conclusion, anyone have some suggestions for good places where I can shop for cute plus size clothing? You know, some place that would appreciate my business and hard-earned money?
Thanks!