If you've ever stopped by my
about
page, you'd know that I don't eat meat. People love to taunt me and think it's a challenge to try to "get me" to eat meat, or even try to trick me into eating it, as though my not eating meat is a direct threat to them. Really? I don't give you crap for eating meat - try not to give me any attitude for my choices, ok?
Whatever.
Here's the thing: I agree that certain meat-containing recipes are delicious. I didn't stop eating meat because I thought it tasted icky. I just like animals. To pet. Or go "aw, how cute." But not to eat. That's all, no judgement on those who do. Just my thing.
One recipe I've always loved is chili. I like to mix it about 1/2 and 1/2 with elbow noodles, and sometimes I top it with some sour cream and cheese. Yum. But have you ever had "vegetarian" chili? It usually has a buttload of vegetables in it. Like corn and carrots. Damn, dude, stop ruining my chili with vegetables. (Disclaimer: I actually love veggies, so no hate on that. It's just, in my chili? No.)
So, I have an awesome chili recipe to share with you that I developed all by my lonesome that's pretty pure to the basic chili concept: beans and tomatoes and "meat." Well, fake meat.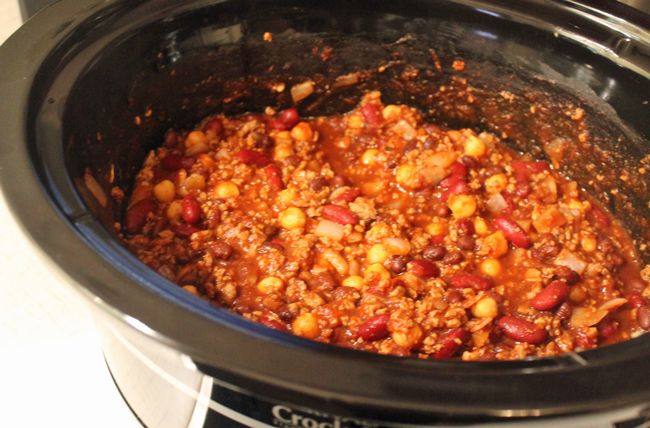 It can be made on the stovetop in about 30 minutes, or you can dump everything into the crock pot and set it on low until you get home. How versatile! Here ya go:
HellRazor Meatless Chili:
Large 28 oz can crushed tomatoes
15 oz can dark red kidney beans, rinsed and drained
15 oz can black beans, rinsed and drained
15 oz can garbanzo beans (chickpeas), rinsed and drained
1 medium onion, chopped small
2 tbsp minced garlic
1 tbsp olive oil
2 cups (approximately 1 bag/package) meatless "crumbles" (I like Boca.)
2 tsp chili powder
1 tsp cumin
1/2 tsp black pepper
1/2 tsp oregano
pinch crushed red pepper flakes
salt, to taste
Add-ins and toppings (optional):
elbow macaroni, cooked and drained
shredded cheese (typically cheddar)
chopped onions
sour cream
oyster crackers (in lieu of macaroni)
Directions:
In a large pot over medium heat, sautee garlic, oil, and onions until onions are translucent.
Add crushed tomatoes and beans. Stir.
Add "meat" and spices. Stir again.
Let simmer approximately 30 minutes.
Serve with toppings/add-ins as desired
(for crockpot version, just dump all ingredients into the pot, stir, cover, and set on low 6-8 hours)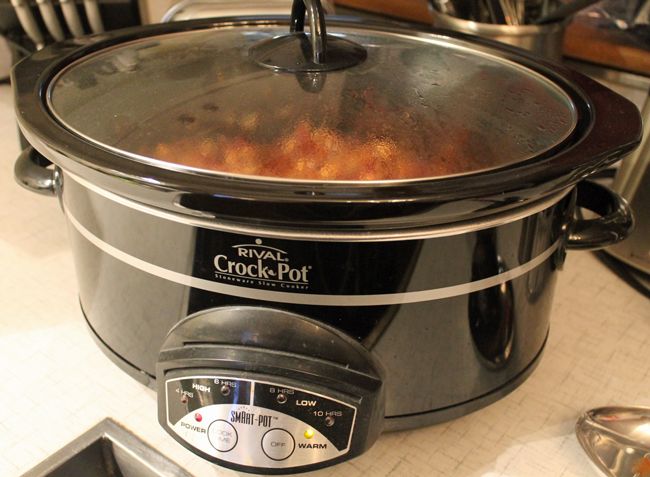 You can actually double the recipe for a large group of people. This recipe feeds 4-6, depending on portion sizes. If you choose to double the recipe, only use 1 1/2 times the spices.
I like to make this for the two of us as dinner, and then I have lunch for a couple of days, too. This is a yummy leftover, and easy to take to work.