Last night, I went to see Breaking Dawn, Part Two with my sister-in-law. Full disclosure: I don't consider myself a Twilight fan. I was mostly so excited that my sister-in-law asked me to go out somewhere with her (outside of a family thing, you know, just the girls) that I probably would have gone anywhere she suggested. But she's been talking about this since the last movie came out, and she lent me her copies of the DVDs of the rest of the Twilight saga. So since last January (right after Iggy was born), I've been slowly but surely catching up on the whole story.
Don't get me wrong, it's not a bad story, nor are they bad movies. They're pretty entertaining, and don't require a ton of concentration - but it never pretends to be a deep philosophical heavy-type movie, so you can't fault it for that. If I was in high school, I no doubt would have been totally into this.
Ha! I actually have to admit that I asked my 8th grade girls a few questions about the storyline before I saw the final movie, so I felt all caught up and schooled in the correct background info. That's when it's pretty darn helpful to teach middle school. The kids don't mind those kinds of questions.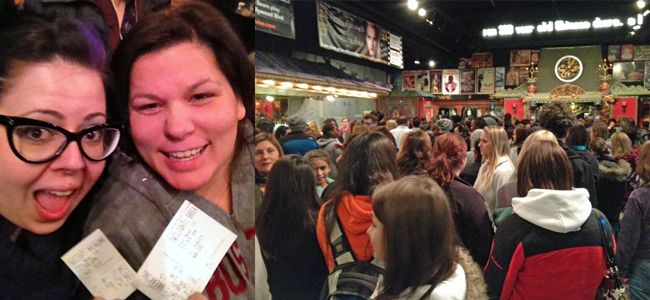 Also, this was the MIDNIGHT showing of the movie... My biggest concern was: "would I be able to stay up long enough until the movie started? and if so, would I be able to stay up during the movie? and if I did that, would I also be able to stay awake to drive home afterwards?"
I did it all!
Totally stayed up, watched the whole thing, and made it home completely safely. I did chug a Monster energy drink at about 10 pm, and I entertained myself driving home by singing loudly along with the radio at 2:30 am.

We went to the
Hollywood Boulevard
theater, which I had actually never been to. I've been to the "premium cinema" by my house, which is a 21+ theater that sells alcohol and has assigned seating. I like that one. But this one was slightly different. Not quite as fancy, and open to all ages. Still selling booze, though. And food. How about the cheezy movie-themed menu? We ordered "Grinch Dip" aka spinach-artichoke type dip, "Fu Man Chu Crab Rangoon," and "Moe Stix" ...which are really mozzarella sticks. Oh you crafty menu planners.
We sat in the Chinese theater, which basically meant dragon statues and old hollywood movie posters. And a couple of palm trees, I think? You know what would be REALLY cool? A theater that's horror theme! Someone give me a bunch of money and I'll make it happen, ok?
...Oh wait, I didn't even tell you how the movie was! I would say that it was my favorite out of all the movies, and that there were some surprising parts that made me throw my hands up in the air (I wasn't the only one). Ooh and that Dakota Fanning is a good villain! I mostly wanted her to die throughout the story. So I guess that means she did a good job. I think Twilight fans will love this movie, and others will be thinking it was an entertaining time. You kinda know what to expect going in, so I don't think you'll feel like you wasted your time or money. Good times.
And tonight, Peter Facinelli (Dr. Cullen) is making an appearance at this same movie theater! I mostly think it would be fun to go and be all "
MIKE DEXTER
! Woooo!"