Over the last few weeks, I've added a couple more dolls to my Monster High collection (mentioned previously
here
and
here
). I thought I'd share them with you! In fact, I think the last time I wrote about these, I had four dolls total. I can't remember when, but I did get a fifth doll - Rochelle Goyle, the daughter of the gargoyles. I should post a photo of all of them later...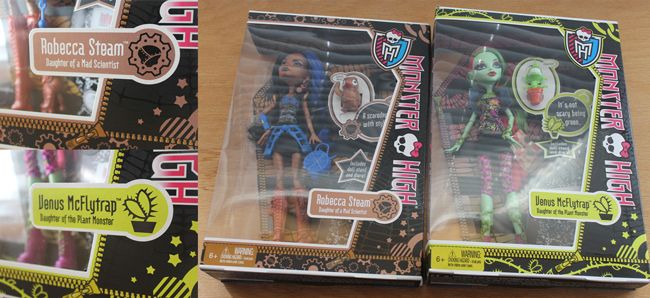 Anyways, I've picked up Rebecca Steam, who I love because she's all steampunk robot-inspired. And I also grabbed Venus McFlytrap, even though she's a little creepy with her half-shaved lame-o Skrillex hairdo.
I would like to still find and buy the Operetta doll (daughter of the Phantom of the Opera) and the original Ghoulia Yelps doll (daughter of the zombies!) but people are selling the Gholia Yelps doll for $99 online! Sheesh! I don't need it THAT badly. Just thought it would be cool.
Do you have any ridiculous collections like mine where you're probably "too old" but you can't resist?