When
my friend Stephanie
and I hang out, we like to go vintage and antique shopping. I usually have very little money to spend, and I'm kind of picky when it comes to stuff, so I don't often find a whole lot of items. Shown here are the fruits of my last two shopping outings with Stephanie!
Above (left) is a vintage carafe and stopper. I looked it up, and supposedly carafes do not have stoppers - they would instead be called a decanter, but that makes me think of wine. I'm pretty sure this was meant to be more of a coffee carafe? I could be way off base here. In either case, Todd uses it for wine anyways, so maybe I should just refer to it as a decanter. What I enjoyed about it was that the stopper is in pristine condition (many corks would be gross and crumbling/decomposed) and that the silver design on the glass is in mint condition as well! I love the shape of the handle.
Above (right) is my sweet new black and gold unicorn figurine. It was only $1.50, so I was like "yoink!" when I saw it on the shelf. I think he's going to go for a wash in the dishwasher, and then I'm going to go at him with a gold paint pen to freshen up his gold parts. He'll probably end up living in the art studio with me, or maybe on my little shelves downstairs...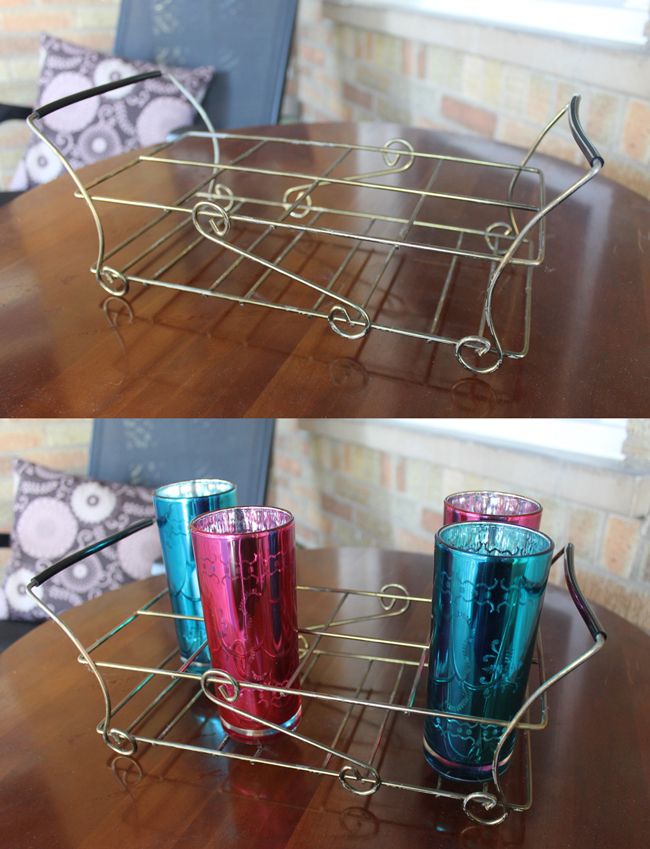 Barware and dishes are some of my most favorite things to look for at thrift stores. Mostly because it has no size and I don't have to worry about fitting into it. Secondly because it's pretty easy to find some amazing overlooked items! For example, this wire cart that once belonged to an awesome set of glasses. Alas, there were no glasses around that seemed to go with this little guy, but I have a pretty neat collection at home and knew I could find something that would work. For example, these (non-vintage) metallic glasses I bought at Target last year. I think it's easy to find items like this wire cart because most people don't realize what it is, let alone consider buying it! So snatch 'em up before somebody finds out!
Got any ideas for other uses? Maybe rolled up socks or something. I'll get back to ya on that.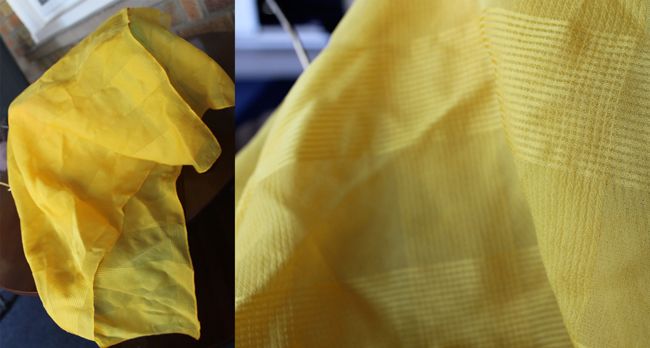 Lastly, I purchased this soft yellow large square scarf because I had seen a
tutorial on Keiko Lynn's blog about tying a hair scarf
and I thought "gee I have purple hair so a buttery yellow scarf would look perfect on me!" (That's a nerdy art teacher complementary color reference for those of you who didn't catch that. But it's for reals what I thought at the time.) But this is a perfect size and softness for just such a thing. And I think I paid like a dollar for it.
So far I've worn it once, but I'm trying to be brave and try it out again. It makes me feel very retro.
I also ventured out and bought a babydoll sweater dress but it was too tight. At least it only cost me $3. It was only a little tight. So maybe one day? Sigh.
Anyways, thrift and vintage and antique shopping is fun, even if you don't find a treasure! There's always tons of goofy stuff to find and NOT buy, or things to consider and then wish you had bought after the fact - besides the things you sometimes DO buy and then wish you hadn't later. Am I right?
now playing: