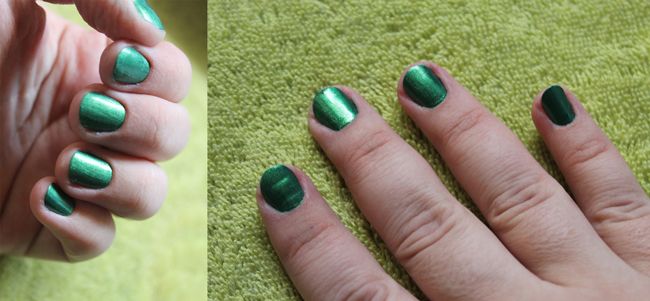 I used to do weekly nail polish updates and quickly realized how much nail art is out there on the interwebs, so I realize that the fact that I decided to paint them green isn't exactly earth-shattering or exciting news. But I pulled out my camera this weekend after not using it for a while and I'm trying to mess with light and different kinds of shots. So here's nails...
In other news, I have plans to team up with my friend Stephanie for the
Haunted Halloween Flea Market on October 27th
at the DuPage County Fairgrounds in Wheaton, so if you're a Chicago-area reader, you should come check it out! I'll be there selling Hell Razor awesomeness (my skulls will hopefully go over quite well at a Halloween-themed event, right?), and Stephanie will be selling her vintage clothing and wares from
Calamity Layne Vintage Threads
.
Secondly, I realized I haven't done any Weight Watchers updates in a while. Well, I'm still a member, and I'm still going to meetings, but I dont have a lot to report. I'm not doing what I'm supposed to be doing. I know what I SHOULD do, but sometimes I outright DEFY whatever that is for a variety of weird unexplainable reasons. I'm trying to work on this. Starting with stress. It's become overwhelmingly obvious to me that I eat when I'm stressed and feel out of control (in general life, outside of eating). So perhaps if I can deal with those issues, the following of Weight Watchers core principles will become easier to execute.
I like having a blog, but it's a challenge to come up with content sometimes - particularly content that is upbeat and interesting, especially when I am very prone to a pessimistic outlook on life. I'm trying to change that, but it is a journey. So that's some of the things floating through my brain right now...
How's your brain doing?
now playing: