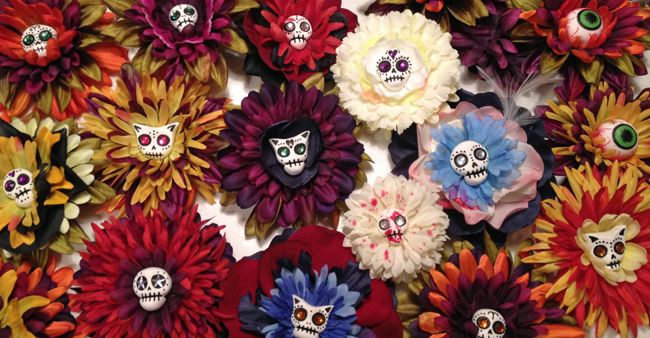 I'm having a seriously hard time writing blog posts these days. I have a kind-of excuse right now, because besides working and looking after Iggy (for example, my husband is at Master's class right now so I've been pulling mommy duty all night), I've also been working hard to build up stock for my next show, which is the
Haunted Halloween flea market
this Saturday!
Details for the show are listed above. I'm splitting a booth with Stephanie of
Calamity Layne Vintage
, so if you're a Chicago or Chicago suburbs-area person, you should stop by! 3 pm to midnight!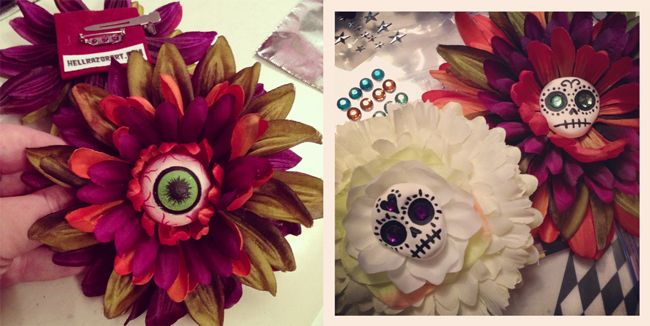 Do you notice anything different about these flowers? Well, besides the addition of sweet new eyeball flowers, I've started to make my skull embellishments a little bit differently. I'm still using the same lightweight air-dry clay to sculpt them, but I'm now hand-painting the faces with acrylic paint, so they're super durable and water-resistant. The previous flowers were still pretty awesome, but I used marker to embellish those, and I really like the look of the painted ones better - even though it's more difficult to do and takes more time... still worth it.
Also, you may have noticed a few new CAT SKULL designs! I've just begun making these in larger quantities, and it sure seems like there's an audience for it!
So, speaking of new designs, any requests out there for new items you think I could try? Let me know in the comments below!