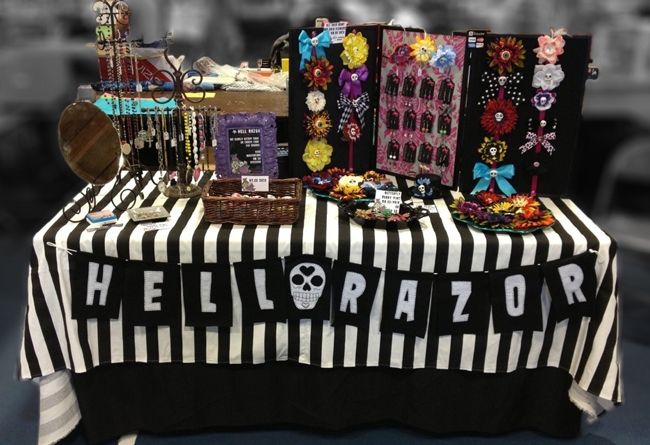 Check out my sweet setup from Saturday night above! Okay, now for the funny part: the "booth" was actually two tables wide and one table deep (picture a horseshoe shaped booth made up of four tables) - my one little table looked kind of sad and small in the middle of my space! But hey, it was the best looking single table in the whole building!
I learned that craft fairs and flea markets are two ENTIRELY different monsters. At a craft fair, everyone knows and/or takes for granted that your items are handmade. Here, many people were surprised to find out that I had made each item. Secondly, most people are out looking for bargains, not necessarily for hand-crafted items in the art-vein (for the most part). So I don't think that I exactly had my target audience at this flea market.
I was mostly banking on the fact that it was a Halloween-themed market that my skull items would go over well... and I sold...a little. In fact, I "almost" covered the cost of the booth. To sit for nine hours... um, yeah...
Live and learn.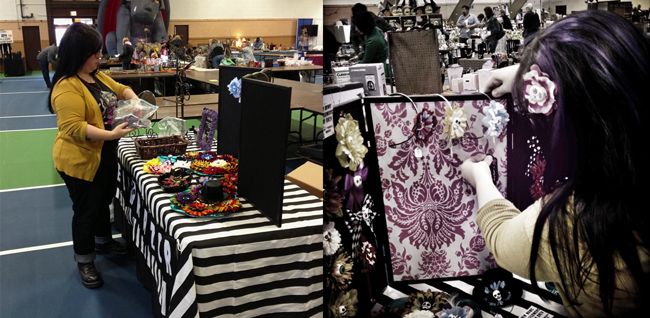 A couple of things to consider: First, I was supposed to be sharing the booth with Stephanie, so I figured that I might have had some extra room. Secondly, I had signed up for NO tables (I bring my own, cuz I'm baller like that), yet every booth had four tables in it already. Hmm. Mental note: buy more tablecloths or have something as a back up for such situations. Thirdly, most of the booths were really weird... like garage sale stuff. Some people flung nasty tablecloths down and dumped the contents of what could only have been their basements or garages. I didn't get it.
On the plus side, the extra tables did provide me with a nice packaging area for customers and gave Todd and I some room for eating dinner later on. So yayy!
Below, a lady from the greyhound rescue walking around with one of the dogs, dressed in costume. I had
whippets
growing up, which are kind of like greyhounds, so I always get excited and want to pet them. Luckily, she let me. On the right, my feet. Lots of sitting time. Staring at my feet.
Below, shots of the interior. Todd sitting and playing on his phone. Other booths across the way.
Okay, now for the positives: I met a bunch of cool people, including Ieata Brains from
Divas de las Muertas roller derby team
. I also met
Lisa
again, whom I first met at
Constructor
last June! So I really think that overall the flea market was worth it, to make connections with cool new people. I gave away a bunch of my mini biz cards and some stickers, so hopefully I can get some new Hell Razor love spreading!
Stephanie
and I have been talking about when and where our next adventure will be, so stay tuned for the latest and greatest. We really want to do at least one more show before the holiday season!
In the meantime, I've been busy photographing and planning for re-stocking
the Etsy shop
. I pin all my new stuff on my
Pinterest Hell Razor board
, so follow me to see it all!