Don't care if you think this post is "too early" for Halloween... It's my favorite holiday, so I like to decorate early and leave it up as long as possible. In fact, some of my favorite parts about decorating is that a lot of my "year-round" decor blends right into the theme, often blurring the concept, and making an outsider wonder "is that a decoration, or is that there everyday?"
I took my Halloween decorations down from the attic (well, Todd took them down for me) and I was saddened to see the lack of decorations that I have. So we went shopping this weekend. I picked up some stuff, but I eye-balled a whole bunch of stuff I plan on picking up when it goes on sale, hoping it'll still be around. If it is, then it was meant to be!
Halloween clearance is how I picked up this sweet set of black and red candelabras (see above - they're made of METAL) last year at Target. And sadly, they don't seem to be back out again this year - it's a new design style each year, or so I think. Our round placemats are from Kohl's last year (I'm guessing... they were gifted to us by both my mother and my mother-in-law, I think that's where they said they got them), and the tablecloth is this year's Target design. I couldn't help it. It was too nice, and they only had two in stock, and it's FABRIC. Not the icky vinyl tablecloths. Fabric! Yayy! And so cute. Typically, I'm not a "pumpkin" girl when it comes to halloween. I'm more skulls and spiders. But these pumpkins on the tablecloth are amazing.
And we hung orange and purple lights in the dining room. Not pictured: my huge collection of halloween dish towels, mostly gifted to me by my mom and my mother-in-law. They know I like Halloween - yayy!
More Halloween decorating goodness below:
Clockwise from top left: Collection of skulls and candles (partly Halloween decor, partly collected from my year-round skull stash) - don't you LOVE the studded silver skull? It's from Michaels! Next, my purple/maroon feather wreath - a clearance score from Target several years ago, along with the metal wreath over-the-door hanger. Love. Next, Halloween cameos from Michaels last year, hung from the bathroom shelf. Because I must decorate everything. And lastly, my awesome new spiderweb lantern with battery-operated candle from this year's Target collection. Oh, the zombie heads behind it are this crazy animatronic thing Todd's aunt gave to us a couple of years ago. Said that she saw it and thought of us. Ha!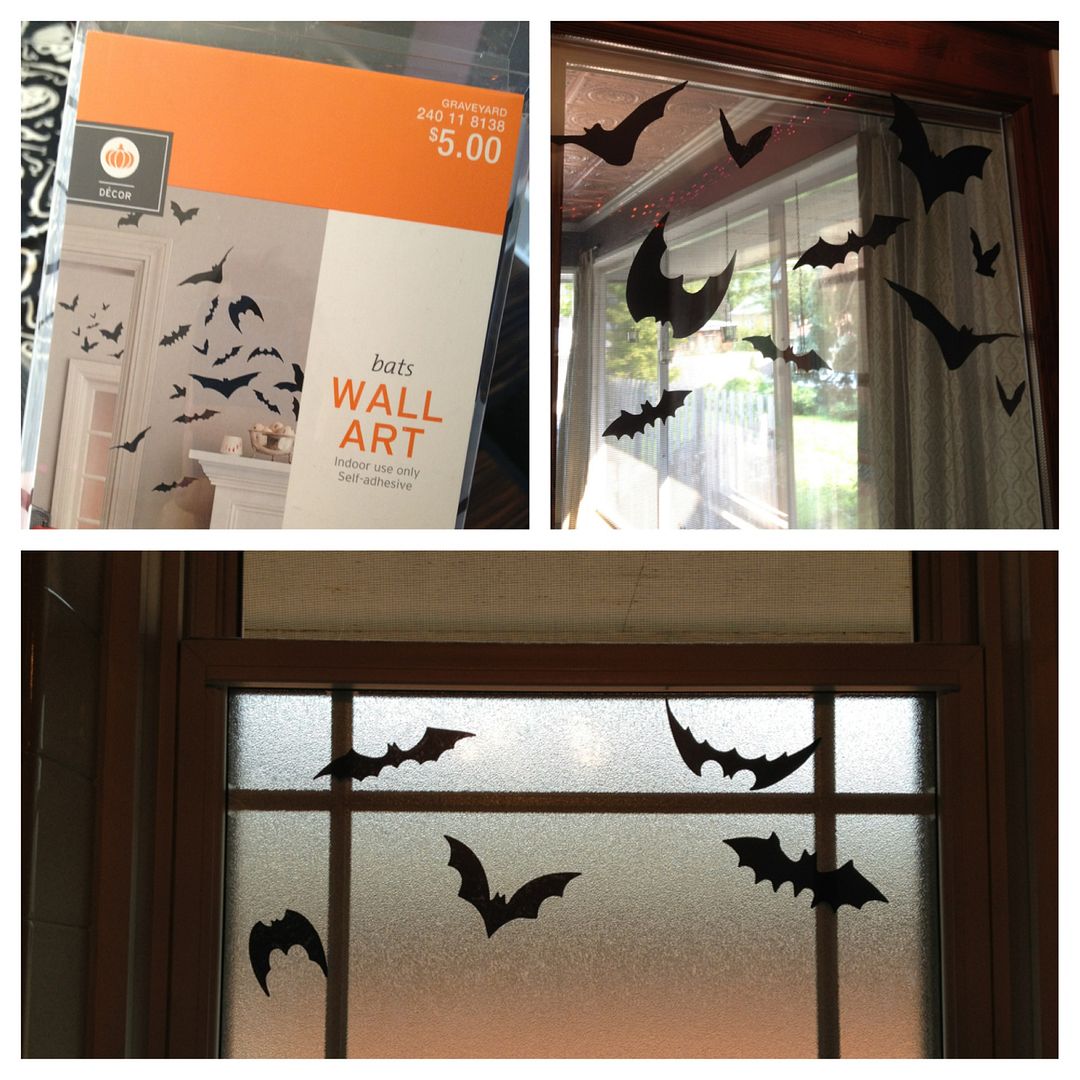 One of my favorite decorating ideas this year came from a $5 Target purchase. Self-adhesive bat stickers! The package shows them as "wall art," which is a cool idea, particularly if you have white walls (I don't)... so I used them on the windows! The top right window is the sliding glass door from the dining room to the porch. The bottom picture (right above where I'm typing) is from our bathroom privacy window. We never get direct light through this window, so the bats look especially neat from inside the room and across the hallway. The package comes with two huge sheets of adhesive bats, and I haven't even used all of the first sheet here. Good deal!
Have you noticed how expensive those darn "craft pumpkins" are at places like Michaels? Sheesh! I hope to pick up a bunch after Halloween, or maybe even brave a trip into Wal-Mart to see if they have them for less $$$. I want to buy a bunch (doesn't matter how ick they might look) so that I can spray paint them with black and silver. All I need is a pumpkin shape! I'm also on the lookout for some sturdy skulls that I can spray with high gloss pink, blue, yellow, and minty green... but that's for a non-Halloween thing...
Oh, so back to pumpkins! I found these two (top left) pumpkins in the "dollar spot" area at Target and they were only $2.50 each. Not bad, I even like the metallic coppery finish. Then to complete my pumpkin sensory experience, I picked up a pumpkin scented candle (this brand is called Melt, and is from Target) and some pumpkin beer! Dogfish Head Punkin Ale came highly recommended form a couple of different sources. It was yummy. I still have a couple in the fridge, think I'll save them for an evening on the porch!
As I typed this up, I realized that I didn't show you my pillowcases or my nifty new skeleton oven mitt. So I may need to do a "Halloween Decor, Part 2" in the future. I can show off my kitchen towel collection at that time, too. Or, I can wait until I have a Halloween clearance haul to share... I'm currently eyeing a wreath for the front door, some garland for the mantel, and those darn craft pumpkins at a decent price.
How about you? Good places for Halloween stuff? I checked HomeGoods earlier this month, but their Halloween decor was just meh. At least, what they had out at the time. In any case, I can't wait to browse the costume stores! Woo hoo!
Edit: A representative from Kohl's contacted me and offered 10% off now through October 24th at Kohls.com when you enter code UBLOGTEN at checkout. Extra cool? You can stack your savings with one other department specific code as well! Yayy! Check out their online Halloween shop here!
See Halloween Part Two Here!