Okay, after writing
my first Halloween post
, I kept thinking about stuff that I had missed, and then on Saturday I went out shopping and found more awesome things and I became inspired to re-decorate things I had already set in place. For example, I took down Todd's camera collection and made our Halloween mantel! I had to re-purpose some items (our dining room candelabras, some of the skulls collection) that you may remember from
part one
of my Halloween posts. But it's worth it!
First of all, those plastic pumpkin buckets on the hearth? Only $1 each at Target!!! I think I'm gonna start a whole plastic pumpkin bucket collection for that price. Naturally, the black one is my favorite.
The black gauze on the mantel is "spooky fabric" for $4 from the Target Halloween section. Most of the other stuff comes from our year-round collection, like the skulls, the red devil head, and the awesome voodoo candles.
Because I "stole" the candelabras from the dining room table, I had to find a different solution for the dining room table. Since we're more casual diners anyways, I used a plastic skull tray in the center of the table and added the electric spiderweb lantern, a small bat-shaped candy dish, and our everyday napkin holder, accented by a giant glow-in-the-dark spider paperweight. Very functional:
I also talked about my Halloween hand towel collection. Above is a trio of the towels we use in the kitchen, along with my new oven mitt, also from this year's Target collection.
No room is safe from Halloween! Our bedroom has some sweet glow-in-the-dark skeleton pillowcases, gifted to us from my mom, a clearance find...
And below, a couple of shots from our tiny second bathroom. I hung two more seasonal hand towels and added a pair of festive skull candleholders. My mother-in-law gave us those several years ago.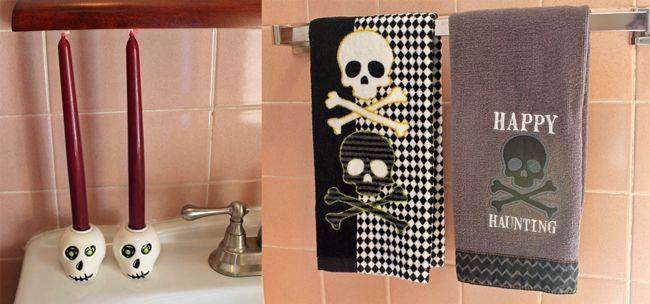 I like to find "everyday" items around our house and turn those into Halloween items, too. Below (left) is a photo of a carved wooden skeleton statue we have in our basement. I was thinking that I might put him on the porch to greet trick-or-treaters this year! And this metal twig bowl/basket (below right) reminds me of Halloween, too. I think some mini pumpkin gourds would look nice in here:
Oh! One more thing I forgot to show you last time! We have a string of EYEBALL lights! They're so cool. Todd hung them in the front bay window, all turned out towards the street. Aren't they fun?
So, it's only September 24th and I already have two Halloween posts written. It's probably safe to say that this won't be the last you'll hear from me about it...!!!