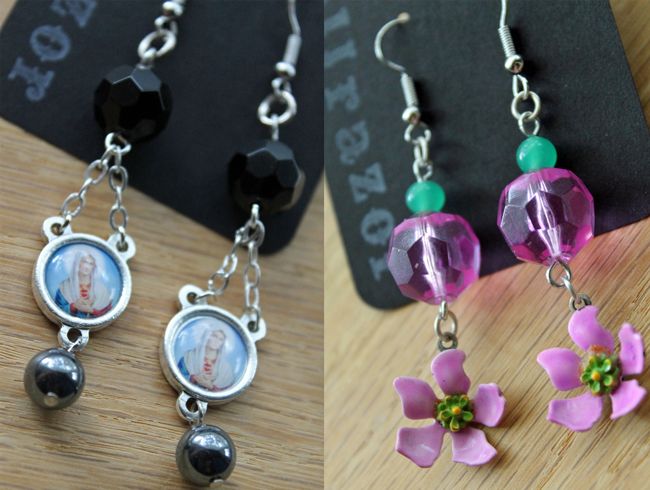 I'm trying to get into the habit of scheduling a few blog posts each week, so that if school stuff catches up with me, I know everything is taken care of here. I won't lie though, it's frustrating to see page/post views go down after I've worked so hard this summer to post regularly and build an audience, only to have to partially abandon it when school begins. Sigh.
So I thought I'd take a moment to share with you some of the jewelry things I've been working on for Hell Razor. The first top two photos are earrings that I made. The top left is a pair of earrings using that awkward little part of the rosary where it splits off into a "Y" shape... I never knew what to do with that piece, other than the original "Y" function. But gathering up the chains to meet up with another bead give these earrings a fun chandelier-ish feel. So I am super happy with these. Wondering if I'm going to even put them up for sale, or just keep them for myself!
The other pair (top right) is a colorful pink and green pair of dangle earrings using a couple of vintage metal flower charms I've had for a long time, but never quite knew how to use. I think they may have been on a necklace originally? I can't remember. But when I paired them with giant pink faceted beads, I knew it was just right.
Because I work with a lot of rosary necklaces, I have a lot of extra parts lying around. I thought it would be interesting to take a bunch of crucifixes that I had leftover from different rosaries and use them as charms on a bracelet. The different finishes of the silver metals looked really cool when they were all combined together. I was worried that the bracelet might be too small for some, so I added a bit of silver chain on the end to make the size adjustable.
I liked the mix of solver finishes so much on the crucifix charm bracelet that I decided to try making another bracelet, this time using different types of chain. I combined these three with one clasp and this is what you get! The three chains are each pretty small, so the overall combination is still feminine and dainty.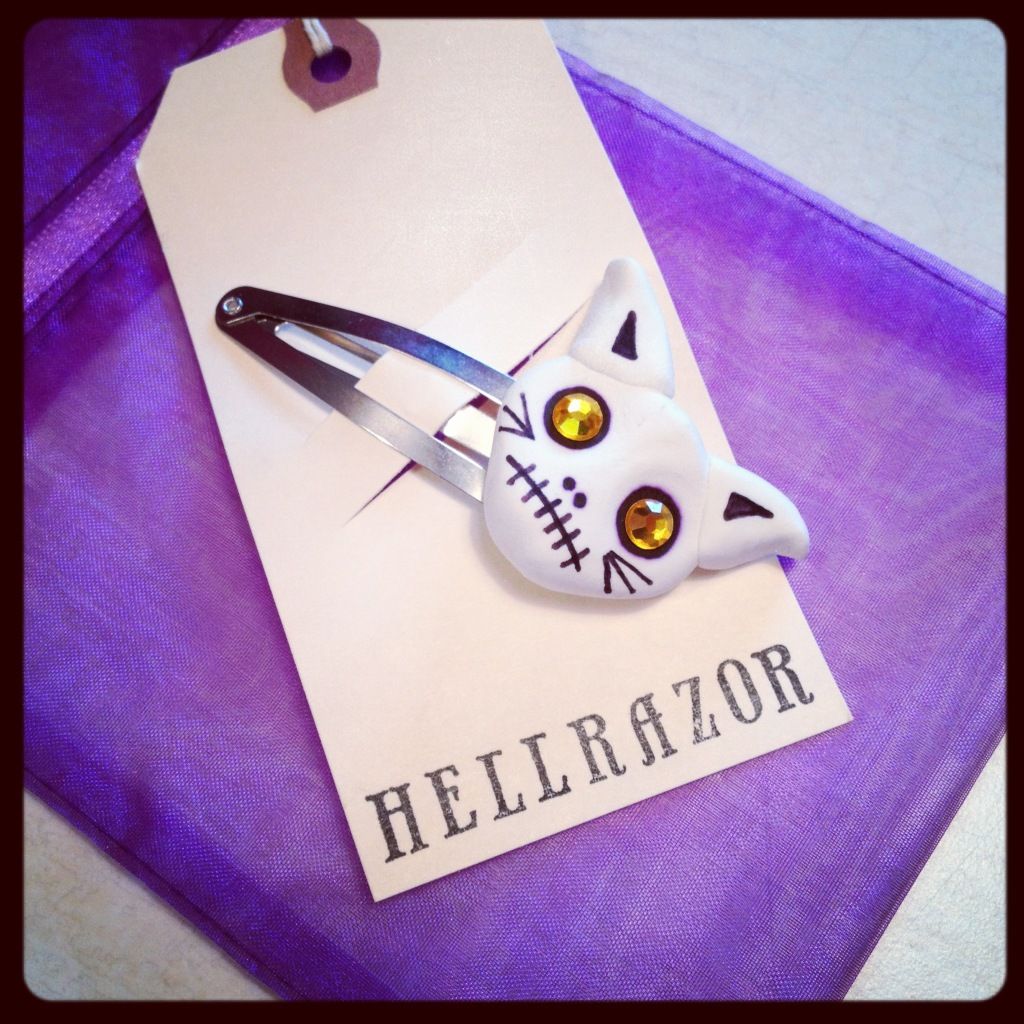 My friend Jen (it's her birthday today! Happy Birthday Jen!) asked me for a cat skull a looong time ago. And I was a slacker, but finally I was able to whip up this little guy for her. I have noticed that cats are a big deal in the blogging world. I dig cats, but I'm probably more of a dog person. I was concerned about gluing a skull to a metal clip like the one above (glue doesn't always want to stay stuck onto metal), so Todd helped me drill a hole into the end of the metal clip so that glue would form a better bond to the clip. Assuming that all goes well, I may end up making some more of these guys...
The skull butterfly above is something I'm just trying out for now. It's not actually "anything" yet, but sometimes I just play around with pieces and I come across something new and interesting. This one seemed interesting enough that I wanted to share it with you.
Do you like it? What do you think it should be made into?
p.s. Eventually I'll get most of this onto Etsy... but like the rest of my life, it gets put on hold during the school year. If you're dying to get something, feel free to
email me
and I can set you up with a listing right away!