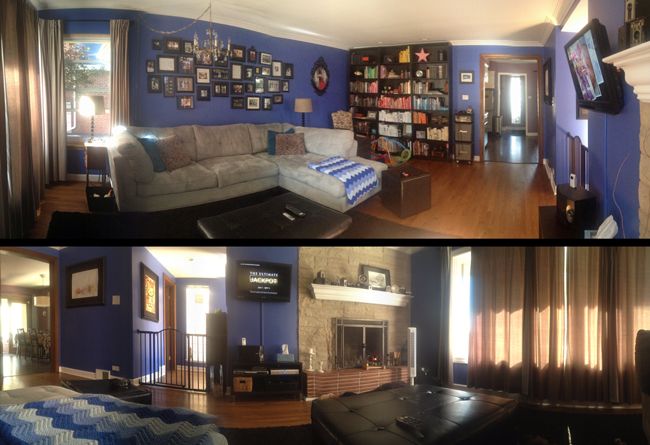 For the latest installment of our house tour, I'm going to show you our living room. The photos above were taken by Todd using a panoramic app on his iPhone. The top photo is our room as seen from standing on front of the fireplace. The bottom photo is what you see if you are sitting on the couch. The panoramic view is a little unusual, but don't worry, I've got some other photos below.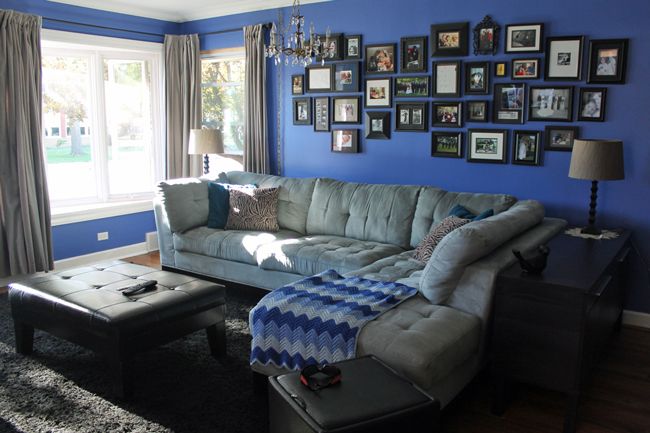 I love our sectional couch. It's two pieces in an L-shape, and it has served us well over the years. I'm a fan of more clean, contemporary, modern couches. Todd prefers comfort. This couch (from
the Room Place
) actually meets both requirements. It can be hard to find the perfect artwork for above the couch, so we made a whole photo wall collage using black picture frames in a variety of styles and sizes. Wanna know a secret? Many of these frames are actually from the dollar store, and we spray-painted them all black to match!
Across from the couch is the wall with the fireplace and tv. To the left of the tv is the main entryway to the house. Deciding where to put a television in this room was tricky, because most people choose to hang their tv above the fireplace. That's not really an option for us, due to the fact that our fireplace is raised (and that our mantel used to be even higher! - see
my previous post
for details on that), so we bought a smaller tv specially to fit the wall next to the fireplace. A small IKEA console is the perfect place for our cable box, dvd player, and sound system.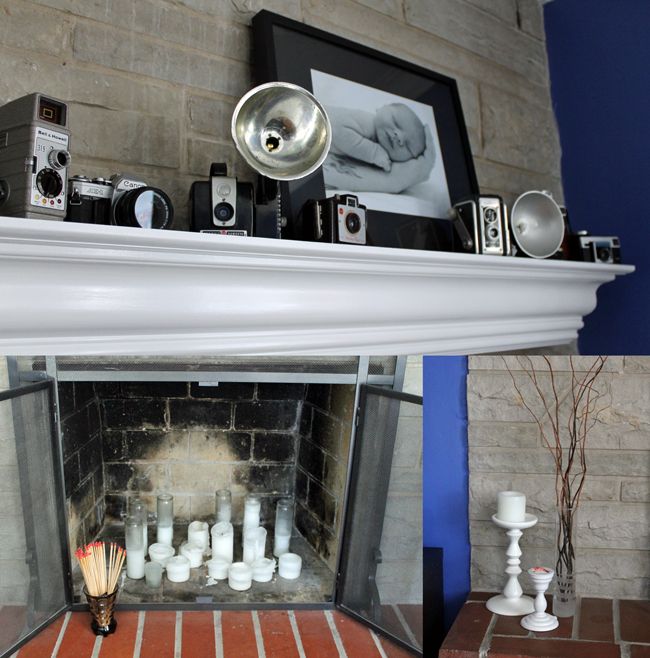 We recently
lowered the fireplace mantel
and painted it white. It's the perfect place to house Todd's cameras, and I snuck in one of Iggy's baby photos. Wanna know something that totally sucks about our fireplace? It doesn't work. Well, it's not in operational condition. It needs to be re-lined, and we just don't have the money for it right now. The chimney has some major damage, and it's all we can do to just get that fixed for now. So, in the meantime, it makes a lovely candleholder! We put lots of white pillar candles in the fire box and it's super pretty at night. One day we'll fix it, but until then, there ya go. I would like to find some black paint for the fire box though - as you can see it's pretty beat up and I'd like for it to have a slightly cleaner look.
The last photo (above, right) is another candle grouping and a vase of twisted branches. Not only do they look pretty on the hearth, the branches are actually from our wedding centerpieces. When I dismantled the flower arrangements, I saved a bunch and have kept them on display at our home. It's a fun little keepsake!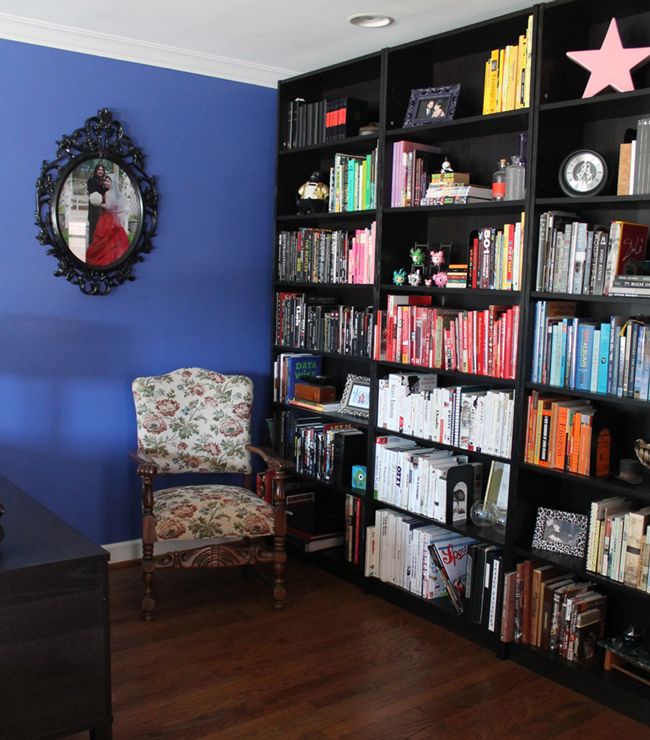 The wall off to the side of the couch is made up of bookshelves. It wasn't like this when we moved in - we installed them. They're
IKEA bookcases
with additional extender shelves at the top to make them taller. I measured the wall before we went shopping, and bought enough shelving to fill the space as best possible. We have a large book collection (this is actually AFTER we just packed up a huge donation box, too!), and I wanted to keep them on display and have them accessible in our house. You may have also noticed that I organized them (for the most part) by color. The only exception was the cookbook shelf - it was too hard for me to find anything when they were all mixed in!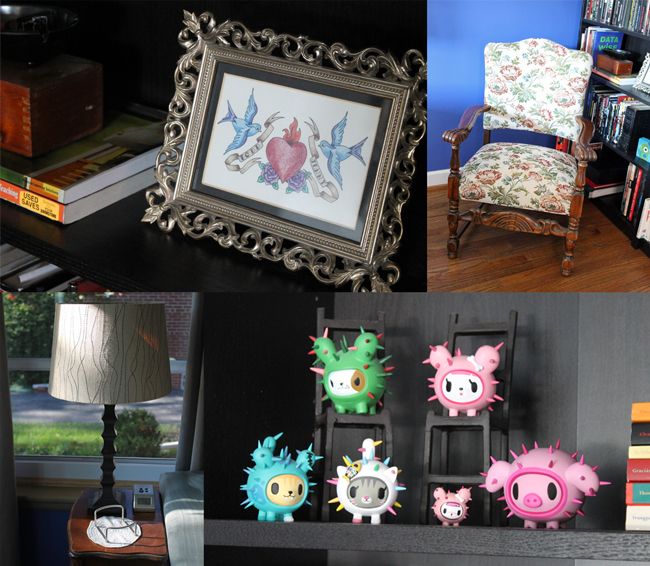 Above are some other details from around the room. Our bookshelves hold lots of fun extra knicknacks and display items, such as my
Tokidoki cactus pups
collection (above, bottom right) and a framed "save the date" postcard from our wedding (above, top left), which we drew ourselves!
The chair next to the bookcase (above, top right) is from Todd's great aunt's house. I love the shape, and I'm planning on having it professionally reupholstered and painted one day, hopefully soon! In the meantime, it sits and waits for someone to come by and read in it!
We also have a really great set of lamps (above, bottom left) in the living room. Believe it or not, they're from
Target
! It's something we registered for way back before our wedding and I was really excited that someone bought them for us! They just have a fun classic shape, and the stitching on the drum shades are modern but fun. The design is neutral enough to go with any decor, and the lighting is a low, mellow "mood" lighting.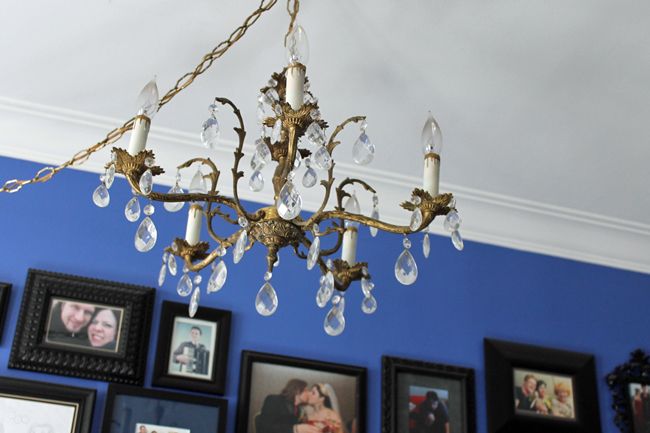 My most favorite part of the room is easily the chandelier above the couch. It's a fixture that I bought at an estate sale long ago - even before Todd and I started dating! It's traveled with me from several residences and I love how we ended up using it here in the living room. There is no "main" overhead fixture, so this hanging light above the couch is perfect for when I need a brighter overhead source (you know, like for painting my nails and junk). But even when it's not on, it looks pretty just as a decorative piece.
So, I'm thinking that I'm soon going to run out of rooms to show you on my house tour! Maybe I'll have to see if I can bribe other people into letting me photograph their spaces to show you when that happens!
Want to see more?