I saw this link up on
Ashley's blog
and it sounded like fun so I've decided to try this out this week. Enjoy!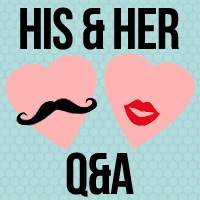 What would you be happy doing for hours on end?
His:
Shooting and editing photos on my iPhone.
Hers:
Drawing and making art.
What is one thing you always disagree on as a couple?
His:
I don't think there's anything that we just can't get past. We used to disagree on music sometimes.
Hers:
I'm pretty much with Todd on this. Sometimes we disagree on friendships; Todd is better at letting things go than I am.
What is one thing you always agree on?
His:
Religion; our child; family.
Hers:
Raising Iggy for sure.
What is your favorite olympic event?
His:
I like [winter] hockey.
Hers:
We don't really watch the Olympics, but our friends had synchronized diving on the other night and that was pretty cool.
If you had the money to buy your significant other any one thing right now, what would you buy them?
His:
An addition to the house to expand your art studio.
Hers:
A motorcycle.
Would you rather be blind or deaf?
This question seems, weird, like politically incorrect and insensitive to those who are blind or deaf, so I'm going to politely skip this one.
What is one thing you admire about your mother (or mother figure)?
His:
Her understanding nature when I was growing up; putting up with me. Her selflessness - always looking out for others.
Hers:
She has her own beliefs, but she's very open-minded and listens to me ramble on about whatever theories or beliefs I have and loves me no matter what.
What food do you HATE?
His:
Corn dogs.
Hers:
I'm a vegetarian, so... meat? Probably bratwurst.
Who is your favorite superhero?
His:
Spiderman.
Hers:
THOR! He looks like Todd, so yeah...
What value or principle, if any, are you a true advocate for?
His:
Respect.
Hers:
Not sure if this is a "value," but I'm a big advocate for not playing games. Saying what you mean, and not being passive aggressive. I can't stand it and I refuse to play into it when people try to engage me like that.
YOUR TURN!!!
#1.
Grab this button and put it in a new post.
#2.
Tell everyone the link-up is hosted by
We and Serendipity
and
Love the Grows
and link back to us! (We want people to see the origination and past Q and As.)
#3.
Copy and paste these questions. Delete my answers because you're an individual.
#4.
Have fun answering these questions with your man!
#5.
Once you've published your post, click the Linky button (
over here
) and link up your post so other peeps can see it!!
#6.
Read everyone elses answers that have linked up!
#7.
Come back next Sunday and do it all over again!