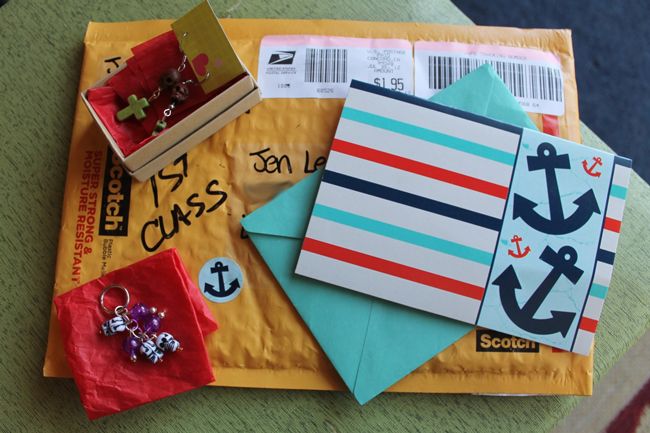 A couple of weeks ago, Jamie (of "
With Love, Jamie
") contacted me to see if I'd be interested in doing a handmade swap. Well, I'm always looking to spread the Hell Razor love around, so I was totally down for that. Plus, it's always super fun to get to shop in someone's
Etsy shop
for free (relatively speaking) and treat myself to something new and fun.
Last week my package arrived and it's AWESOME! Jamie's mail had a fun anchor theme that matched her enclosed notecard. So cute!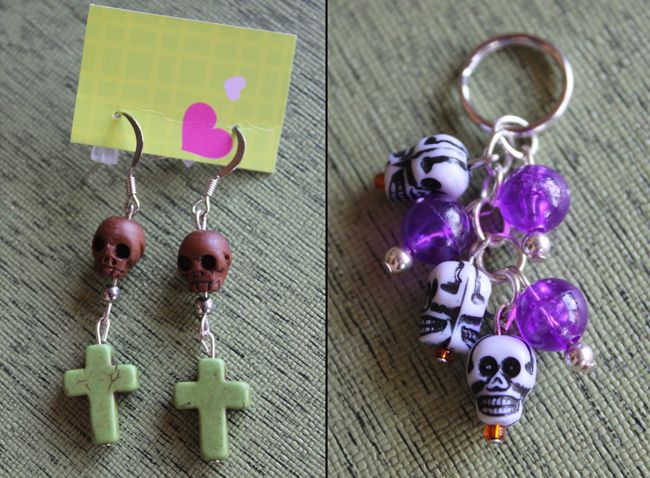 I picked out these skull and cross earrings (pictured above), and was pleasantly surprised to find a cute skully charm keychain bonus! Skulls and purple... a girl after my own heart!
So it seemed only fitting to show me actually wearing the earrings, which I do, but I had some issues with taking photos. Mostly, um, me. This baby weight has totally messed with my self-esteem and confidence, so I get weird about having my photo taken. I had my husband take some photos, and I thought that I would use them, and then I got all weird and hated how I looked. So you get photobooth webcam pictures instead:
My least favorite part about gaining weight is my face. I have a naturally round-ish face anyways, and extra weight just builds up on my cheeks and chin. Gross. My favorite part about losing weight is discovering my chin again. But that hasn't happened yet... keep on keepin' on...
So, in conclusion, I'm totally stoked about my new handmade goodies from Jamie, regardless of what my roundy self-conscious face says here. Doh. Head on over to
Jamie's shop
and
blog
to see what she's up to! And if you want to see the custom black and purple glitter skull flower I sent to her in return, stalk her blog because I'm sure she'll post pictures soon! :)