Todd and I have been watching the
Sam Dunn
series "
Metal Evolution
," and it got me thinking about awesome heavy metal documentaries we've watched. Sure, there are tons of awesome live music/concert movies, but the documentaries that tell the stories behind the music are a little bit harder to come by.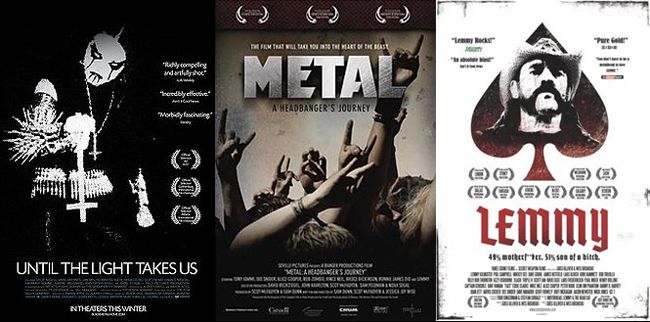 Here are some of my favorites:
Metal - A Headbanger's Journey
This is the original Sam Dunn metal documentary from 2005. My personal favorite part is his interview with Ronnie James Dio. Such a cool guy! Sam Dunn has since gone on to do a number of other awesome metal-themed documentaries for individual bands, such as
Iron Maiden: Flight 666
and
Rush - Beyond the Lighted Stage
. (I've seen both of those, too, and they're also great - highly recommended!)
Until the Light Takes Us
The story of Norwegian black metal, beginning in the 1980-90's. Touches on the rash of murders, suicides, and church burnings in the mid-nineties. This documentary attempts to go beyond the sensationalism of the media and explore the beliefs and principles of the scene.
Lemmy: 49% Motherf**ker, 51% Son Of A Bitch
An in-depth look at the life of Lemmy Kilmister, lead singer of Motorhead. This movie was amusing to me, because I got to see what a "regular guy" Lemmy can be. It's also filled with snippets from many famous musical admirers of Lemmy's work.
Last Days Here
This is about Bobby Liebling, the lead singer of Pentagram. This documentary details his struggles with substance abuse, living in his parents "sub-basement," trying to find love, and his attempts to recover. His journey was really amazing to watch.
Up next, I'd like to see Sam Dunn's other documentary,
Global Metal
. I think it's pretty safe to assume that it's just as awesome as his other work.
Any other metal enthusiasts out there? Who's your favorite? Got any must-see metal documentaries for me? Please share!