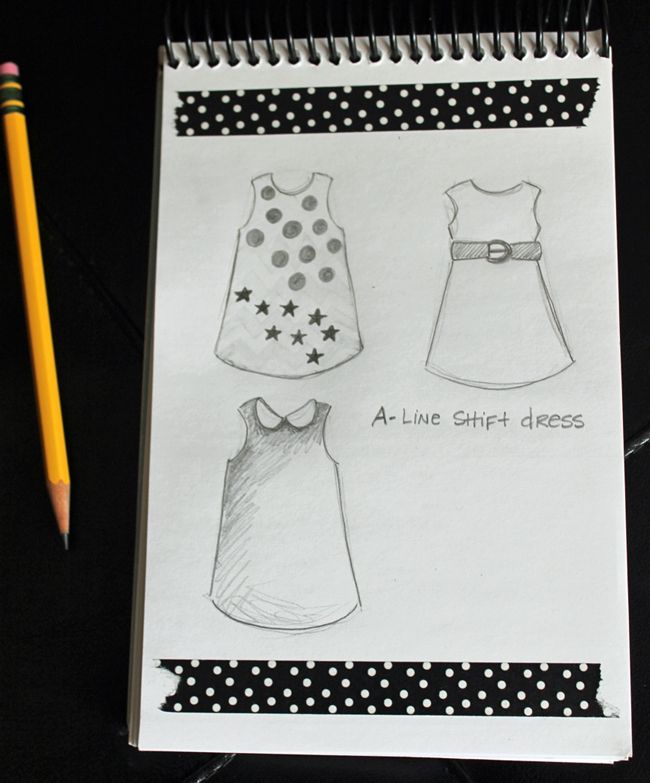 Going shopping for myself has always been kind of a frustrating task, partly because I am short, and partly because for most of my life I have been on the plus-sized end of the size spectrum. (For those of you in the "regular" sized world, petite clothing usually means short AND small, not just short - extremely frustrating...) There was once a short period of time where I fit into so-called "straight" sizes, but right now (since the beebs) I'm definitely in the plus-sized category.
I have always considered making my own clothing, for three reasons: one, it would fit, two, it would be exactly what I wanted, and three, it probably would cost a lot less to make! I even made some simple sketches while daydreaming about this project. We have a new sewing teacher at my school this year, and she's told me that she'd help me with some sewing... I think this would be a perfect project to tackle!
I've been searching
Pinterest
and the otherwebs to find a simple (preferably free) pattern for an A-line shift-style dress that I could make in a variety of fabric patterns. These would be awesome for work, and it would be really easy to custom fit them by wearing a belt. I tend to add tights/leggings and a long-sleeve shirt or cardigan over these types of dresses too, so the sleeveless design works well for my wardrobe and sewing experience... which is pretty limited, but I'm optimistic!
Anyone ever tackled a project like this before? Got any helpful hints?
- Posted using BlogPress from my iPad (
with help from my laptop and full use of the Blogger interface online
)