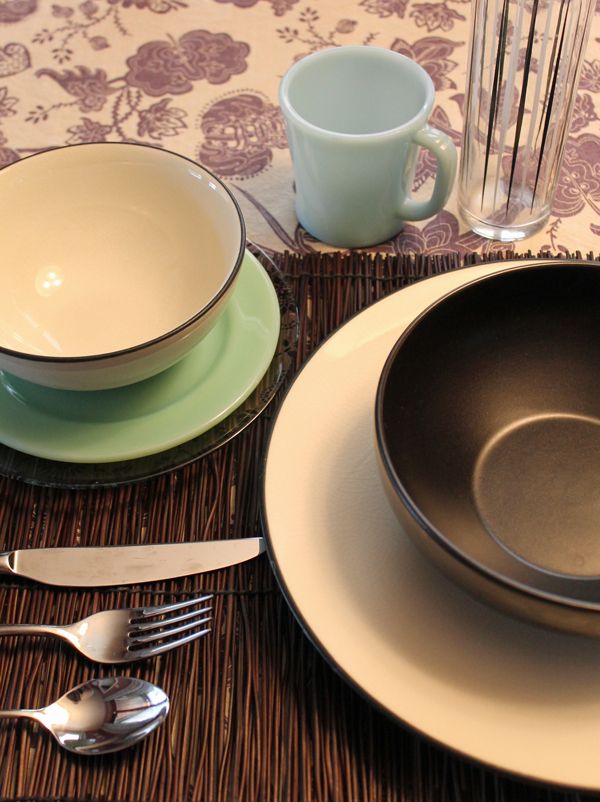 Several weeks back, Todd decided to start going through boxes we still had stored under the stairs. Turns out that we had a lot of dishes packed away that we hadn't used in a long time. We decided to keep the things we really loved and thought we would actually use, and to recycle/give away those things that we were just keeping in storage because we didn't have the room or had too much of.
Since we had finally finished the china cabinet in the kitchen eat-in area (see my post about
the dining room
), we had a little bit of extra room for storage, so it was actually fun to sort through what we had and make some selections.
Our
main "dishes" are from Crate and Barrel
, nothing too fancy - it's what we registered for when we got married. They're a crackle off-white glaze with black rims on them. The basic style lends itself well to mixing with other dishes, like solid black, black and white, and pops of color, like green and blue. Here are some of my favorite pieces to mix in!

I "rediscovered" a set of 8
Fire King
mugs in a beautiful translucent pale blue that I had packed away long ago. I decided to instead put away my set of 8 Crate and Barrel standard cream/black rim mugs (part of our basic sets) in exchange for these beauties as everyday use items. They're vintage, and remind me of Jadeite, only in blue. So pretty!
We have an eclectic collection of glasses and barware (above left). We seem to pick up sets of 2 and 4 glasses all over the place. The white and smoke glasses were bought new (heck if I can remember where), and the tall black and white "pick up sticks" glasses are from Crate and Barrel (long ago, I couldn't find them online), but look really vintage, so they blend in well.
I do have a very small collection on Jadeite pieces, such as my set of 4 small plates. You can see one of them here (top right). They look great mixed in with our black and white color scheme. Our clear glass plates with black floral pattern layer really well with the rest of the dishes, too. I think they might be from
IKEA
. That store is an excellent source for black and white pieces, if you're in the market to shop for dishes.
Below is a black matte finish bowl with a subtle black gloss floral pattern. I think we actually found these at
Target
! You can also find similar pieces at
World Market
; I'm pretty sure we've bought some black matte pieces there as well. Again, the black bowls complement the black rims on our main set.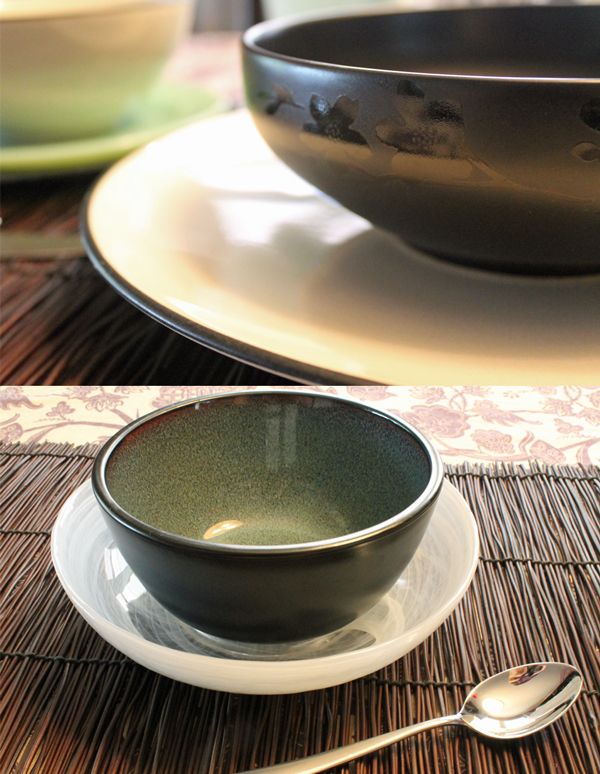 The photo above doesn't really do the white bowl justice. Todd and I picked up these wispy white/clear glass bowls (perfect for pasta or stew-like dinners; also for salads!) at
Pier 1 Imports
on super sale (we can't afford the regular prices there!). Can you spot me reflected in the spoon? Ha ha!
I'm trying to show you here that it's pretty simple to customize your own coordinated set of dishes by choosing a theme (usually a color story) to help integrate plain and fancy dishes; new and old (ahem, vintage) dishes, and to not worry too much about having something break or become damaged. You can swap out pieces from different sets and make your overall collection even more special and one-of-a-kind.
Do you have a similar mix-and-match philosophy at your home? Dishes are one of my most favorite things to shop for - share some pictures with me!