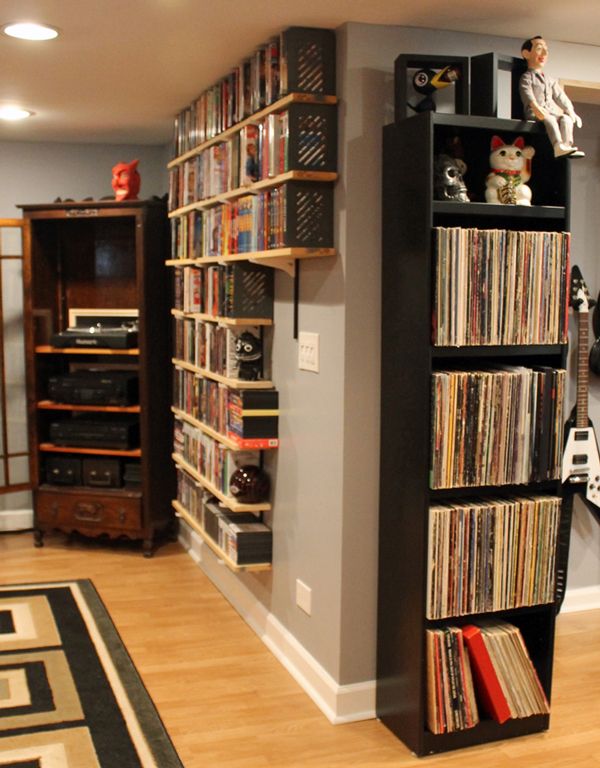 Todd and I were having one of those intense discussions about a week or two ago and we were talking about how much we like our house and how we're lucky to have such nice things and that we really need to spend time appreciating and using the things that we have.

In the same breath, it's been crazy hot and humid in the Chicago 'burbs all this week, and it's going to stay this way for at least 3-4 days. I can't even go outside without immediately feeling horribly oppressed by the heat and air. So I've kinda had no choice but to spend a lot of time indoors. It gives me a chance to appreciate those things that Todd and I had been discussing earlier.

One of the things we have that has the potential for hours of fun is our record collection in the basement. Although not the largest collection ever amassed, I have great fun searching through thrift stores and record shops for gems to enjoy. The photo at the top is our record cabinet and record shelves in the basement. (The wall between the two houses our DVD collection, but that's for a different post!)
Many summers ago, I taught summer school and used the money to treat myself to a "real" record player. You know, a DJ record player. I had grand delusions of learning to mix and scratch. LOL. But it does a good job of playing records and I can entertain myself by going back and forth "wick-wicka-wicka" style.
Here's our records. When Todd and I got together, I had a smallish collection of vinyl, and he had a bigger selection. Since then, we've added quite a bit. My record collection initially began and consisted solely of Nine Inch Nails vinyl. Here's the stack below:
I was kind of obsessive about it right before Todd and I got together. It was who I spent most of my free time, collecting and bidding and trading for all the older LPs I didn't have. There are some pretty rare pieces in here I'm quite proud of! And of course, a few holes that need to be filled. Maybe one day...

Eventually, I began to spread out and began buying my favorite CDs on vinyl. Below, left to right: Tori Amos, The Cure, and Def Leppard. The row below that, left to right: Motley Crue, Guns N' Roses, and Run DMC.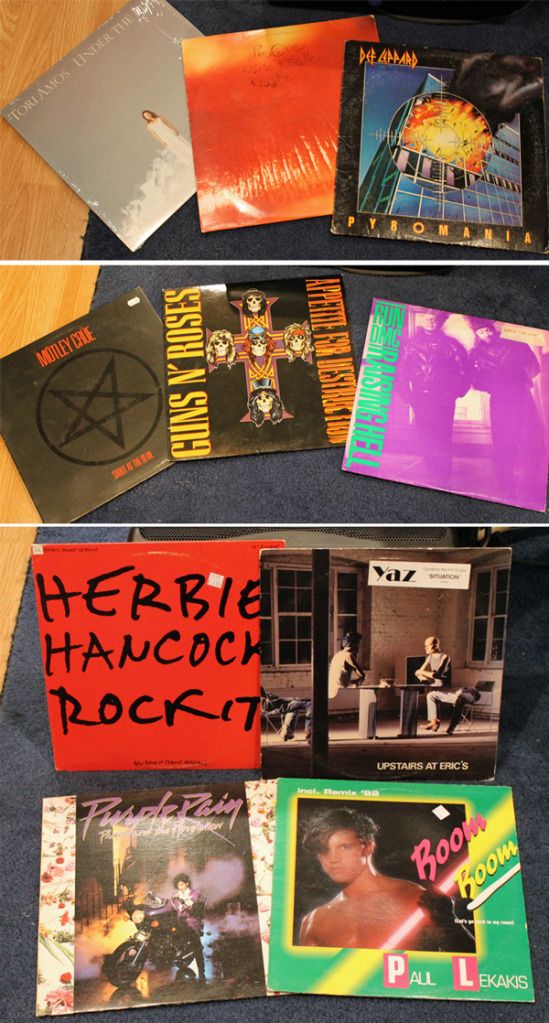 More recently, I've become obsessed with buying 80's dance trax (some awesome, some cheeseball). Above, clockwise from upper left: Herbie Hancock, Yaz, Paul Lekakis, and Prince. One of the most fun things to do is scour the $0.99 bins for 12" singles with dance remixes. I found a Madonna that way, and some other fun stuff like the Eurythmics and Technotronic. Oh yeah.

Every once in a while, when available, we like to splurge on the vinyl versions of our new favorite albums, too. We bought the new(er) Devo album that way (it's on blue vinyl!) and Coheed and Cambria's Year of the Black Rainbow. When
we went to C2E2 in 2011
, I got it signed by Claudio Sanchez! I was so totally excited.
I like to have a "record party" and pick and play assorted tracks (usually, the cheesier, the better) by myself or with Todd in the basement. On Sunday, Stephanie came over and we got to play some records then, too. Always a good time.
Do you have a record collection? Which album is your favorite?