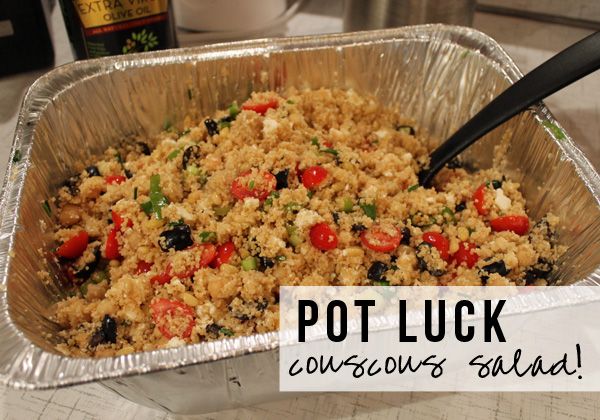 This weekend we had a neighbor party on my block - it's our second annual event, and it's pretty fun. Everyone provides their own "meat" (or, in my case, boca burger) and we all bring a side dish/dessert/appetizer to share. Eventually, everything gets shared anyways, including booze. It's a really fun time. Unfortunately, I had to cut out a little early because Iggy was past his bedtime and getting way cranky (it was super hot out, I felt bad for the little guy!), so Todd stayed and socialized and I went back home. It gave me some time to work on some design tweaks for the blog (have you noticed some subtle color changes and design details? I hope so!).
But I got off track here. What I wanted to share today was my recipe for my side dish that I contributed. It's a couscous salad, and although I'll give you exactly what I put into it THIS time, it's important for you to know that there isn't a hard and fast "recipe" for this. You kinda just add whatever you like, and omit whatever you don't. It's my favorite way to cook. I just look in the cupboard and fridge, and whatever's there, I use!
Couscous salad is a great pot-luck side dish because you don't need to worry if someone else is bringing potato salad or pasta salad or some other traditional side dish. It's a little "exotic" (hey, to my midwestern family at least) and most importantly, vegetarian friendly! I always have to make sure I bring something that I can eat, just in case the potato salad has bacon and the pasta salad has pepperoni (oh yeah, it's happened before)... it can even function as a main dish for a summer dinner when you don't wanna use the stove too much!
Here's what you need to make one big bowl.
In the pictures below, I'm doubling most of the ingredients to make a big foil pan full, but you get the idea:
Jen's Couscous Salad:
Couscous, plain, 1 box, approximately 8 oz

Green onions (scallions), about 2 stalks

Cherry tomatoes, about 1/2 a package

Black olives, medium/large size approximately 1 can (soup can size)

Pine nuts, about 1/4 cup

Feta cheese, about 1/2 a package, or a whole package of pre-crumbled

Garbanzo beans (chickpeas), 1 can (soup can size)

Olive oil, about 3 tbsp

Assorted seasonings: garlic powder, salt, pepper, chives (to taste)
First, get yourself a big bowl to mix all the stuff together in. Then, begin to make the couscous according to package directions. This usually means boiling a cup or two of water in a saucepan with some oil and salt, dumping the couscous in, and letting it sit for 5 minutes or so covered. No big deal. While the couscous is cooking, go ahead and start the rest of the salad. Clean, trim, and cut up the scallions into tiny bits. Cut the cherry tomatoes in half. For the olives, you could slice them into little rings, but I prefer to just use my fingers and squish them up. Have you ever tried that? It's fun. Put all of this stuff into the bowl, as shown above.
Get out your other ingredients. Open up the chickpeas, drain and rinse them, then dump them in the bowl. Do the same thing with the pine nuts, just dump them in. DO NOT ADD THE FETA YET! Just get it out and decide how much you wanna use. I thought I was only gonna use half, but I love feta and was making a double batch, so I ended up using it all. But not yet!
First, you have to dump in the couscous, which is probably done by now. It gets real clumpy, like in the photo below. Add the olive oil to help separate it, and use a mixing spoon to mix everything together and help unclump the clumps.
Aaah, now you should have something lovely looking like this photo above. But now you can add seasoning to your salad, if you wish. I generously sprinkled garlic powder, salt, pepper, and tossed in some chives I picked and cleaned and chopped up from
our garden in the backyard
. Sometimes I add some red pepper flakes, or some oregano. You could also add basil. Depends what you like.
This is pretty important. Once your mixture has cooled to at least room temperature (you could always stick the bowl in the fridge for a few if you like, but I usually don't) you may add your feta cheese. If you add the feta when it's too warm, it'll kinda melt, which isn't necessarily a bad thing, but I like visible chunks of feta crumbles in my salad. If you bought the pre-crumbled kind, dump it in. Otherwise, use your fingers (I love this part) to smush it all up over the couscous mixture, then stir it all together.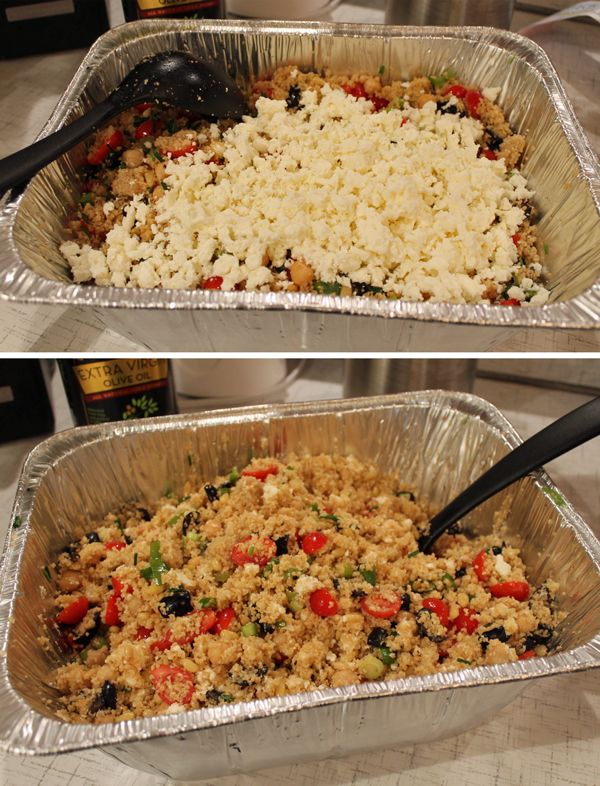 When it's done, you should have a super awesome salad that looks like this one above. Stick it in the fridge until you need to go to your party, or just dump some into a bowl and eat it. I dare you not to have seconds. It's so good.
Now, there are a zillion variations on this recipe that you can do. If you don't like/don't have any of the ingredients above, improvise! Use goat cheese instead of feta. Use black beans instead of garbanzos. Add some shrimp! Chop up some spinach for more greenery, or use white/red onions instead of scallions. It's all good. Seriously. I don't think I ever make this salad exactly the same way twice.
How about you? What's your go-to pot-luck dish?