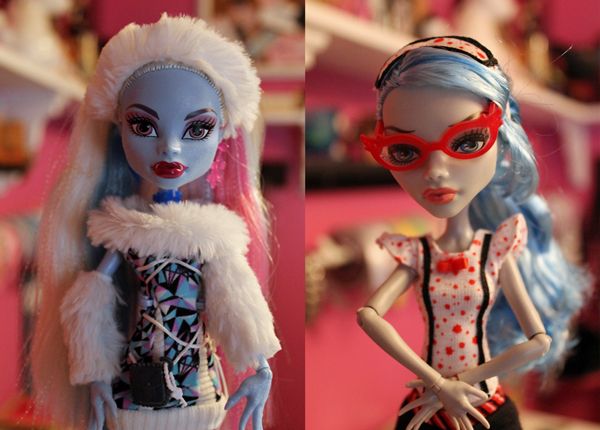 This weekend, I treated myself to two new
Monster High
dolls. Yep, you heard right. I bought myself two new dolls. I have a big u-shaped shelf in my art studio that I keep toys and things and items that are visually interesting to me. I love those darn Monster High dolls. There are so many girl's toys that I hate nowadays (Ugh those hideous Bratz dolls? Why would any parent let their child have one?), so when I find one that I like, I have trouble holding back. If I am lucky enough to have a daughter one day, I promise to share (assuming she's into this kind of thing), but for now I bought them just for me.
The doll on the left is Abbey Bominable, the daughter of the Yeti. That seemed pretty damn metal to me, and she has fangs. The one on the right is Ghoulia Yelps, the daughter of the zombies. Unfortunately, I couldn't find her "original" doll, just the slumber party version. But I love her cat eye glasses and long blue hair. Daughter of zombies?! Awesome. (Whoa. I just went online and apparently the original Ghoulia Yelps is out of stock/not available and people are asking $61 for her on Amazon! Uh, no thanks...)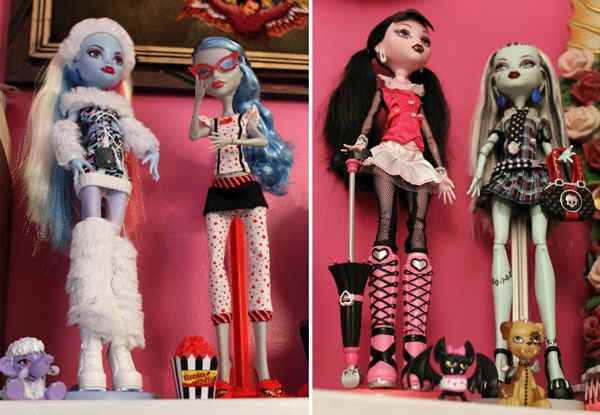 I already own two other Monster High dolls, a Draculaura and a Frankie Stein. Talked about the Frankie Stein doll just over a year ago
when I first got her
, and now the collection has grown to four. Apparently, after some window shopping via the internet, these things are pretty darn collectible. But I pulled mine right outta the box, tossed the boxes (take that, collectors!!!) and put them on display.
So, yeah. I have little kid toys in my collection. Is there anything out of the ordinary, or unexpected, that you collect?