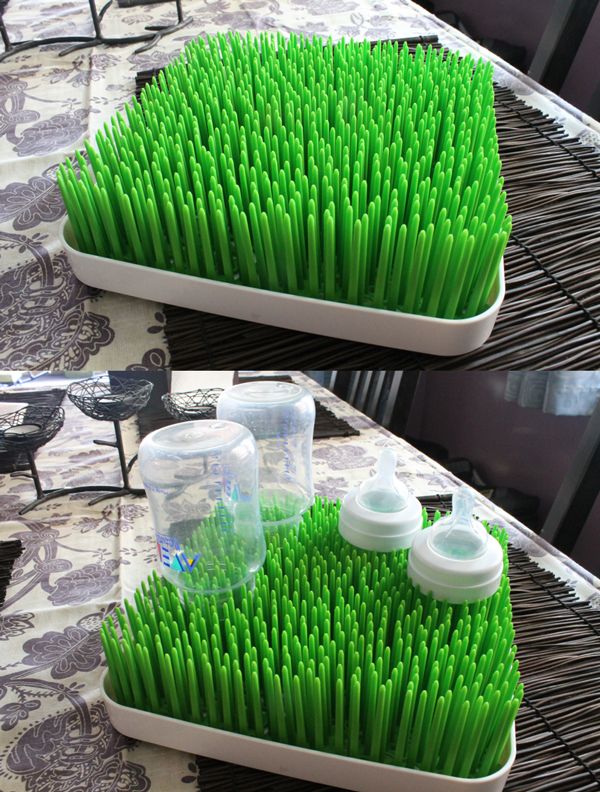 My friend Beth is expecting a new baby in January (hey right around when Iggy turns 1!!!) and we were hanging out on Friday. We can't NOT talk about baby stuff. I try not to overpower her, but I know she's excited, too. One of our conversations involved baby registries, and what items were "necessary" vs "unnecessary." Well, I have to admit, the item that might just be my favorite was this grass drying rack by
Boon
. Is it necessary, like diapers or a crib? Er, not really in that same class of importance, but how can you resist it? It's so cute! And I have to admit, when I was given my drying rack at my baby shower, I opened it up right away and we used it even before the baby was here.
This drying rack is really unique because it hold basically any item upright for drying. It works on wine glasses, vases, bottles, and all kinds of non-baby items! So, even if you're not expecting, you might still want to snag one of these for your kitchen. It looks super fun on the counter. Not convinced yet? Well, there's more!
Boon just came out with two new accessories for the grass drying rack! One is called Stem, and the other is Twig. They fit right onto your grass drying rack anywhere you want, and hold smaller items to dry so that you can fit more larger items on the grass area. See below for a demonstration:
These accessories were so cute that I couldn't decide which one to get. The
Stem
(flower) comes in three colors: blue, white, and magenta. The
Twig
(branch) comes in two: gray or white. I chose to stay away from any white because it might get dirty more easily.
I was a little sad to discover that Boon has since made the grass drying rack in a larger version, called
Lawn
. Sad for me because I definitely would have gotten the larger one, had it been available when I registered for Iggy!
Also, all of the links here go to Amazon.com, but I bought all of my Boon items in person at
Buy Buy Baby
. They seem to be a few dollars cheaper there, plus you can easily score 20% off coupons to use for extra savings!