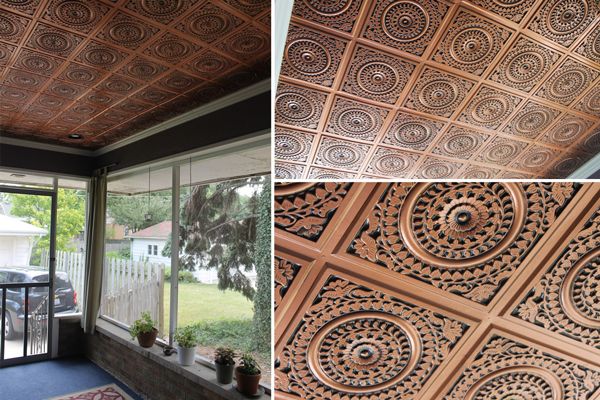 So, this seems to have become "House Week" on the blog. It was unintentional, but whatever. I wanted to show you some projects we finally got around to finishing since summer vacation has started. It always feels so good to walk into a space and have it feel finished. Or just to not have that "nagging" feeling of the unfinished.
The first project was the porch ceiling. I first wrote about the porch
last summer
when we first redecorated it. I love our porch. As long as it's not stifling hot (um, which it is right now), the porch is the ultimate place to hang out and enjoy a bug-free outdoor existence. Many a blog post has been written from the comfort of a porch rocking chair.
However, we had a slight problem with the ceiling. The glue didn't hold as well as we would like, and once the weather gets hot and humid, they started to sag and hang from the corners. Ew. So Todd found tiny copper nails that matched the ceiling tiles, and we nailed one in at each and every corner of the tiles (see close ups above). Ever since we fixed it, there hasn't been a single issue! Yayy!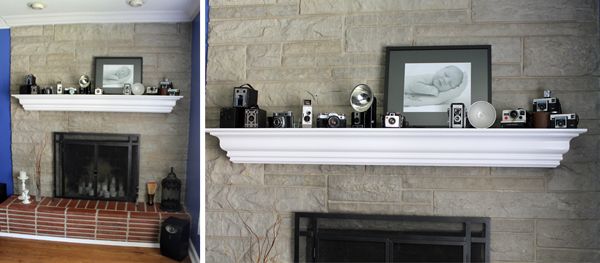 Another project that had been nagging at me was the fireplace mantle. The last owners had installed it at a ridiculously high height. This fix looked easy, but actually took Todd an entire day to come up with a rigging to mount the mantel to the stone behind it, since the stone is NOT flat and very uneven. But we did it, and now it's at a normal height!
The other "fix" I did on the mantle was to paint it white! It matches the rest of the trim in the living room, and it just looks so clean and crisp! The motivation to get the mantle done was that Todd could display his camera collection. He has been collecting them for a little bit and needed a good display space. When I suggested the living room mantle, his eyes lit up and I knew we could finally get this project done!

I dug around in my old iPhoto archives and found these two pictures (they're not good, and I apologize for the super blurry living room) of the house when we first moved in, to illustrate how the porch originally looked (you can't even see the horrible state of the peeling paint!) and the old fireplace mantle. You can also see the original warm gray color of the living room. I'll do a special house tour post on the living room one day to show you everything, but for now, enjoy our fancy new mantle.
Hopefully I've inspired you to start tying up some of those "loose ends" when it comes to home improvement and decorating projects! Please share your achievements with me!