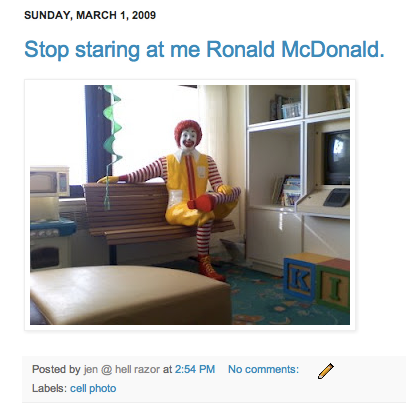 This blog post refers to a number of things. Mostly that I discovered an old export file on my computer yesterday from my very first blog (which I deleted back in 2009, right before Todd and I got married). I had titled it "Jen's Random Blog" because I wrote in it very randomly... mostly it consisted of mobile blog posts I made with cell phone photos and a caption (see above for a pretty good example). That part was kind of humorous. The other posts involved what I was reading, what movies I had seen, and what concerts I was going to. That brought back good memories. And sometimes I would rant or complain about something (hmm I don't do that, do I?) so it was interesting to go back and look at it all. I kept it from 2007 to 2009, so that's quite an accomplishment! (If you're interested, I was able to bring my blog "back to life" by creating an entirely new blog via blogger and importing the old export file I had discovered. Not all of my photos still worked, but many of them did. I didn't make this new one a public blog though. It was just for me to read.)

The screenshot below is part of my blog post all the way back from March 5, 2008:


I enjoyed the fact that I was able to re-live my documentation of important life events like that. There are some other, longer, more in-depth posts on that blog that I may need to revisit and/or republish on here, but that's for another time. Ah, memories...
But this post title also refers to other "random" news bits to share. I was really excited this week about two things: my new external hard drive, whom I named Ronnie James Dio (center photo below - I decorated him with an awesome Tokidoki sticker), and the fact that I discovered
how to change my Mac icons
to other fun pictures (see pic on left below).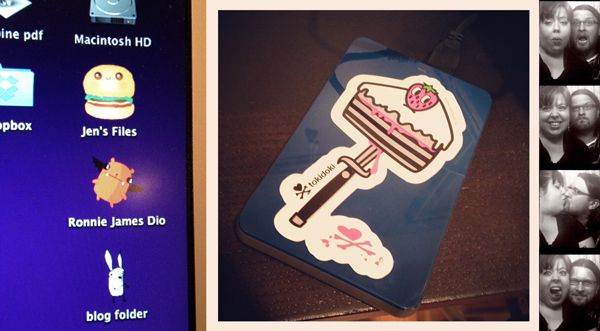 Here's
where I got my new icons from. There are tons of fun choices, although I tend to be partial to food with faces and cute monsters.
Oh, and since it's part of the picture but I didn't mention it, the photo booth strip is from the
Double Door
in downtown Chicago.
Stephanie's
husband Dave had a show there with his band,
Man Called Noon
. I love photo booths.
Lastly, are you as super excited about a
new No Doubt single
as I am? The answer:
yes, you better be
. Because it's awesome.