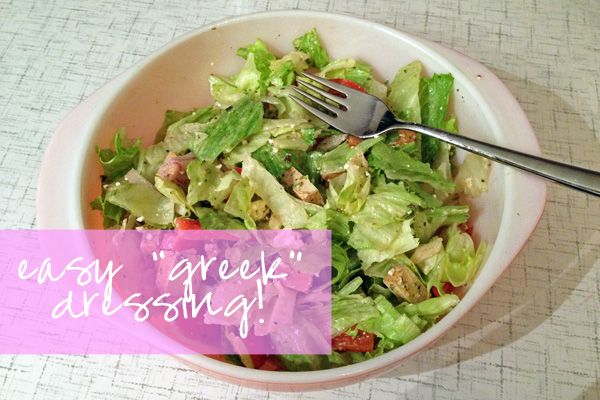 I had a very happy surprise this week at Weight Watchers after a somewhat disappointing last week... I lost 2.8 pounds, so I'm almost where I need to be to be truly back on track. In celebration, I'd like to share my new favorite salad dressing recipe with you. I think I've eaten one of these salads every day for the last 3 or 4 days now. I make a really simple salad with iceberg lettuce, tomatoes, green (or red) pepper, onion, and light feta. Then this dressing. It's not quite an Italian dressing, I think of it as more of a Greek dressing, and it's based loosely off of a couple of recipes I skimmed from assorted internet sources. I cook that way a lot, actually. I'll think "hmm how do I roast potatoes?" and then I'll find three different recipes and use the time/temps from one of those with the seasonings from another... it usually works out. Here goes: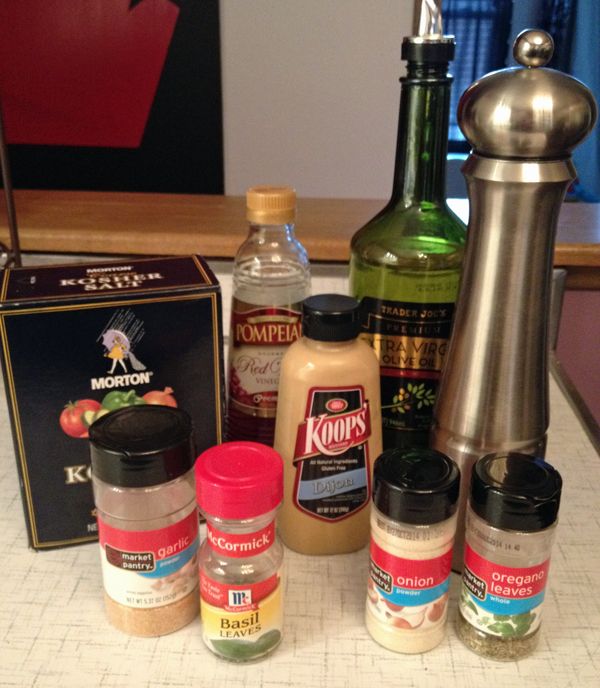 Greek "House" Dressing
Ingredients:
1 tbsp olive oil
1 tbsp Dijon-style mustard
1 tbsp red wine vinegar
garlic powder
onion powder
dried oregano
dried basil
salt & pepper
Directions:
Whisk mustard and vinegar together in a small cup. Pour olive oil and mustard/vinegar mixture over salad. Sprinkle seasonings as desired. Mix salad thoroughly. Makes enough for one large salad.
Yum.
My salad here includes some marinated teriyaki tofu from Trader Joe's. That stuff is so good, you can slice it up and eat it on a sandwich. Mmm...tofu sandwich...
Oh yeah, I have one more Weight Watchers-related bit of news to share. This week, I purchased the
ActiveLink
at my meeting. It's a tiny activity monitor that keeps track of your movement (kind of like a tiny USB wii controller that you wear) and sets up personal goals for you to achieve based off of your present levels of activity. It takes 8 days for the initial assessment before I actually start receiving any goals, so I'll have to check back again to share how that's going. Right now I hardly do any activity at all. My feet are still aching from the planter fasciitis from when I was pregnant (yayy) if I do any extended walking, I pay for it dearly the next day. Nice, huh?
I'm thinking that next week I'll start riding the stationery bicycle for short periods of time, assuming I get cooperation on the Iggy front.

Got any activity ideas for a girl with bum feet?