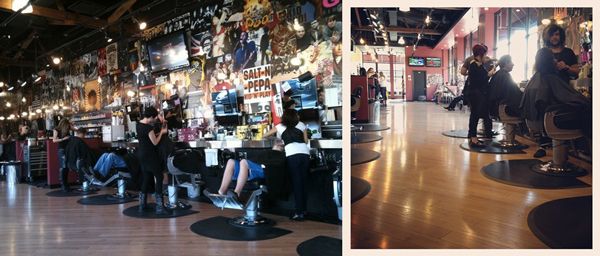 I have bad news, and I have good news...
The bad news is that my favorite hair salon,
Rock Razor Scissors
, has closed its doors. Yep, that's right. They are no longer. Well, technically, they have plans to re-open in another location (they said within a year or so), and they're still doing hair for bands, but as for us regular folk, what do we do?!
Well, here's the good news: my hairstylist, Megan, works at
Floyd's 99 Barbershop in downtown La Grange, IL
! Floyd's has another former RRS employee, Lauren, working there as well! So if you're looking for somewhere to go, this is an excellent (and highly recommended) choice.
Contrary to the name, Floyd's is not just a barbershop. They do men's, women's, and children's cuts. They do "normal" hair, and they do hair like mine - purple! Their prices are even reasonable. You can walk in, or you can book an appointment with your favorite stylist (I always do because I love Megan!). They're open 7 days a week, so I can always find time to go. And it's actually much closer to my house than Rock Razor Scissors was.
As you may have guessed from the photos, Floyd's is a rock and roll-themed salon, much like Rock Razor Scissors was. The main difference is that Floyd's is a chain, so you may have seen them at another location (they're located across the US, and have several shops in the Chicagoland area).
I happen to be partial to the La Grange location because of the employees. I don't know what I'd do if Megan went away!!! Floyd's 99 in La Grange is located at 71 South La Grange Road in La Grange, IL. You can call them to book an appointment at (708) 639-4230.